Last Updated on May 10, 2023 by Muisc Pro Editorial Team
Good sound can make or break an event or promotion. It is common knowledge that crackly speakers, distorted words, or screeching microphones will leave a bad impression. Whether you are putting on a corporate event, hosting a party, conducting a promotion, or spruicking a sale, you need to put your best foot forward.
A high quality portable speaker and microphone will ensure there are no nasty surprises, and will have you sounding crystal clear. Although, with a plethora of options available, it can be hard to know which products to buy. That's why we have put together this guide of the best portable speakers with microphone Singapore wide.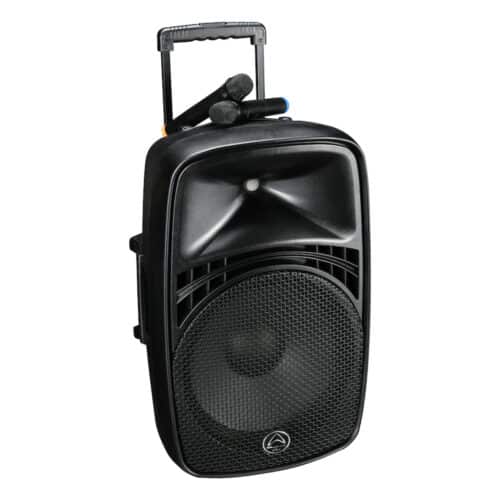 Set includes 2 Handheld Wireless Microphone.
A great portable PA system with mic that can't be overlooked is the Wharfedale Pro EZ-12A. This 12" system provides a great combination of features and functionality and doesn't just come with one wireless microphone, but two! The EZ-12A has the power to meet a wide range of audio needs, and with an internal battery, gives 5 hours of play without needing to be plugged in. You can also connect to power for unlimited play time via the 100v-240v main input.
The in-built MP3 player lets you stream tracks, and you can utilise the wireless bluetooth technology to turn your mobile device into an easy to use interface. With 115db maximum sound pressure level and supreme quality electronics, transducers and amplification components, there is lots to love in this compact package. Also featuring a pull up handle and sturdy wheels, you are guaranteed ease of transport, no matter where the music takes you. If you are looking for something with more power, consider the Wharfedale Pro EZ-15A 150W.
[maxbutton id="6″ url="https://www.musicshop.sg/products/wharfedale-pro-ez-12a-100w-portable-pa-system-with-2-wireless-microphone-and-bluetooth?_pos=1&_sid=163a4f2c0&_ss=r" ]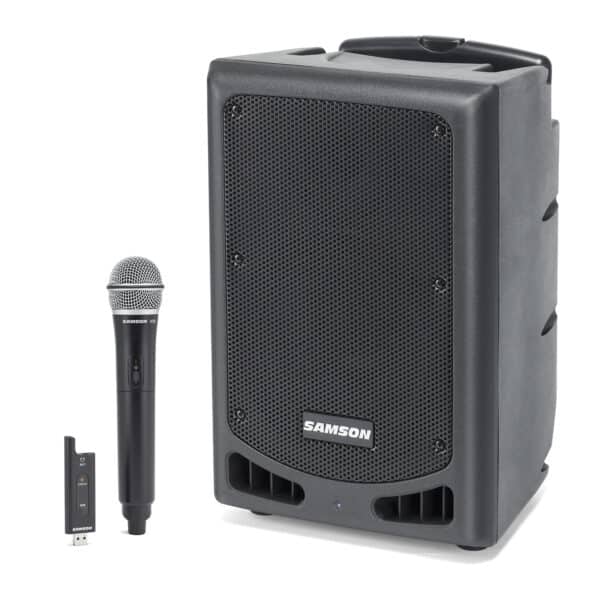 Set includes 1 Handheld Wireless Microphone
Next up, we have the Samson Expedition XP208w Rechargeable Portable PA system. This is the perfect option for anyone who needs hours of power without having to plug in. The battery pack of the XP208W offers 20 hours of play from a single charge, so you can play multiple sets without having to find power.
Driving the sound is 200 watts from an 8" two way speaker system, housed in a rugged enclosure with a strong steel grille for protection against knocks. Great for travelling DJ's and musicians.
There is a built in 4 channel mixer so you have ultimate control over your sound, and can easily connect to your mobile device via Bluetooth to control at your fingertips. The system includes a wireless handheld microphone so your setup will be completely cord free. There is a pull up handle that locks in for ease of transport, and the smooth rolling wheels will never get stuck on the way to the car.
[maxbutton id="6″ url="https://www.musicshop.sg/products/samson-expedition-xp208w-portable-pa-system-with-wireless-microphone?_pos=1&_sid=1f1caaf04&_ss=r" ]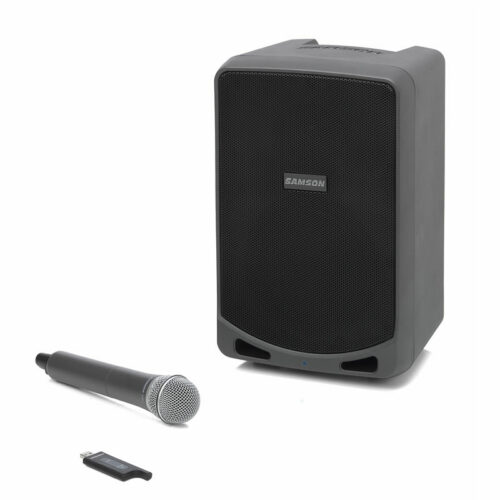 Set includes 1 Handheld Wireless Microphone
If you're looking for a feature packed portable PA with mic included, then you can't go past the Samson Expedition xp106. Here you will find a complete package with an included handheld mic. Whether you are a travelling musician, busker, salesperson, tour operator, or something else, this PA will give you versatile, crisp, and clear audio every time you need it. This system is even great for outdoor applications thanks to the long lasting rechargeable battery.
With 100 watts of  Class D powered sound perfectly matched to the onboard drivers, you will get an output that exceeds what most expect of something in this class. The full range sound is supported by a 6" woofer and 1" high frequency driver, while the built-in 4 channel mixer has a variety of input options with separate controls on each channel. There is also a Bluetooth channel for wireless connection to music streaming devices. This is everything you need in one compact and convenient package.
100W of peak power output
Line out to daisy chain multiple systems together if required.
Included wired handheld dynamic microphone.
[maxbutton id="6″ url="https://www.musicshop.sg/products/samson-expedition-xp106w-portable-pa-system-with-wireless-microphone?_pos=1&_sid=1a1d73ea7&_ss=r" ]
Mackie Freeplay Live Portable Speaker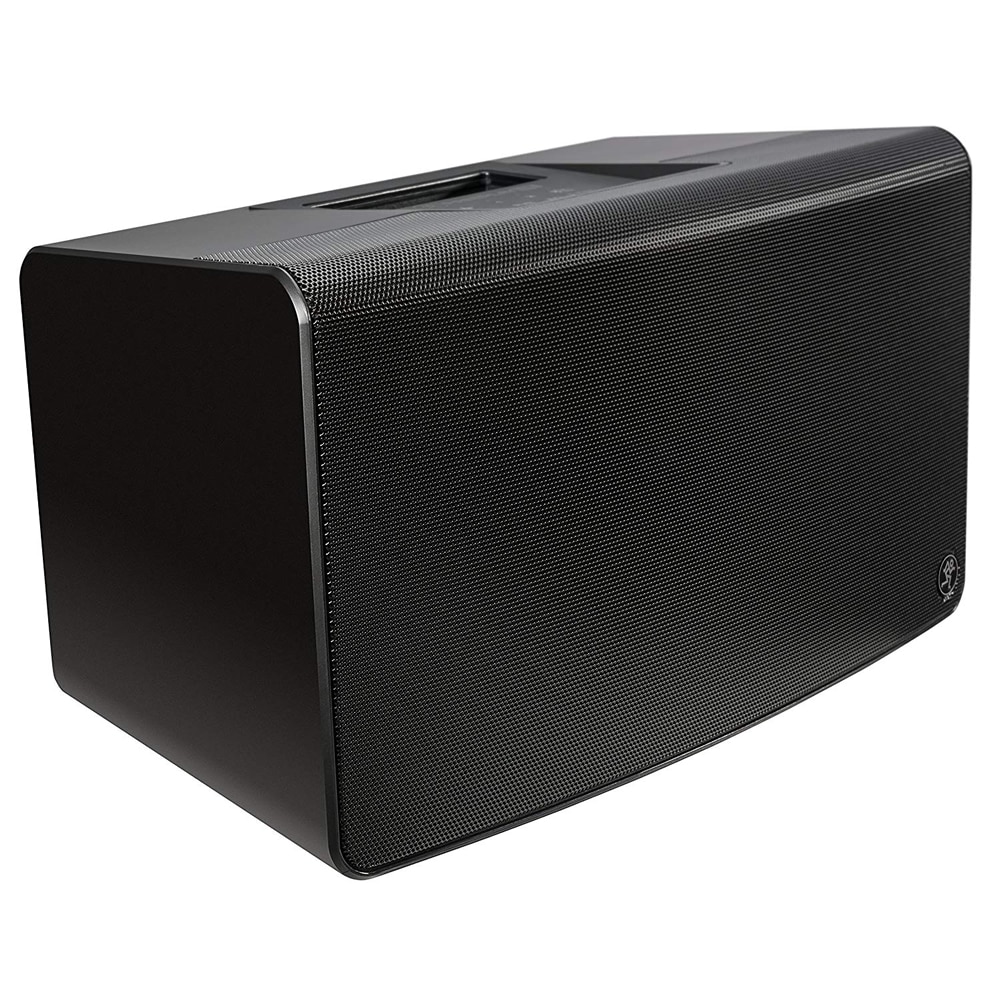 If you are a travelling musician, a businessperson, presenter or other kind of performer, then you know the importance of good sound that can travel with you. It is a huge risk leaving your sound output up to the venue, or hiring as you go. Unlike some other portable PA systems that can be bulky and cumbersome to move around, the Mackie Freeplay Live Portable Speaker is built for easy transport, and supreme sound quality.
This lightweight and reliable system features 150 watts of powerful sound, plus total wireless control thanks to the built in Bluetooth capabilities. Amplify your voice with ease, and switch to streaming your favourite tracks with the click of a button. The Freeplay Live is not only versatile, it is also super simple to use.
150 watts of great sounding power.
A 6" woofer and dual tweeters for dynamic well-rounded sound coverage that will ensure you can project where needed.
Easily connect guitars, microphones, keyboard and more with the dual 1/4″ / XLR combo inputs.
Rechargeable battery with up to 15 hours battery life from a single charge.
(With Optional: Wharfedale Pro DM5.0s Super Cardioid Dynamic Microphone Addon)
Good things come in lightweight packages and that is certainly the case with the Bose S1 Pro. This all in one PA system is perfect for soloists and performers who need to fill rooms with great sonic energy. It comes with a very handy Auto EQ to eliminate unwanted noise and hotspots, and each of the two channels comes with independent controls.
The excellent Bose Tone Match technology gives you great vocal reproduction, so you just need to plug in your mic and let the magic happen. Included Bluetooth allows for easy streaming from your devices, and pairing to a wireless mic which can be added on.
[maxbutton id="6″ url="https://www.musicshop.sg/products/bose-s1-pro-multi-position-pa-system-with-battery?_pos=1&_sid=f4e465393&_ss=r" ]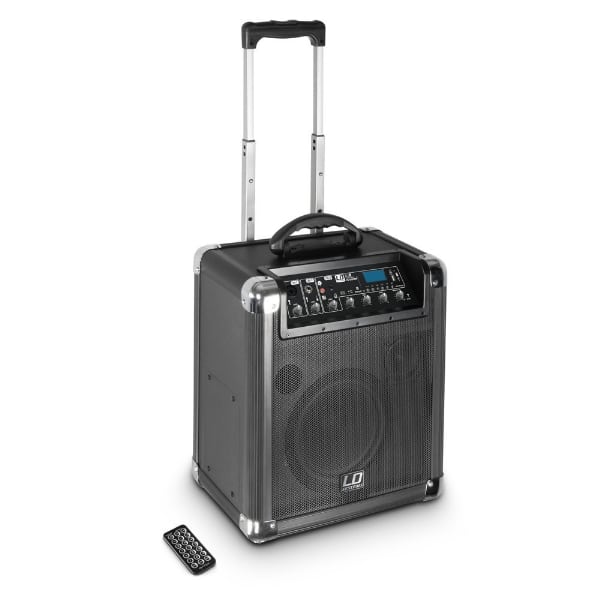 LD Systems Road Jack presents two great options with either an 8" or 10" speaker depending on your sound power needs. This system particularly shines in its portability, with integretated wheels and a sturdy handle that allow you to transport it with ease. With an integrated battery life of 20 hours, there are no limits to where you can go with the Road Jack. Honing sound output is a breeze thanks to the auto EQ, an adjustable echo controller, and intuitive master volume. This system comes with a wireless mic, for supreme roaming freedom.
[maxbutton id="6″ url="https://www.musicshop.sg/products/ld-systems-roadjack-8?_pos=1&_sid=fea1b1fc7&_ss=r" ]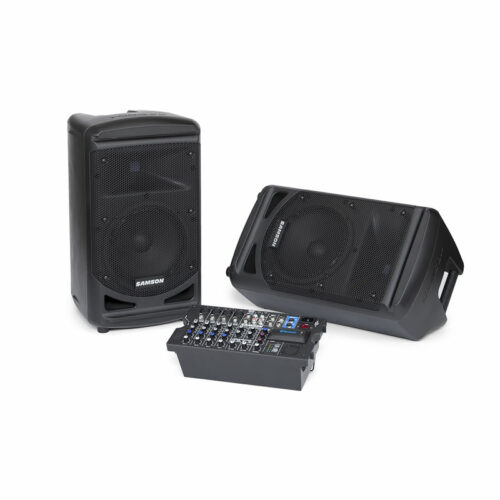 If you want a little more oomph, then you might like to consider the Samson Expedition XP800. Here you get 800 watts of Class-D portable power. This is a great system for musicians, or anyone who needs to fill a slightly bigger room.
In this all-in-one sound system you will receive an included mic with great audio quality, so you have everything you need in one handy package. You can also setup with other instruments thanks to the range of input and output options.
There is a built in 8 channel mixer with digital effects and EQ on all channels so that you can hone and tailor your sound for a range of requirements. What's more, all this still weighs under 40 pounds for easy pack down and transport.
Bluetooth connectivity to stream from mobile devices and laptops.
2-band bass and treble EQ on all channels for supreme balance.
Four mic preamps that have multiple stereo options configurable for rehearsal or performance.
Removable mixer to use with the system or separately.
[maxbutton id="6″ url="https://www.musicshop.sg/products/samson-expedition-xp800b-800w-portable-pa-system-with-bluetooth-connectivity?_pos=1&_sid=dc3e5fd53&_ss=r" ]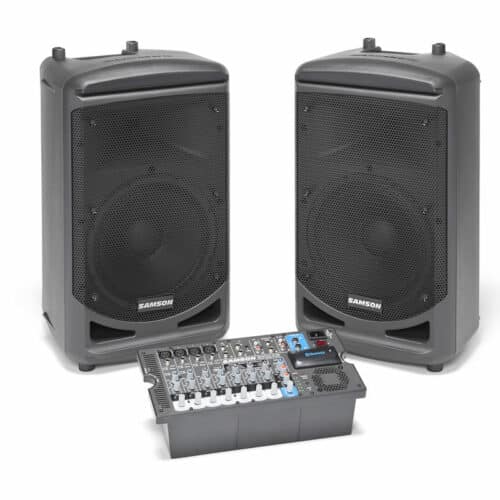 Did someone say portable PA power? Here you have Samson's response with the Expedition XP 1000 Portable PA system. Packing in 1000 watts of Class-D sound, this is a great setup for live music, parties, DJ sets, and much more.
Samson's Expedition XP1000 Portable PA System is an all-in-one sound system with incredible features and tons of power that packs into a single compact design. The XP1000 is Bluetooth-enabled, allowing you to wirelessly stream music from your smartphone, tablet or laptop. A removable 10-channel mixer with an impressive 1,000-watt (2 x 500), lightweight Class D amplifier powers the XP1000.
The mixer features four Mic/Line input channels, each with XLR and 1/4″ inputs for connecting microphones or active line level instruments. It also includes three stereo input channels for connecting external devices like MP3 players, keyboards and more. Each channel features Bass and Treble controls, and the first two Mic/Line channels have a selectable compressor to even out levels while preventing overload and distortion.
Clean and bright sound via 2 way vented speakers.
10" woofers and 1" high frequency driver for big bass and crystal highs.
16 high quality preset DSP effects for a range or custom sound configurations.
[maxbutton id="6″ url="https://www.musicshop.sg/products/samson-expedition-xp1000b-1000w-portable-pa-system-with-bluetooth?_pos=1&_sid=22ff1e913&_ss=r" ]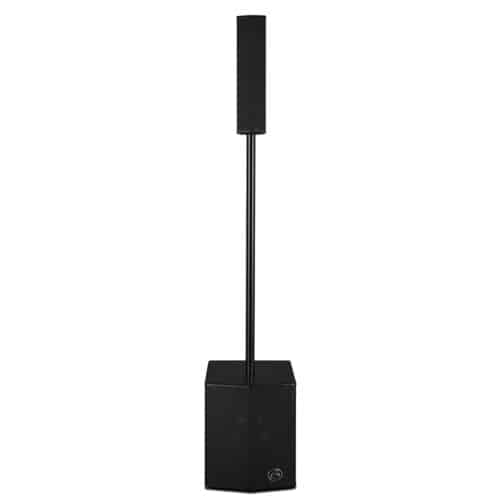 Good things come in slim packages: just take a look at the Wharfedale Pro Isoline 410 portable PA system. Here you got a compact column line PA that still packs in loads of features. The 410 is comprised of a column of 4 x 3" high and mid range drivers connected to a high powered 10" long throw subwoofer.
A built in amp and oboard DSP means sheer sound power that exceeds all expectations of a system this size. The Isoline 410 is great for a wide range of audio needs from performances, to home use, to corporate.
If you need a bit more power, you can even pair two systems together with the built in XLR output. Connect to bluetooth to stream your favourite music, and control from your mobile device. A very nice system that acheives the balance between form and function.
[maxbutton id="6″ url="https://www.musicshop.sg/products/wharfedale-pro-isoline-410-column-active-pa-system-speaker?_pos=1&_sid=c767bb792&_ss=r" ]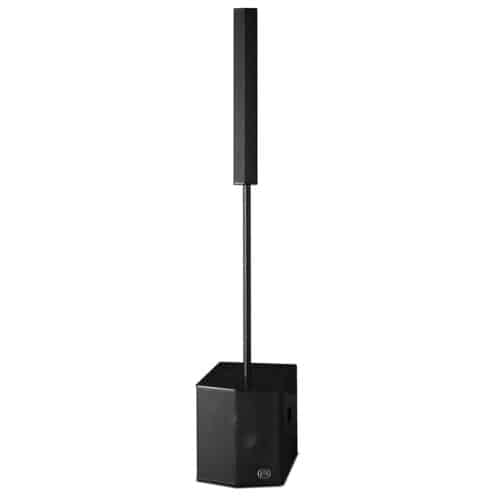 If you just need more power, but still want a compact design, then step right up the Wharfedale Pro Isoline 812 PA System. With this system you don't need to sacrifice on anything: there are loads of features and whopping sonic force, without weighing you down.
The 812's column line formation features 8 x 3" wideband drivers and a 12" longthrow sub for a throbbing low end. The built in amplifier and DSP deliver a comprehensive sound range that you can tweak with the onboard mixer. There is intergrated wireless bluetooth technology so that you can easily pair to your mobile devices with a few button clicks.
That means you can also use your device as a handy and simple to use interface that even novices will be able to manage. Still not enough power? Pair two systems together via the XLR input, and you will be able to fill any size venue with aural splendour.
[maxbutton id="6″ url="https://www.musicshop.sg/products/wharfedale-pro-isoline-812-column-pa-system-speaker?_pos=1&_sid=a28227a03&_ss=r" ]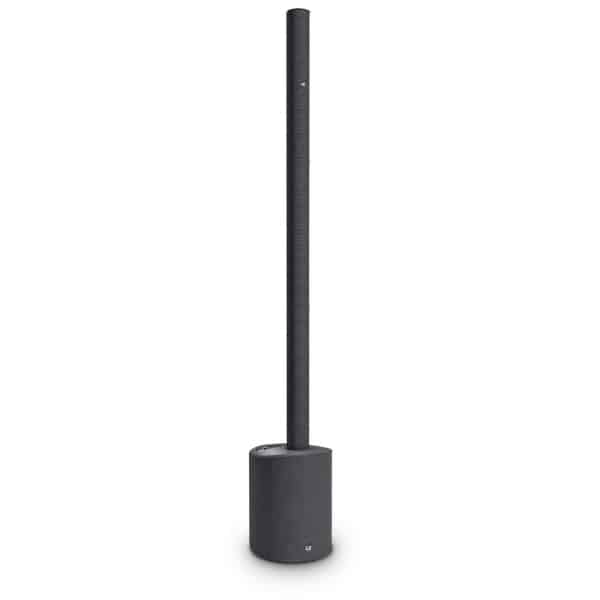 This stick like column line array speaker packs more power than first appearances might suggest. The LD Systems Maui 5 boasts 800 watts of sonic oomph and a maximum SPL of 120 dB. Not bad for weighing in at only 11kg. With feedback resistance monitoring and sound reinforcement, the output is crystal clear. The best part? It fits right on your car seat for easy transport. The MAUI 5 is a compact 800-watt, 120 dB loudspeaker system that offers sound reinforcement with extended coverage and feedback-resistant monitoring. The three-piece column system assembles in seconds with custom multipin connectors.
The subwoofer houses the system's Class D amplification, LD Systems' LECC digital processing, and a 4-channel mixer. Featuring Bluetooth technology for wireless streaming and microphone, line level, and hi-Z inputs which can be used simultaneously, the MAUI 5 lets you connect a wide variety of sources including music players and instruments such as keyboards or guitars. Individual level controls, subwoofer volume control, master volume control, high shelf filtering for room correction enable a perfectly balanced performance.
[maxbutton id="6″ url="https://www.musicshop.sg/products/ld-systems-maui-5-column-pa-system?variant=42041860456704″ ]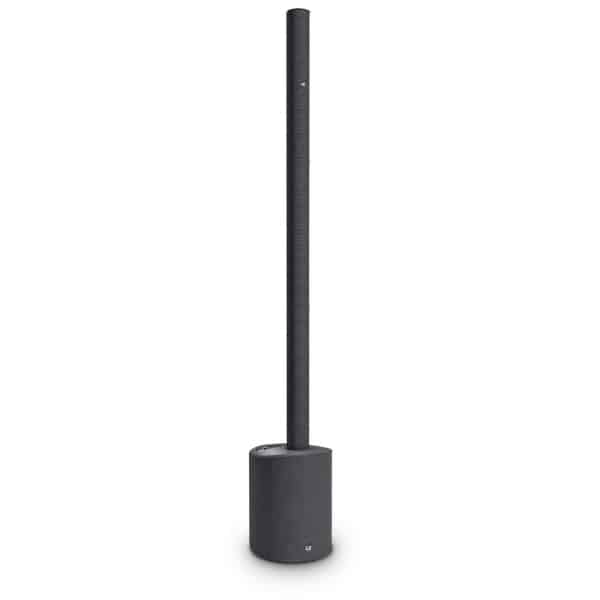 A step up from the Maui 5, the LD Systems Maui 5 Go column brings the same exceptional sound quality, with even greater power, and a high-capacity lithium-ion pack that provides up to 30 hours of playtime. With a built in 4 channel mixer and Bluetooth receiver, you've got all the mixing and output features you need right at your fingertips.
[maxbutton id="6″ url="https://www.musicshop.sg/products/ld-systems-maui-5-go?_pos=4&_sid=14eaa43f0&_ss=r" ]
Summary
As you can see, there is no shortage of great portable PA's and microphones available. If you are looking for something of good sound quality and affordable,, in the battery operated category we really love the Wharfedale Pro EZ-12A as it comes with the Bonus 2 Free wireless microphones, and the Wharfedale Pro  EZ-15A if you need a bit of extra power on the go.
If you are shopping with something that is going to move the room at a bigger event for a dual speaker setup, then you can't go past the Samson Expedition XP1000B 1000W Portable PA System with Bluetooth.
Whatever you decide, these systems will help you put your best sonic foot forward every time.