Last Updated on May 10, 2023 by Muisc Pro Editorial Team
While you might be gifted with a beautiful singing voice, even the best performer knows that a good microphone is key. Whether you are doing a show or recording, you need your equipment to accentuate your natural talents. That's why we've compiled this list of the 10 best microphones for singing and recording currently on the market.
USB Condenser Microphones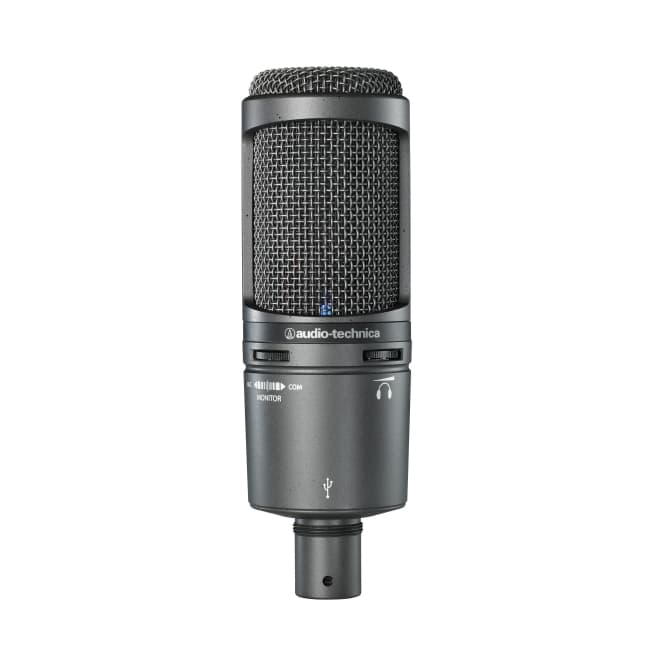 USB Studio Condenser Microphone excellent for podcasting, voiceover recording, home studio recording, vocal recording and more.
Built in Cardioid polar pattern which reduces noise pick up from the sides and rear during recording
Comes with mini tripod, pivoting mount, USB cable & storage pouch out of the box
Compatible with both Windows and Mac
Check Price on:
Amazon / Lazada / Shopee [maxbutton id="6″ url="https://www.musicshop.sg/products/audio-technica-at2020-usb-cardioid-condenser-usb-microphone?_pos=1&_sid=916b0eeeb&_ss=r" ] 
The AT2020+ brings great sound quality and affordability in an ultra convenient plug and go package. Easily connect to just about any computer for the ability to unleash your vocal prowess when inspiration strikes.
Compatible with Mac and PC, you can record at home, and then take it with you to your bandmates' place without suffering from any compatibility issues. The cardioid pattern pickup is reliable and accurate and features extremely effective off-axis rejection.
With a built-in interface, the AT2020+ outputs the best possible sound free from crackles. Plus, there is a headphone input and onboard mix controls, so you can listen and tweak as you sing. This is a very affordable and robust condenser that builds on the previous Audio Technica offerings, with the added bonus of USB connectivity.
The thing that sets this option apart is its clear and rich sound, which really has to be heard to be believed. A definite favourite. Loads of power right here in the palm of your hands.
[maxbutton id="6″ url="https://www.musicshop.sg/products/audio-technica-at2020-usb-cardioid-condenser-usb-microphone?_pos=1&_sid=3fb8df1d9&_ss=r" ]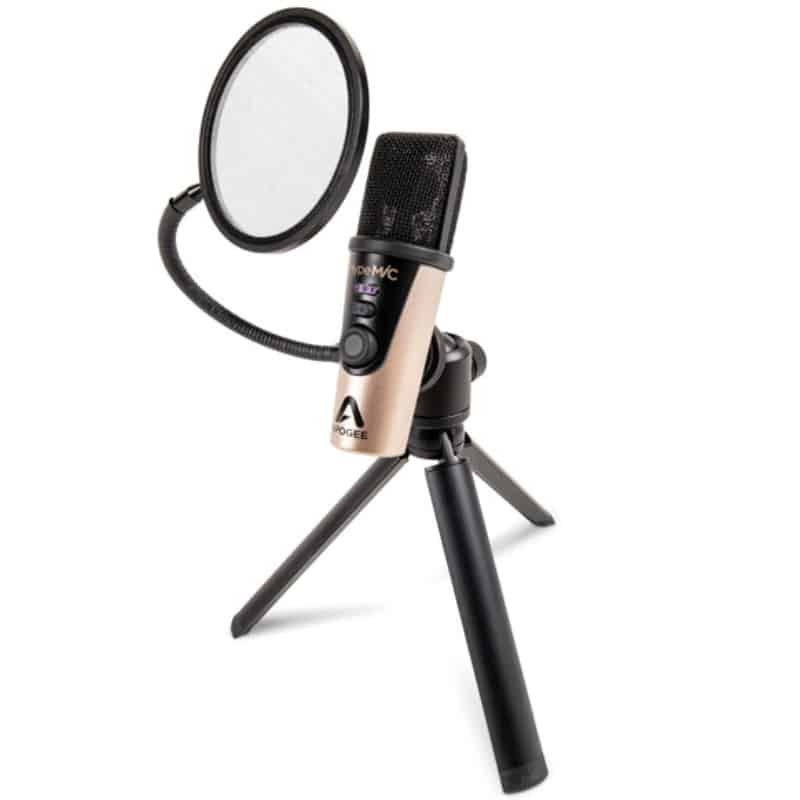 For high quality vocal recording with studio-quality analog compressor
High definition sound quality of up to 24-bit/96kHz
Microphone accessories such as pop filter, table tripod and case all included
Compatible with iOS, Mac and PC
Work with GarageBand, Logic, and Core Audio compatible apps on Mac
The Apogee HypeMiC is a great choice for capturing vocals with premium 24-bit/96kHz quality. The custom built-in PureDIGITAL connection technology ensures a clean transfer of your voice to your recording software, free from latency.
A standout feature is the built-in compression that keeps your voice at the top of the mix and ensures that it doesn't get washed out by other inputs, while allowing you to monitor with minimal delay.
The headphone input lets you listen to what you are laying down in real time so you can make adjustments on the fly. All in all, this mic is very intuitive, easy to set up and simple to use, even for the total beginner.
You just plug it in and record into your favourite DAW. The HypeMiC works with both PC and Mac and comes with an included pop filter and case.
[maxbutton id="6″ url="https://www.musicshop.sg/products/apogee-hypemic-for-ipad-iphone-mac-and-windows?_pos=1&_sid=7eeba4a09&_ss=r" ]
Want a mic that's small enough to carry in your pocket but still gives you huge recording capabilities at home or on the road? The Apogee MIC PLUS has premium sound quality with up to 24-bit/96kHz resolution. Not only can it record with your Mac or PC, but it also has iPad and iPhone plug and play capabilities. You might be looking at the future of handheld recording technology.
If you work best in small scale formats while on the go, then this could be the best choice for you. In terms of output, the high-quality cardioid capsule adequately rejects off-axis sound to wipe out unwanted noise, while the digital controls allow for maximum precision. A well priced, compact option with dynamic flexibility.
[maxbutton id="6″ url="https://www.musicshop.sg/products/apogee-mic-plus-for-ipad-iphone-mac-and-windows?_pos=1&_sid=46f3c7d1f&_ss=r" ]
Rode NT-USB USB Cardioid Condenser Microphone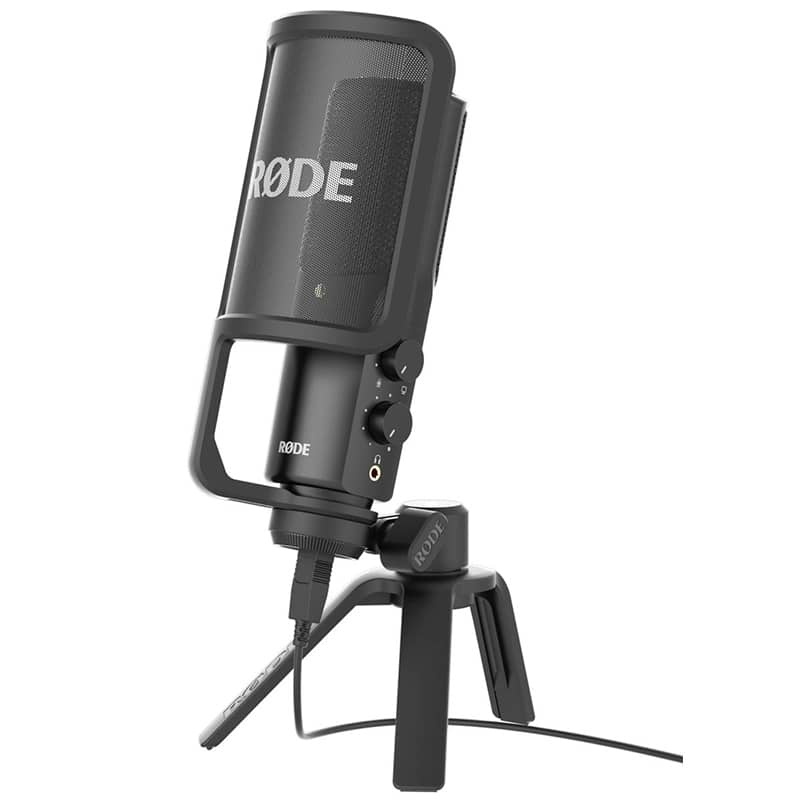 Studio quality high quality USB microphone
Compatible Apple® iPad, Windows and Mac OS
Comes with Tripod desk stand, Storage pouch, Pop shield, ring mount and USB Cable
3.5mm stereo headphone jack for crystal clear monitoring
Direct mix control between microphone input and source output
Another studio quality recording option that comes with everything you need right out of the box. With simple USB connectivity and A/D conversion, this mic is preconfigured for clarity. It comes with a tripod base, stand mount, pop filter and cable, and is compatible with Mac and PC. A neat, all-inclusive package.
XLR Condenser Microphones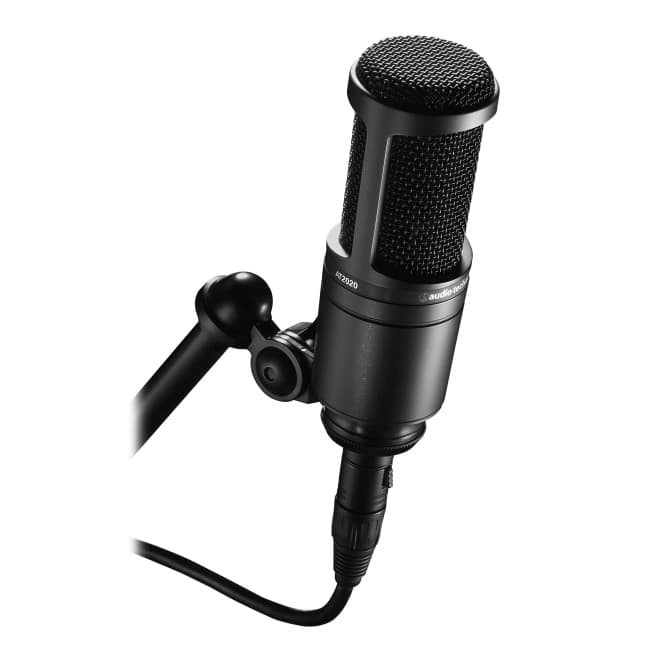 If you want flawless audio performance at outstanding value, then look no further. The AT2020+ featured highly in our USB list because of its stellar sonic capabilities, and the same goes for the XLR AT2020.
This mic will capture the nuances of your vocal performance thanks to the robust cardioid condenser pickups that make Audio-Technica an industry favourite.
The custom low-mass diaphragm delivers high-quality transient response and extended frequency response, while the high SPL range gives a wide dynamic range. The price to performance ratio here really is exceptional.
[maxbutton id="6″ url="https://www.musicshop.sg/products/audio-technica-at2020-cardioid-condenser-studio-xlr-microphone?_pos=1&_sid=0b0268375&_ss=r" ]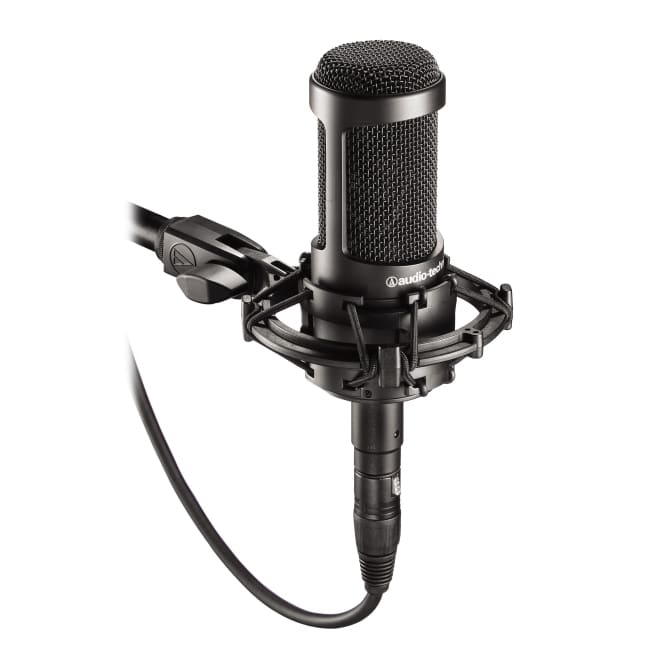 Take one step up the price ladder, and you've got the AT2025's big brother, the AT2035. Here, you get all the benefits and sound quality of the 2025, plus for a little bit extra, you get great additional features such as a switchable 80Hz high-pass filter, custom shock mounts, and a 10dB pad that allows you to face sources of up to 155dB.
The larger diaphragm also gives you bright, natural sound with the ability to maintain integrity even at high sound pressure levels.
This makes the AT2035 a great option for a wide range of environments. The robust construction means that this will be your touring buddy for many years to come. The bottom line is that the AT2035 is a versatile, resilient and consistent mic that won't let you down.
[maxbutton id="6″ url="https://www.musicshop.sg/products/audio-technica-at2035-cardioid-condenser-microphone?_pos=1&_sid=a7ab0a068&_ss=r" ]
Behringer C-1 Studio Condenser Mic
With the C-1 Condenser, Behringer have brought to life a design thought up specifically with the studio in mind. That means clarity and noise reduction is priority number one.
If you are recording straight to your computer, thanks to the low-latency ASIO and WDM drivers, you now have a cost-effective and easy way to capture your vocals without loads of other equipment and processors.
This mic comes with included editing software for your Mac or PC, further enriching your digital experience.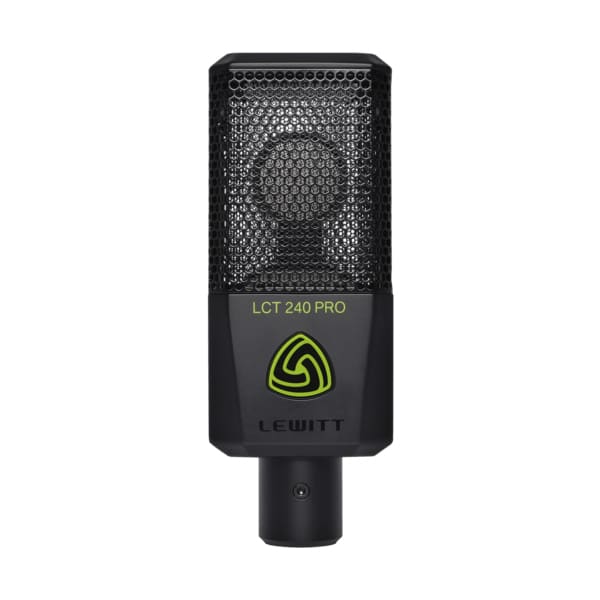 Studio condenser microphone with high definition natural sound
High recommend for voice over recording, podcast recording, vocals and singing
Cardioid polar pattern for excellent pickup and background noise reduction
The LCT-240-PRO from Lewitt is a sweet sounding single-pattern cardioid microphone that by design accentuates clarity. The high-performance capsule gives you effective isolation from other sound sources to ensure you don't have to deal with any unwanted noise or feedback.
In addition, the compact and sturdy enclosure allows you to take this mic with you wherever you go. A great live performance option.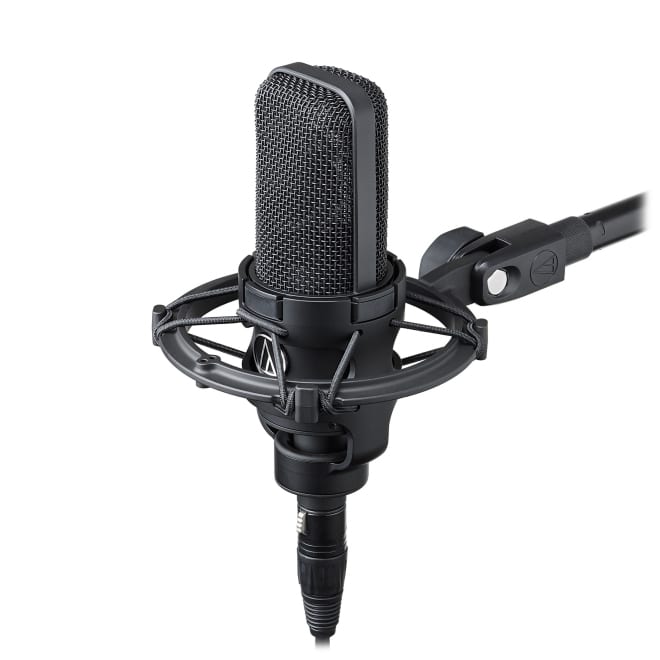 Some might consider the AT4040 from Audio Technica the cream of the crop when it comes to cardioid condenser microphones. It is the crown jewel in the Audio Technica range and if you choose this option, you surely won't be disappointed. The large diaphragm condenser gives you incredibly accurate sound reproduction and is suitable for a wide range of performance and studio functions.
The transformerless design means that you will experience extremely low distortion while you belt out your ballads, even in low and high ranges. The AT4040's high SPL capacity promises sound bursting with richness from the bottom to the top.
With a premium construction to match, the nickel plated brass and rugged casing is built to last. If you want a mic that's going to capture true to life resonance without sacrificing quality, you've found your match.
[maxbutton id="6″ url="https://www.musicshop.sg/products/audio-technica-at4040-cardioid-condenser-microphone?_pos=1&_sid=3041033b8&_ss=r" ]
Lewitt LCT-440-PURE Large Diaphragm Condenser Mic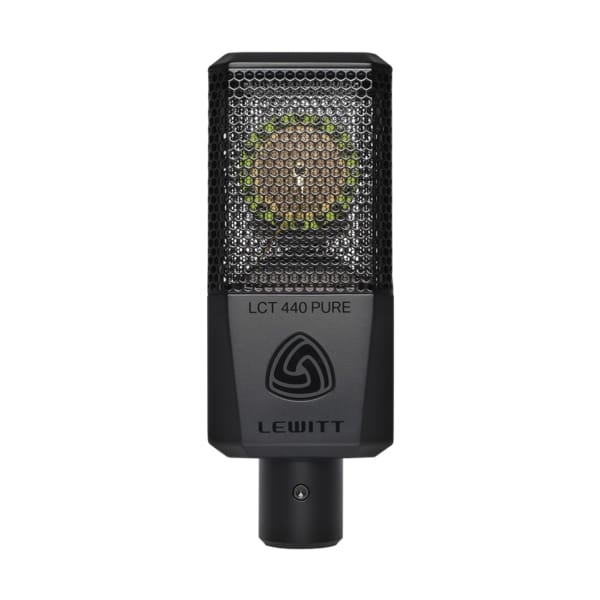 The Lewitt LCT-440 compresses high-end components and features into a compact casing. This large diaphragm condenser features a 1″ true condenser capsule that ensures each nuance is captured with accuracy and precision, while the cardioid polar pickup pattern guarantees you experience effective off-axis and rear rejection of any unwanted noise.
The LCT-440 also comes with handy shock mounts and a magnetic pop filter for boosted clarity. When it comes to vocals, the PURE is a good choice when you just want to do what you do best – sing!
Setting up your home recording studio
So selecting a microphone wasn't too difficult, but you might be wondering what next?
If you're setting up a recording studio for the first time, you should know that you're going to need more equipment than just a microphone. It's important to consider your options when it comes to purchasing the other components that will make up your rig.
Your microphone is going to complement and bring out the best in your voice, so you need to give equal consideration to the rest of your gear. At a minimum you will need a computer, an audio interface for recording without latency, a digital mixer for tweaking your tracks, and some quality studio monitor speakers and headphones for monitoring. You might also consider a MIDI keyboard or pad controller if you're going to be composing your own music. The sky's the limit!
Checkout our post on: How to setup a recording studio for under $1000?
Consider a studio recording bundle package
We know that some muso's are time poor and don't want to source and research all their equipment separately, or just want the convenience of one integrated package. If that's you, you might consider buying a recording bundle.
We recommend the Focusrite Scarlett 2i2 Studio Bundle because it packs in lots of great features and hardware at a very affordable price, and is not overly complicated to use.
You receive a recording Kit with Focusrite 2i2 Audio Interface, the Avid® Pro Tools® | First Focusrite Creative Pack Software, a CM25 MkIII condenser microphone, some HP60 MkIII professional closed-back headphones, and the Plug-in Suite. Not to mention, the sound output is sublime!
In summary
If you've been looking for a microphone, but have been a bit lost among all the available options, we hope that this list has helped you on your recording and performing journey. Now you have your microphone, what are you waiting for? Just sing, sing, sing!