Last Updated on May 10, 2023 by Muisc Pro Editorial Team
When you think of a recording studio, you might think of a massive mixing desk, sound booths and a professional sound engineer mixing a multitude of tracks to create audio dynamite. However, these days, much more music than you think is recorded in a home studio. Electronic music sensations such as Skrillex and Flume are both self professed home recordists, who got their starts crafting their tracks on laptops and honing their sounds in their bedrooms.
However, if you have ever tried recording at home yourself, you know that it isn't as simple as just pressing a few buttons. Recording sound with good quality can be a challenge, especially for beginners. Sure, you could just strum your guitar and croon into the built-in microphone on your MacBook, but chances are it won't sound like something you'd hear on the radio. That doesn't mean you need to spend a fortune in order to set up a decent home studio, just that you need to think about equipping yourself with the right tools. Investing in some good equipment can make the difference between a killer mix that will rival the professionals, and an amateur attempt that resembles an old crackly cassette tape.
That's where this handy guide comes in. We are here to tell you that you can set up a great quality recording studio for under $1000, and start taming your aural power from the comfort of your own home in much less time than you might think.
The foundations
The absolute basic equipment that you need to start recording from home is a computer and some form of recording software, also known as a digital audio workstation (DAW). This guide assumes that you already have this equipment, and that you will be setting up a digital studio, rather than an analogue one. While analogue recording is still an option, it isn't likely that you will get a good set up for under $1000, and unless you're a die hard nostalgic, you'd be giving up so much great technology and recording capabilities by turning away from digital. You can always mix in some analog elements down the track if that's your flavour.
When it comes to your computer, it doesn't really matter if you prefer to record on a PC or a Mac. Both have their pros and cons, and different people in the industry prefer one or the other for different reasons. For the purpose of your first home studio, we recommend you work with what you have and what you are most comfortable with. However, if you have both available to you, you might consider the difference between a desktop and a laptop system as the basis for your studio.
The larger casing of a desktop gives you more processing power, which results in faster speeds, and also has more storage. Desktops also have more inputs and outputs built in, and have greater possibilities for customisation when it comes to hardware such as RAM and hard drives. However, laptops give you the convenience of portability, convenience and the ability to take your work with you on the road.
The most popular DAW software such as Audacity, Ableton, Pro Tools and Reason are compatible across the majority of platforms. Your DAW software is what will bring your home recordings to life and will allow you to record, mix, playback and master all your tracks. This is the glue that will hold your projects together. There are a huge number of DAW options available with different specialties. Pro Tools will give you huge audio editing features and is excellent for mixing. Logic has a massive sound library, and is extremely user-friendly but is only Mac compatible. Ableton is a favourite among electronic producers who love loops and samples.
The most important thing about your foundation is that it is stable, so find what works well for you and what will allow you to achieve the results you want.
The audio interface
Your computer has a built-in sound card, and it is possible to record directly to your existing hardware. However, an audio interface will give you far more flexibility and freedom when it comes to recording. You will be able to record with multiple sources, such as a microphone, MIDI keyboard and other instruments. When starting out, you don't need to buy the best audio interface on the market. Something like the Audient id4 will only set you back around $250, and is more than sufficient. It delivers high-quality audio in a portable desktop package, and boasts an impressive dynamic range. It features a 2 in/2 out format to allow simultaneous recording and monitoring. If you are looking for more channels, you can also consider the Audient id14 which features 10 channels in and 4 out for larger projects at a slightly higher price point.
[maxbutton id="1″ url="https://www.amazon.com" ] [maxbutton id="4″ ] [maxbutton id="5″ ]
The microphone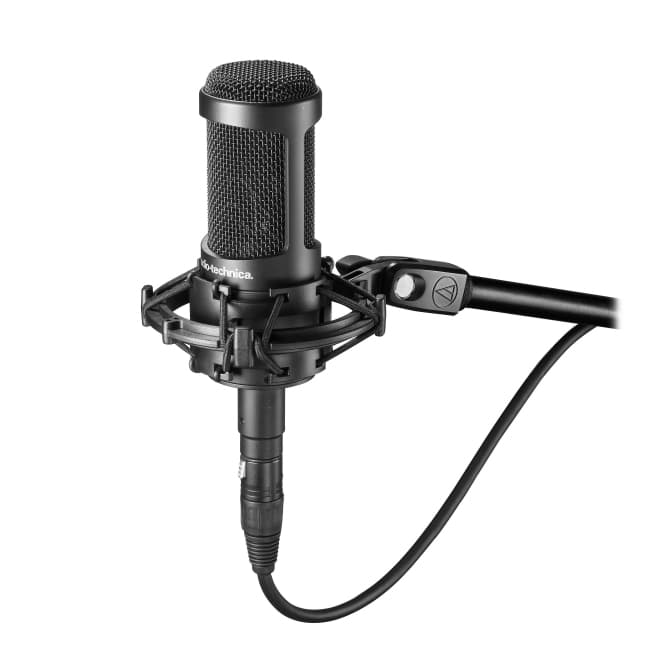 Every good studio needs a good microphone. If you are recording vocals, a quality microphone is an absolute must if you want to reduce noise and unwanted snaps, crackles and pops. A large diaphragm condenser microphone will make a world of difference compared to the cheap concert-style microphones you might find in many home studios. You don't need to spend thousands of dollars on a microphone, but you do need to select one that has the capability to bring out the best in your sound. The Audio Technica AT2035 is a great mid-range condenser microphone that has a high pass filter and shock mounts for reducing background noise, and cardioid polar pattern pickup for great sound isolation. Consider adding a pop filter for extra clarity. They are relatively cheap and will make a difference.
The speaker monitors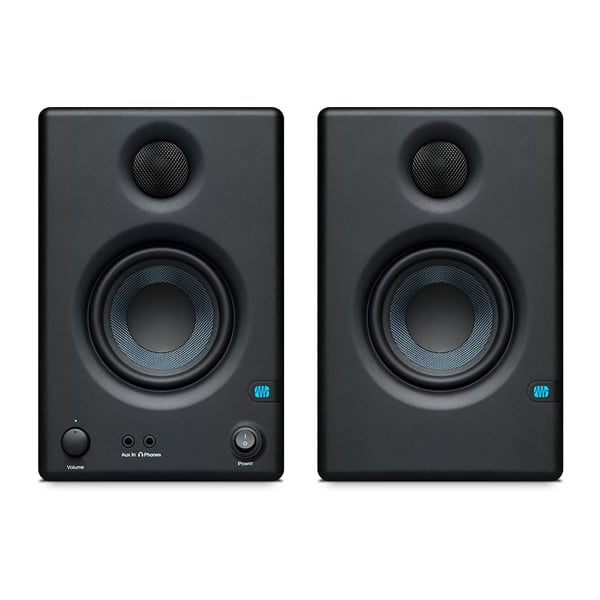 What is the use of having a great home studio if you can't hear all your great work in high definition? The speakers that come with your PC or are built into your laptop might be sufficient for watching a movie, or listening to music, but they won't let you hear the layers and details of your tracks with clarity. Spending a little bit of money on your speakers will allow you to hone in on each individual component of your sound to tweak and perfect each instrument. The Presonus Eris speaker monitors are a great affordable option for your home studio. With either a PreSonus Eris E3.5 BT or Presonus Eris E4.5 BT option, these monitors deliver accurate sound reproduction from kevlar woofers with crystal clear highs from silk dome tweeters. They are an affordable and compact solution to your playback needs.
The headphones
Headphones have a few key uses in the home studio. Firstly, if your room mates, your parents or your neighbours don't love your music as much as you do, they are an absolute must-have for keeping the peace. Secondly, they allow you to listen to your guide tracks while you are recording your vocals, without leaking back into your microphone, which can cause a muddy output. For playback, a good set of headphones will give you accuracy and clarity across your entire sonic field. Don't try and listen to your tracks with your old and dodgy earbuds until you are certain that you are happy with what you have laid down. While many of your listeners might be listening on low-quality headphones, you want to pick up as much detail as possible so there are no hidden surprises. The Audio Technica ATH-M40X over the ear headphones give incredibly accurate monitoring across a broad frequency range. While the Audio Technica ATH-M50X is a similar set that gives the added convenience of a 180 degree swivel for easy one-ear monitoring and a 45mm driver for a more powerful low end – great for those working hard in the bass department.
A MIDI keyboard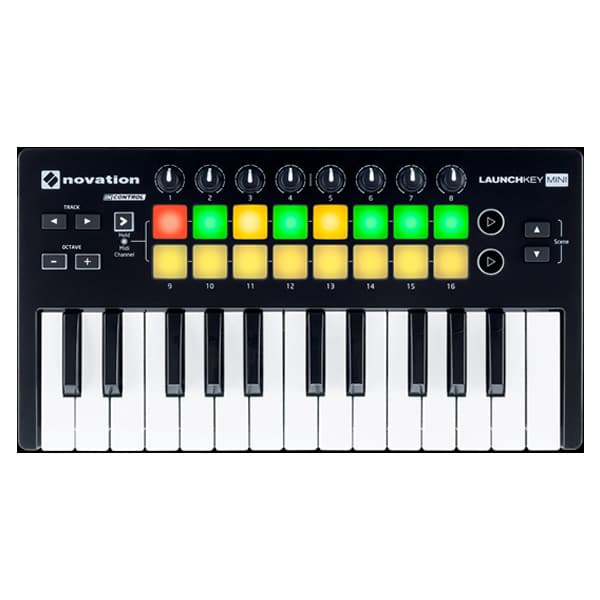 While not an absolute essential, many home studios are not complete without a MIDI keyboard. Not to mention they are loads of fun! These little bundles of creativity connect directly to your DAW and allow you to express yourself through a huge range of digital instruments and sounds. The Novation LaunchKey Mini 25 Keys mk3 is a great compact style keyboard for a home setup, featuring 25 mini keys with fast synth style action. You can also punch out drum tracks with the 16 velocity sensitive pads. This is a perfect piece of equipment for aspiring musicians of all genres to incorporate into their studio setup.
Too lazy to get the items part by part? Consider buying an all-in-one recording bundle
If all this is sounding good to you, but you don't want to have to research and source all the components of your home studio separately, you might be a good candidate for an all-in-one recording bundle. There are plenty of good quality bundles on the market that will have everything you need to start mixing and making music at home. The benefit of one of these bundles is that all the components come from a single manufacturer and will be optimised for compatibility.
The Scarlett 2i2 Studio is a recording interface, which contains everything you need to make studio-quality recordings at home. It comes with a microphone and headphones, so that you can start recording straight away. CM25 MkIII condenser microphone, HP60 MkIII professional closed-back headphones and XLR and USB cables are included in the box. The Scarlett 2i2 Studio is compatible with all major DAWs on Mac or PC.
Ear Training Software
Another bonus is to have a ear training software to get mastery over music and your instrument. The ability to hear and identify sounds is one of the most important skills for musicians. It's also a skill that needs to be developed, not just because it helps you with music but because hearing is a critical part of day-to-day life.
If you want to improve your hearing, then ear training software such as EarMaster can help. This type of software trains your ears so that they're able to hear more accurately and make better connections between what you hear and what you expect to hear. When used regularly, ear training software can give any musician a better sense of pitch and rhythm when playing an instrument or singing along with others
Some sound advice
As you can see, setting up a home studio doesn't need to be a headache. There are plenty of options available at an affordable price. However, the key is not to get overwhelmed by all the possibilities. When it comes to your setup, simplicity really is key. Not only is it possible to start simple, it is also preferable. If you try for too much complexity too soon, you might become frustrated when you can't use all the technical equipment you have, and you might end up quitting before you even really get started. If that happens, all the time and money you have put into your shiny new studio will be wasted. To avoid this, trust us, and keep it simple. You can always add more bells and whistles as you go.
The future is home recording studio setup
Once upon a time, building a home studio was daunting, not to mention a huge investment of time and money. Now, pretty much anyone can have a home studio. The best part is that the gap between home recordists and professional musicians is closing fast. Many established and famous musicians have made their breaks recording right from their homes. Modern technology means that recording in your bedroom with high-quality and affordable software, and simple to use interfaces, is not only possible, it is easy. Industry leading brands have brought all the mod-cons of the professional studio to anyone who wants to put in the time and energy to learn how to create their own tracks.
Now that you have the information you need to set up your own studio, all you need is a creative vision to bring everything to life!