Last Updated on May 10, 2023 by Muisc Pro Editorial Team
As you venture into podcasting and recording your own content, having a good microphone is crucial. There are many different types of microphones, with the USB mic as the easiest to use.
All you have to do is plug it into your computer and you are able to start recording. As such, there is an abundance of microphones available on the microphone and may be a hassle to choose which is the perfect one for you.
Condenser microphones will pick up more background noise, so you will have to record it in quiet environments. Dynamic microphones are perfect for a "more than one" recording session.
This article will introduce our list of the top 10 best microphones, with its features and for whom they are perfect for. In addition, we will consider the benefits of USB microphones and how to choose one that suits you. If you are deciding between an XLR microphone or a USB microphone, as well as that of a condenser microphone or a dynamic microphone, we will also do a comparison between both types.
Review of the Best USB microphone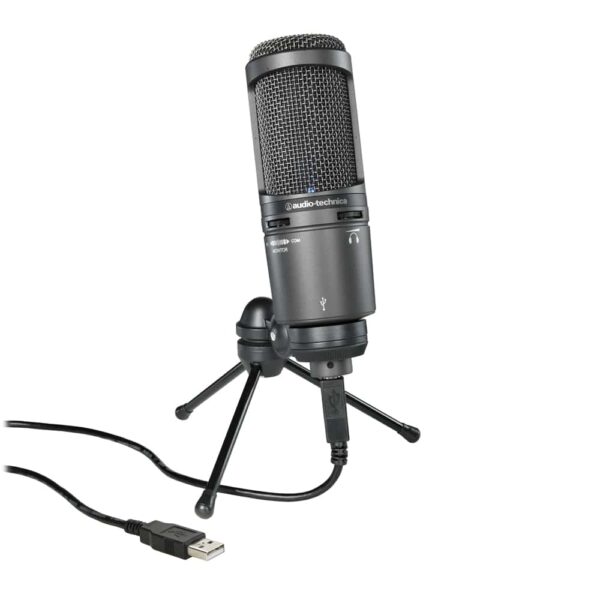 The Audio Technica AT2020USB+ Cardioid USB Condenser Microphone is a good choice for a USB Microphone. With Audio Technica having one of the best sound quality of its devices, you are assured that your voice will be captured crystal clear. It features a built-in headphone jack with a volume control that allows you to directly monitor your microphone signal without any delay. It also has a smooth, extended frequency response, making it perfect as a condenser microphone for your podcast.
Moreover, the microphone is rather lightweight, at 386 grams which is very portable. The AT2020USB+ is also compatible with Windows and Mac OS X, hence you do not have to worry about the device you are using. It is also fairly priced, which is great for those starting out as it will not require you to fork out large sums of money just to start a podcast. As such, these are great choices especially if your main device is your computer.
[maxbutton id="6″ url="https://www.musicshop.sg/products/audio-technica-at2020-usb-cardioid-condenser-usb-microphone?_pos=2&_sid=5018ea632&_ss=r" ]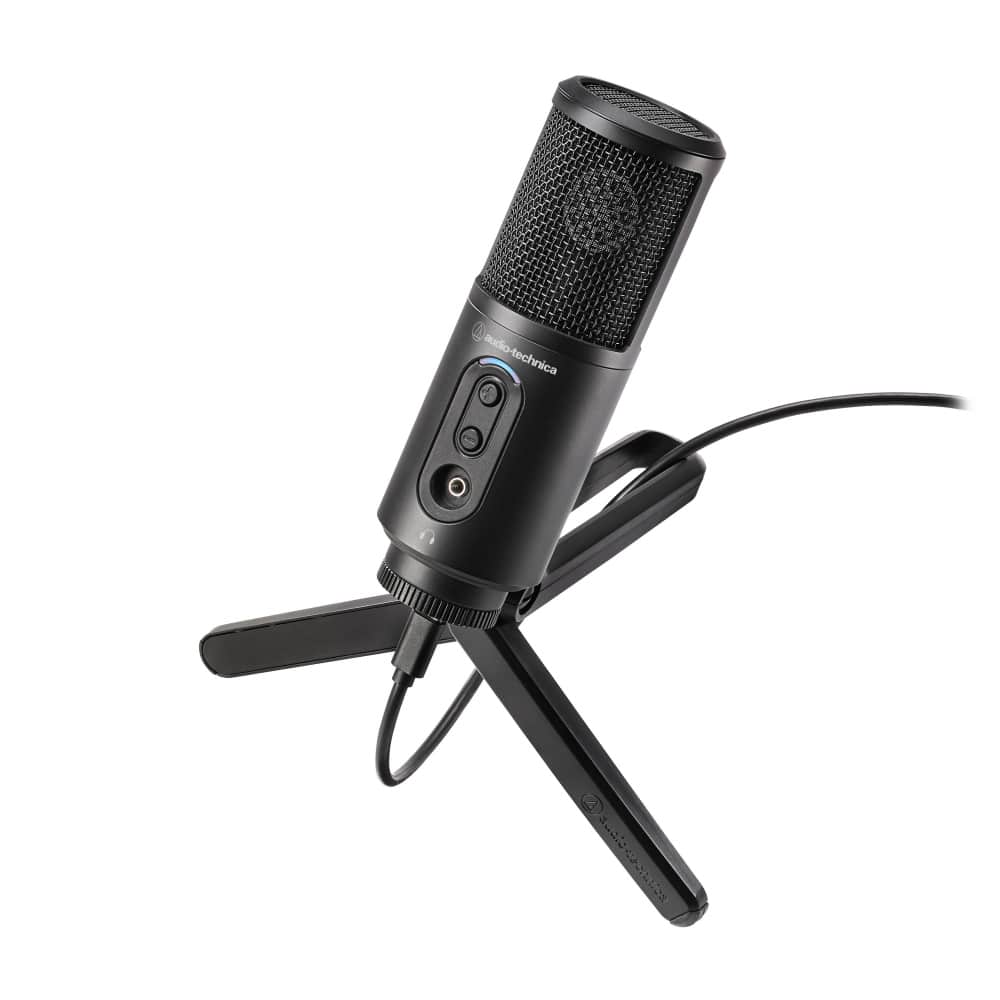 The Audio Technica ATR2500x-USB Cardioid Condenser USB Microphone is the ideal microphone for podcasting and recording. It minimises the pickup of wanted noises, which ensures that the sound quality of your recording is greatly maximised.
In addition, the microphone has a simple interface with volume buttons for audio monitoring and a headphone jack for you to be able to hear yourself as you are recording.
The microphone is compatible with both Windows and Mac, and also has a durable metal construction ensuring that its built is long-lasting. It weighs at 366 grams, very lightweight for portability and easy to set up with the foldable tripod. The ATR2500x-USB is very affordable across the market, and given its high sound quality is definitely value for money.
[maxbutton id="6″ url="https://www.musicshop.sg/products/audio-technica-atr2500x-usb-cardioid-condenser-usb-microphone?_pos=1&_sid=c4b2a154e&_ss=r" ]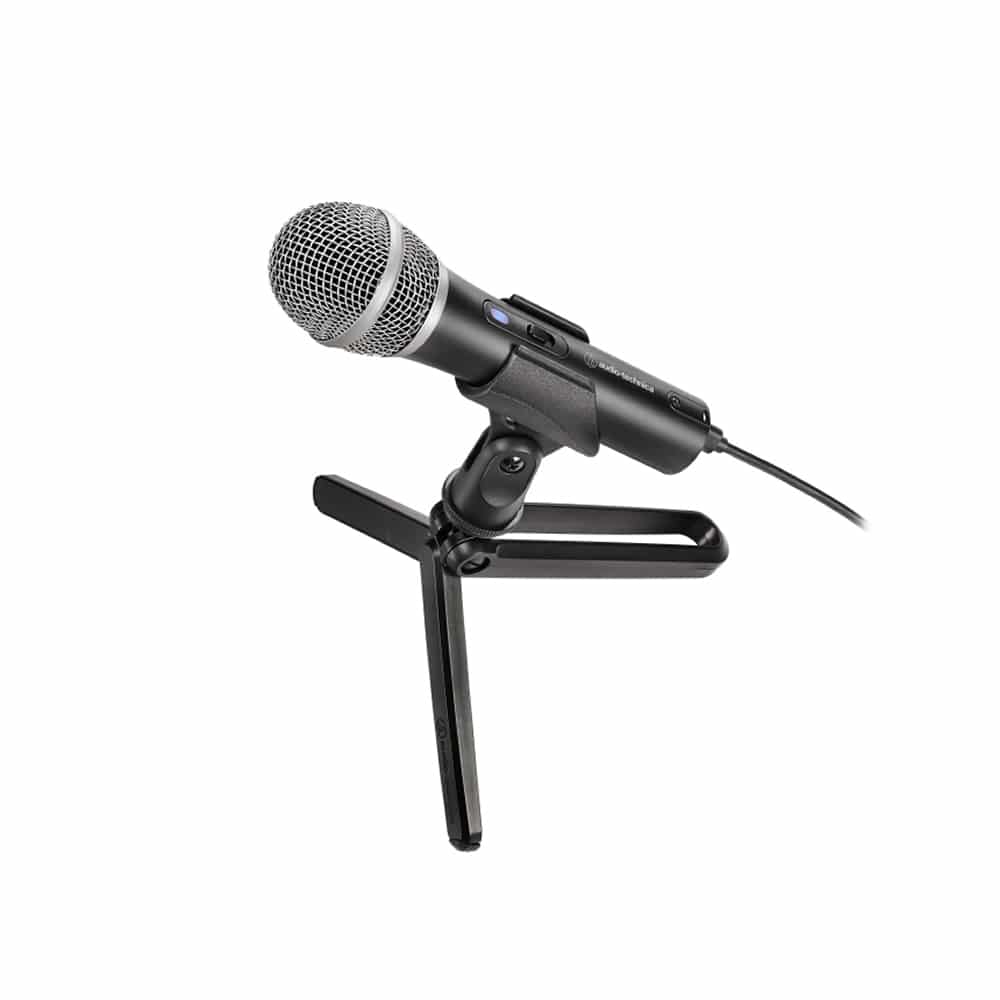 The Audio Technica ATR2100x-USB Cardioid Condenser USB Microphone is perfect for podcasting as well as live performances, given its handheld build. It offers a high-quality analog to digital converter for excellent fidelity, and also is built with a headphone jack and volume controls. It offers a USB-C digital output and XLR analog output, and has a smooth extended frequency response. The ATR2100x-USB is also compatible with both Windows and Mac so you most likely do not have to worry about what device you have.
The Cardioid polar pattern is crucial to the microphone as it minimises the pickup of wanted noises, ensuring that your audio recording is of optimal sound quality. You can rest assured that with this microphone, you will only be thinking of the content you will be recording. It comes with three cables: USB-C to USB-C, USB-C to USB-A, and XLRF to XLRM. What is more, it has a durable metal construction, ensuring long-lasting performance. The microphone is also very affordable, and as such you will not have to worry about breaking the bank for a good quality microphone especially if you are just starting out.
[maxbutton id="6″ url="https://www.musicshop.sg/products/audio-technica-atr2100x-usb-cardioid-dynamic-usb-xlr-microphone" ]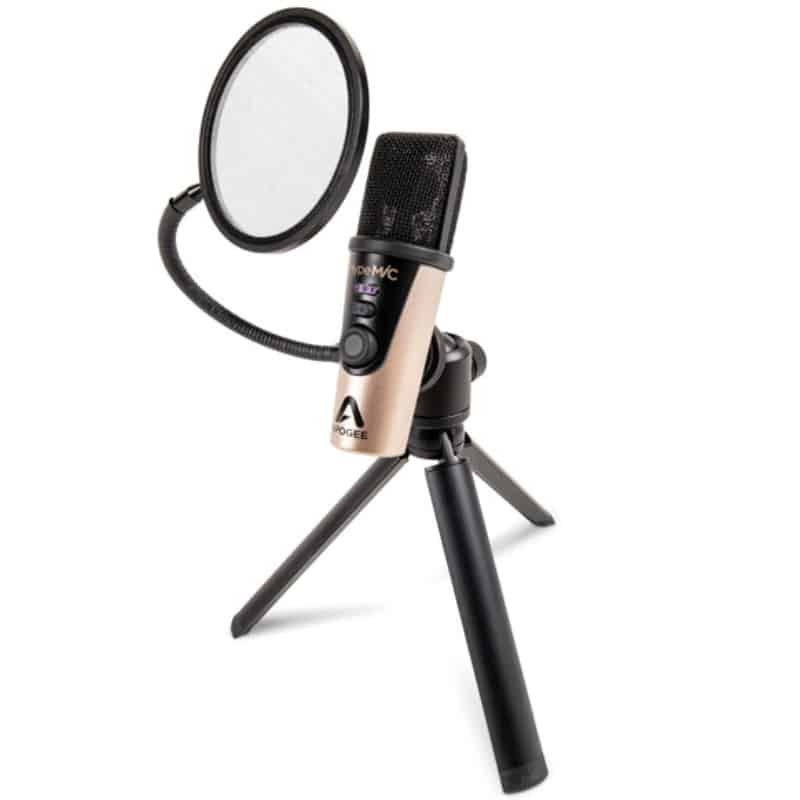 https://youtu.be/jZBBilOiH34
The Apogee HypeMiC USB Microphone houses a studio quality analog compressor that turns any of your recordings into what seems like magic. The great feature of it is the HypeMiC, which enhances your vocals and ensures that your recordings are of crystal clear quality. It balances the audio dynamics for greater clarity, and in turn your audience will be satisfied as they listen to your podcast. Moreover, you can adjust the HypeMiC on its compression, from low, medium to high compression depending on what you will be recording.
The microphone also comes with a headphone jack to ensure that you can hear yourself as you record. The Apogee HypeMiC is certainly functional for all types of recording, podcasting, singing as well as instrumentals, making it largely multi-functional. However, it is compatible only with Windows 10, Mac OS 10.9 or later and IOS 9 or later. While it may be on the pricier side, the Apogee HypeMiC definitely delivers for its price point which is why this is one of our recommendations.
[maxbutton id="6″ url="https://www.musicshop.sg/products/apogee-hypemic-for-ipad-iphone-mac-and-windows?_pos=1&_sid=e527ddc4a&_ss=r" ]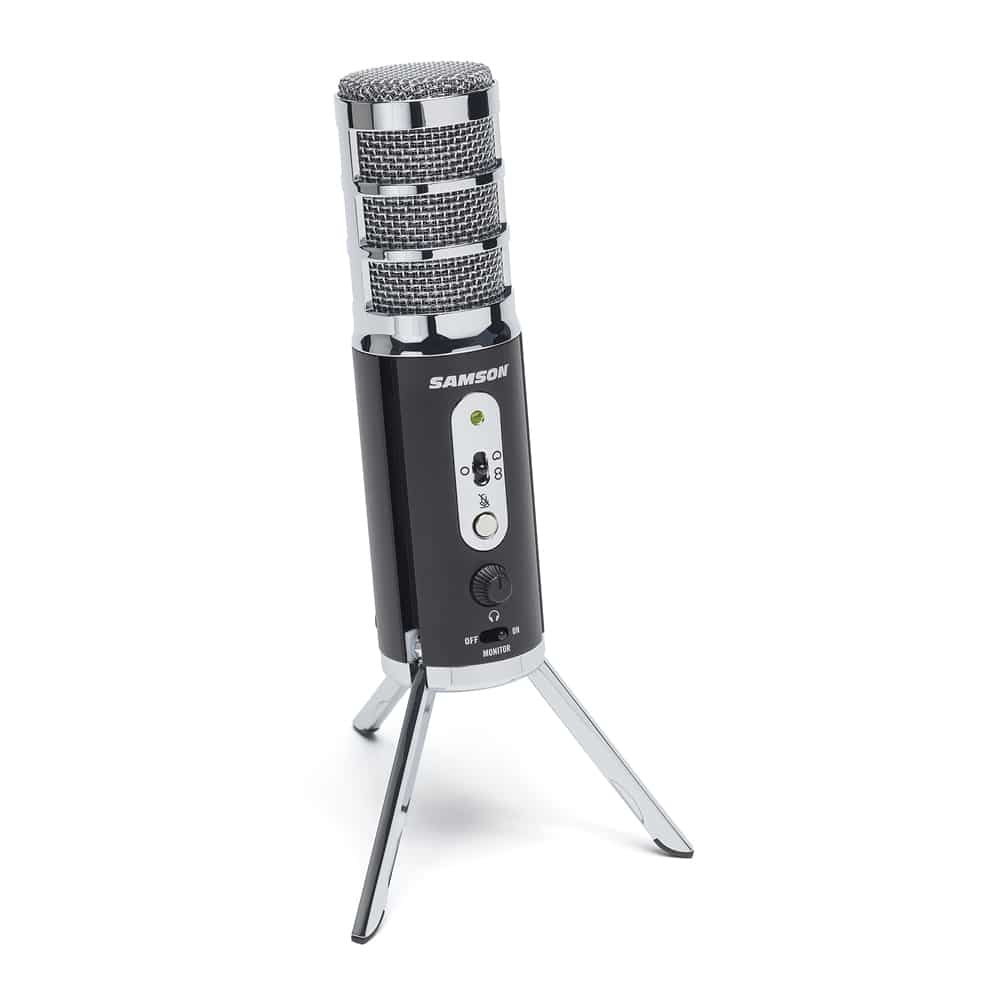 Samson Satellite USB broadcast microphone capture high definition audio for your recordings. The 16mm condenser is able to pick up on your recordings with clarity with a smooth, accurate frequency response. Moreover, fret not about unwanted noises due to the built-in internal shockmount. It offers three selectable pickup patterns, cardioid, figure-8 and omnidirectional for a variety of recording types. The microphone also has zero latency ensuring that there is no delay between the recording and what you hear through the headphones. It plugs directly into Mac, PC, iPhone or iPad, ensuring that your devices will be compatible. Satellite also offers plug-and-play operation, 24-bit/96kHz audio, three selectable pickups patterns and a fold-back leg design in a highly-portable package.The mic is also lightweight at 340 grams, allowing you to bring it around easily.
[maxbutton id="6″ url="https://www.musicshop.sg/products/samson-satellite-usb-ios-broadcast-condenser-microphone?_pos=1&_sid=b65493cb9&_ss=r" ]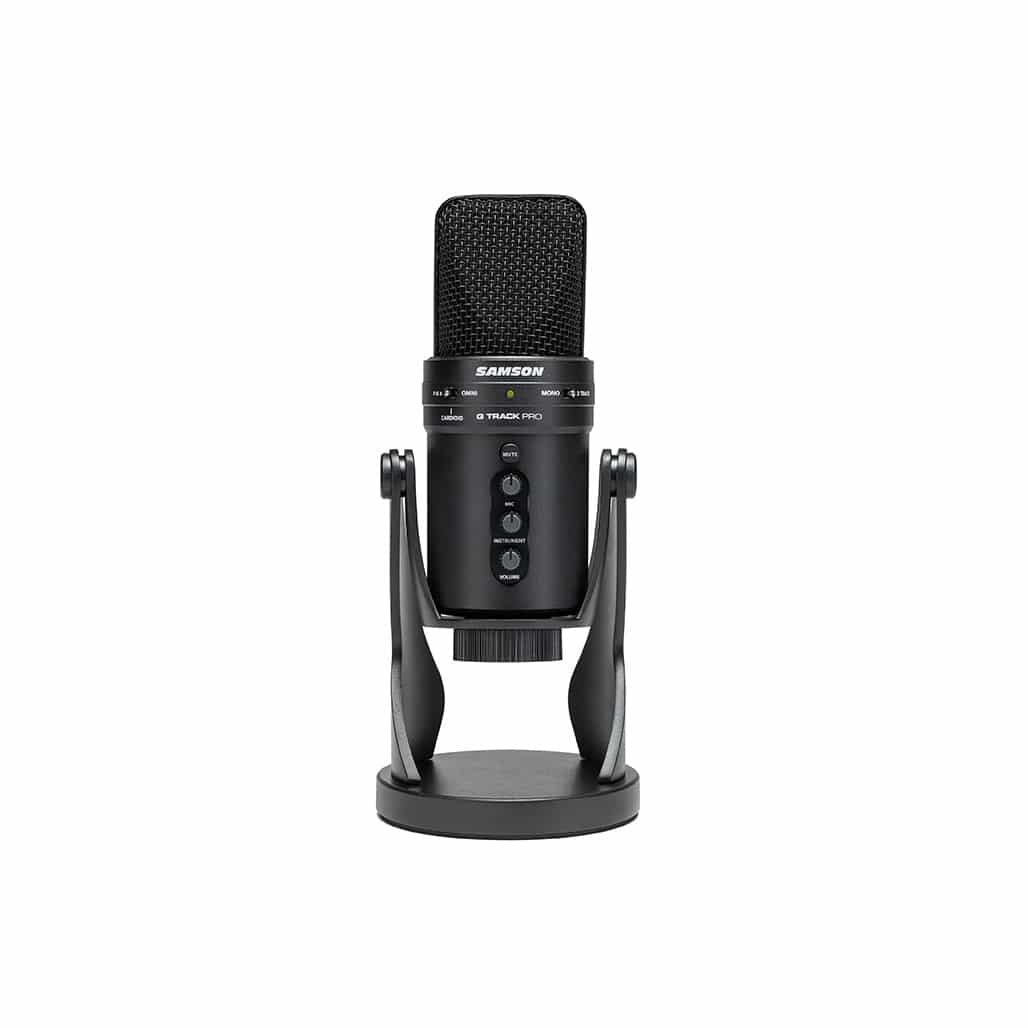 The Samson G-Track Pro is one of the USB microphones on the market with fairly professional features. It is perfect for recording two independent channels at one time, and captures your audio at 24 bit/96 kHz. Moreover, it allows you to select among three pickup patterns, cardioid, omnidirectional as well as bidirectional, which gives you considerable latitude in your recording.
There is also the instrument input which enables you to play a backtrack as you record your podcast, or a sub-mixer to record additional guests. Not only that, the G-Track Pro also has a manual interface, almost like a mixer, whereby it allows you to optimise your mix. There are three volume knobs for the microphone, instrument and headphones, a mute button, recording select switch and also the three position polar pattern switch mentioned earlier. What is more, it is already secured to a microphone stand, made of a heavy-duty metal construction, ensuring durability.
[maxbutton id="6″ url="https://www.musicshop.sg/products/samson-g-track-pro-professional-usb-microphone-with-audio-interface?_pos=1&_sid=4d2b87a45&_ss=r" ]
Samson Meteor Mic USB Studio Condenser
The Samson Meteor Mic is a very sleek USB microphone that not only looks good, but does the job as well. It houses a large 1″ (25mm) proprietary studio capsule, with a wide, smooth frequency response that picks up every direct sound made while the cardioid pattern minimizes any background noise. With a 16-bit, 44.1/48kHz resolution, you can be assured that the sound quality is not compromised due to style.
The Meteor Mic is also compatible with most digital workstations for convenience of recording. If you are on the go, the small size of the Meteor Mic allows for portability, ensuring that you can take it wherever your projects take you. In addition, it has a fold-back leg design which can be adjusted to the optimal position as you are recording. The mic also comes with USB cable and a pouch, which allows you to store your microphone and take it with you.
Razer Seiren X USB Streaming Microphone
The Razer Seiren X is a gaming microphone that can be doubled up for your podcast recordings. It houses a supercardioid pickup pattern, which records at a tighter angle, reduces unwanted background noises and ensures the focus stays on your voice.
It also houses an internal shock mount, ensuring that any sudden bumps do not affect the recording that your audience will hear. The Razer Seiren X is sleek, and comes in three different colours: Classic Black, Quartz Pink and Mercury White. It also has a mute button which allows you to manually mute and unmute whenever you record.
Rode NT-USB USB Condenser Microphone
The RODE NT-USB is a high quality studio USB microphone that is highly versatile. It has a cardioid polar pattern which ensures that background noises are picked up at a minimum. It is compatible with both Windows and Mac OS based computers, as well as the Apple iPad, which heightens the convenience and portability of the microphone as you can simply pack the mic and an iPad as opposed to a laptop.
The mic comes with a USB cable to connect, a black zip case to store your mic, a detachable pop filter which further reduces background noise, a tripod stand as well as a ring mount. The microphone also has a 3.5mm headphone jack, allowing you to hear yourself as your record.
Blue Yeti
The Blue Yeti is a professional multi-pattern USB microphone. With a selection of four distinct pattern modes, the microphone is designed for different recording formats be it podcasts, singing or musical recordings as well as ASMR recordings. The cardioid mode is great for podcasts, the stereo mode for acoustic guitars or ASMR recordings for that immersive experience, the omnidirectional mode for a live performance or a conference call and a bidirectional mode which is great for a two-person interview. The Yeti is also equipped with a 3.5mm headphone jack, which lets you hear yourself without any latency delays. Moreover, you can adjust the Yeti by pivoting it to the right angle.
Review Summary
There are many microphones available on the market, and as the market grows more and more features are being added to them and sound quality is undoubtedly becoming better and better. By and large, the microphone you should get ought to fit your needs and preferences. These microphones we have listed offer the best sound quality and features, and you will surely find something that you like. If you are looking to get a more professional microphone with the best sound quality, we would recommend the Audio Technica AT2020USB+. It has good clarity, and is definitely a good investment. If you are looking for something more budget friendly, you can opt for the Audio Technica ATR2500x-USB or the Samson Satellite, as these microphones are a good place to start.
4 Benefits of USB Microphones
Ease for Podcasting use
USB microphones are great because they are so simple to set up. All you require is a computer, and with a USB plug, you can plug it in and start recording. As a podcaster, you should devote more time and effort into the content as opposed to the recording setup. Hence, having a USB microphone eases the process and ensures that you are able to focus on providing your audience with the best content while also knowing that the sound quality is not compromised.
Straightforward and Relaxed Interviews
If you will be holding interviews, it can be slightly underwhelming to bring an abundance of cables and equipment to set up in front of your guests. Using a USB microphone, however, ensures that all you have to do is plug in the microphone into your computer and you can start recording your interview, It ensures that no precious time is wasted, which is a win for both you and your guest.
Convenience On-the-go
Perhaps you are expected to be on the move for your podcast, going about to different locations, having a USB microphone allows you to easily record any idea that pops up in your mind. This is especially useful if you are a musician and happen to have come up with something while playing around with your instrument. You do not require a huge setup, but simply plug in and start recording, thereby ensuring that your creative ideas are not forgotten.
Foolproof yet Professional
It is a common perception that the more complicated your recording setup is, the more professional it is and in turn has better sound quality. However, that does not entirely dispel the notion that a simple setup is unable to offer a good quality recording. Depending on the type of USB microphone you invest in, it is possible to attain a crisp recording. Moreover, you do not have to be a recording engineer to record. All that is required is a device such as a computer, laptop or tablet. Hence, no excuses can be made and anyone is able to start recording.
How to choose a USB microphone
Audio Interface
It is crucial that the controls on the USB microphone have to be considered, as it allows you to manually operate the microphone. This includes having a headphone jack, volume controls as well as knobs to adjust dynamics of sound you will be recording, be it a podcast or a singing session. Thus, the manual interface allows you to make that decision. However, most USB microphones have very intuitive interfaces, which are simple to use.
Source of sound recording
Where is the source of your sound coming from? Is it from your vocal or an instrument? Will you be speaking, or will you be singing? This is important to consider because different types of mics are more designed for different types of recordings. For instance, condenser mics are geared towards vocals and more calming instruments such as the piano. Dynamic mics, on the other hand, are better louder sources such as guitars, basses and drums.
Recording Arrangement
Largely depending on the set up of your recording, different mics accommodate these setups. For example, if you are sitting at a desk, condenser mics are more recommended as they usually accompany a stand. If you will be going around interviewing people, a handheld microphone with noise minimising features is more accommodating to that setting.
Device Compatibility
Because a USB microphone is dependent upon a device to record, ensure that it is compatible with what device you currently have. This includes the type of device such as computers, laptops and tablets, as well as the versions of each of these devices.
Recording Quality
USB microphone converts analog to digital within the microphone and it is based upon its audio bit and sample rate. The most common form of resolution is the 16-bit/44.1kHz.
Price Consideration
Depending on the type of project you will be working on, it aligns with the amount of money you will be pouring into a USB microphone. Fortunately, most USB microphones are relatively inexpensive.
USB Microphone vs. XLR Microphone
Between a USB microphone and XLR microphone, its main difference will be its mode of connection. However, there are also other factors that differentiates a USB and XlR mic.
Convenience
A USB microphone is more convenient due to the fact that it can be plugged into a computer or laptop and recording can start immediately. This reduces any time spent on setting up the equipment, especially if you are moving from location to location to record. An XLR microphone, on the other hand, will require audio equipment in order to begin recording.
Price
As mentioned previously, because an XLR microphone requires audio equipment, the lack of it will require you to invest more money in one, such as a mixer or audio interface. As for USB microphones, they are definitely more budget friendly, and if you already have a computer or laptop, getting a USB microphone will not break the bank.
Quality
By and large, XLR microphones usually have better sound quality as opposed to USB microphones once you hit above the $200 threshold for your XLR microphone. USB microphones usually are cheaper, and thus will not offer the same sound quality that an XLR mic is able to.
Flexibility
The downside of having a USB microphone is that it is difficult to record multiple USB microphones at once due to the challenge your computer will face in discerning the different mics. As for an XLR mic, you are given considerable latitude to swap microphones, interfaces and cables to fit your preferences.
Condenser Microphones vs. Dynamic Microphones
Within USB microphones, most of them are condenser mics because of the presumption that USB microphones will occur within the studio. However, condenser mics are deemed more "delicate" as they are not entirely effective in picking up on loud sources.
Sensitivity
Condenser microphones are delicate, and are used to pick up and amplify more delicate sounds. This includes sounds such as speaking and the piano. Because it utilises a phantom power, which creates its high output, it will not require as much gain at the preamp to get the signal to a usable level. As for dynamic microphones, they work better with loud sounds such as singing or the guitar. They have a lower output compared to a condenser.
Recording Location
Depending on where you will be recording, the different mics are customized for different locations. If you will be within the confines of your studio recording a podcast, a condenser mic will suffice. However, if you will be recording something at a live gig, a dynamic mic will work better.