Last Updated on May 10, 2023 by Muisc Pro Editorial Team
Learning piano is one of the most rewarding and fun musical pursuits you can take on. Whether you want to pursue your passion as a hobby or make a career, learning to play the Piano will open up a world of possibilities that few instruments can match. So if you're looking for the best piano lessons in Singapore, here are thirteen schools that will help get you started:
Silversnow Music School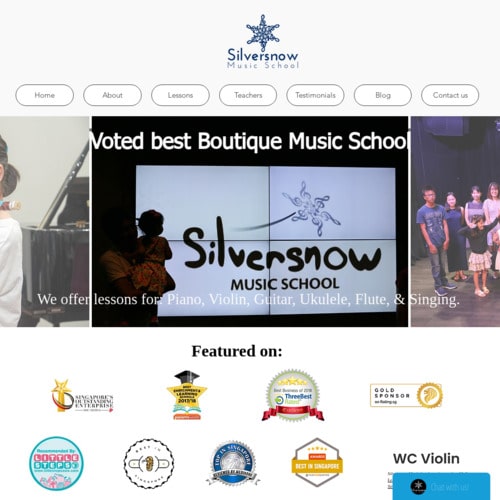 Silversnow Music School was founded in 2016 and is MOE certified. They offer music lessons for Piano, violin, guitar, ukulele, flute, vocal training, theory, and appreciation for all ages. Students can be assured of a conducive learning environment because the school believes in providing them with holistic music education. Every student gets the opportunity to gain performance experience annually to develop confidence as an adult. At Silversnow Music School, every child or adult gets the perfect environment to unleash their musical potential.
The school charts the students' learning journeys by providing weekly student progress feedback and accommodates the students' busy schedules with the flexibility to make lesson changes with advance notice. Under the tutelage of the school's friendly and qualified music teachers, students have achieved stellar ABRSM and LCM music exam results. And this flexibility in scheduling is what differentiates them from most music schools.
Address: Roxy Square II Shopping Centre 50 East Coast Road, #02-90 Singapore 428769
Contact: +65 64406805
Website:  https://www.silversnowmusic.com/
Awesome Piano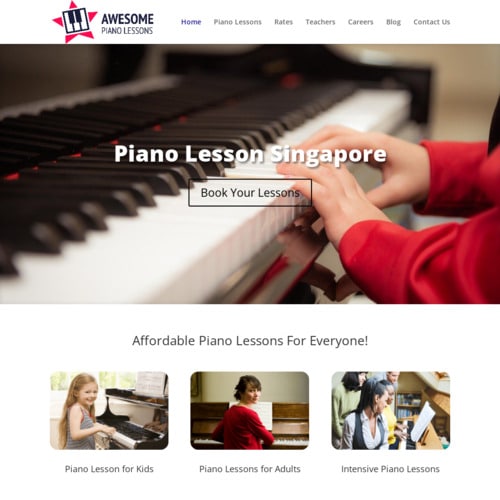 Awesome Piano is an innovative piano school that provides a holistic learning experience for children. With cheap piano rental schemes available, you can rent an affordable piano at SGD 60/month only! Just let them know you need a piano before registering for your piano lessons with them. They offer discounted rates for students who sign up for multiple months. They have a team of experienced music teachers who can teach your child how to play the Piano. They have passed an exam to gain a grade eight level in playing the Piano. They are also qualified to give private piano lessons. The Bootcamp is designed to help children develop their skills in playing the Piano within a short period by introducing them to various pieces of music from different genres, such as classical, pop, and rock n' roll. Students will learn how to play these songs by ear using basic techniques such as sight reading and note reading. It also includes rhythm exercises so students can develop their sense of rhythm!
Address: 2 Venture Drive #07-27 Singapore 608526​
Contact: +65 8754 4589
Website:  https://www.pianolesson.com.sg/
The Happy Pianist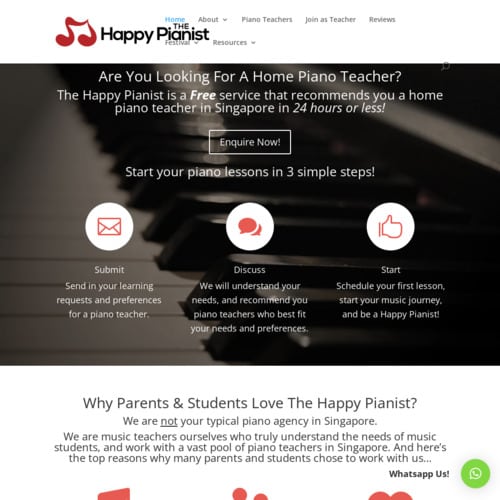 The Happy Pianists has been the preferred choice of home piano lessons for many adult learners in Singapore. The Happy Pianist is a family-run music school that teaches piano lessons to students of all ages and skill levels. It has trained students in Singapore and provides classes for children, adults, and seniors. They know you have hectic schedules. Their teachers help you schedule lessons on your preferred dates and times. The Happy Pianist offers a wide range of courses that teach different skills to students at all levels: beginners can learn basic techniques, while advanced players can perfect their technique or learn how to play complex pieces. The school also offers group classes where students can interact while learning new songs. These group classes are suitable for people who want to make friends with other music lovers but still get individualized attention from the piano teacher in charge of their class.
Website: https://www.thehappypianist.com/
CRISTOFORI Music Education Group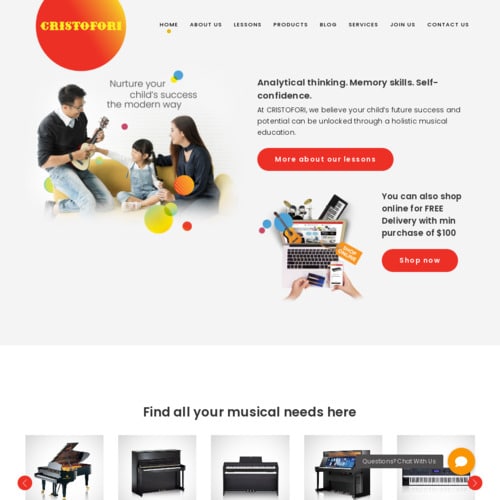 The CRISTOFORI Music Education Group is a registered music school in Singapore. Over the years, they've firmly believed in providing Quality Musical Instruments, Selling at the Most Reasonable Prices. And they value all their Customers Like their Best Friends. In the past four decades, Cristofori has expanded to become one of Singapore's largest piano companies and music schools, with a network covering every part of the country. Their goal is simple – to teach people how to play music. They do so through their comprehensive range of products, services, educational materials, and facilities. With an extensive selection of pianos, keyboards, digital audio systems, amplifiers, guitars, drums, percussion instruments, and accessories, they cater to everyone who wants to learn to play music.
The school's primary goal is to teach people how to play their favorite songs by ear (or at least learn how they are played) while also providing essential music theory knowledge and improvisation skills that are useful for any musician regardless of genre preference or style preference.
Address: Blk 3014 Bedok Industrial Park E #02-2150 Singapore 489980
Contact: +65 6243 9555
Website:  https://cristofori.asia/
Yamaha Corporation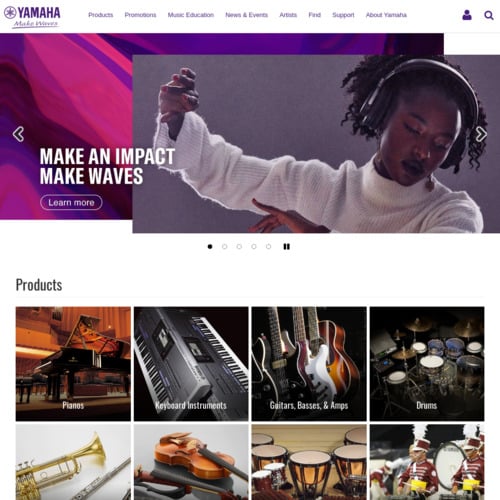 Yamaha Corporation is a Japanese multinational corporation that designs and manufactures musical instruments, electronic equipment, and other sound production equipment. Yamaha Corporation is the largest manufacturer of musical instruments in Japan. Whether you want to imitate a favored piano style, play a preferred tune, practice classical works, arrange a current hit, or take an official examination—they offer various courses to assist you in getting the maximum benefit from studying. In all their classes, they utilize the curriculum and original teaching material developed by 
Yamaha's expertise cultivated over sixty years, with some courses using commercially available song collections. In addition, Yamaha Music School provides fulfilling lessons by highly qualified instructors audited and trained by Yamaha. The company's flagship product was a reed organ known as "Yamaha," though there was no connection with the modern-day instrument still produced today by this name.
Address: 202 Hougang Street 21 #02-00 Singapore 530202
Contact: +65 6740 9200
Website:  https://sg.yamaha.com/
Rhythm House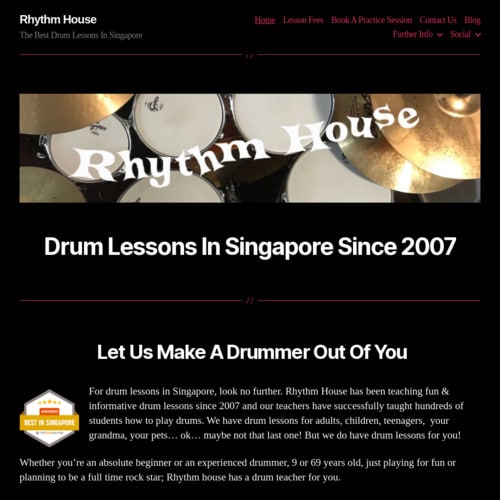 Rhythm House is a music school that has been around since 1991. It offers lessons for all ages and levels, from children to adults. Rhythm House has also been awarded the "Best Music School" award by the Singapore Tatler Society, making it an excellent choice for students of all levels. This school is located in the heart of Orchard Road, making it easy to find and convenient for nearby students. Rhythm House has a wide range of teachers, from classical music to rock and roll. The school also offers private lessons for students who want to learn a specific instrument or learn how to play songs by themselves. It has been teaching fun, and informative drum lessons since 2007, and its teachers have successfully tutored hundreds of students on how to beat the drums. They have drum classes for adults, kids, teens, grandparents, your pet dog, your cat, your parrot, and your fish. Their drum teachers from Singapore have years of professional playing and teaching experience, and they all play professionally – ask your teacher where you should see them play live next! Nothing beats playing alongside someone who knows what you're doing. So, no matter what age group you belong to, if you're interested in learning to play drums, come along and join them today!
Address: 5 Coleman Street B1-23 Excelsior Shopping Centre Singapore (179805)
Contact: +65 98489875
Website:  https://www.rhythmhouse.com.sg/
YourPianoLessons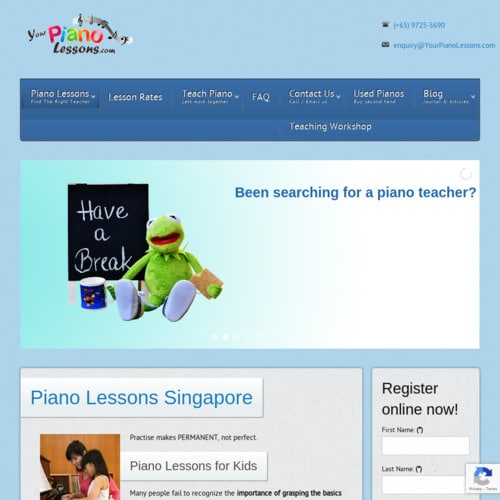 YourPianoLessons is a piano school that offers lessons for all ages. They are in Singapore and offer group classes, private lessons, and workshops. They have many instruments to rent or buy, including pianos, violins, violas, and cellos. The school also offers a selection of books for beginners as well as advanced students. You can also learn how to play the Piano online. Learning Piano online is an excellent option if you're short on time or do not have access to a qualified instructor. Online courses offer flexibility and convenience, allowing students to study at times that work best for them and to complete lessons at their own pace. Online classes are often provided through universities and colleges or maybe self-paced courses. Either way, you'll find that online classes offer a wealth of information about music theory, technique, history, and performance. The school also provides lessons for other instruments, including the guitar, drums, and violin. Again, they have a wide range of books available to rent or buy, including beginner books and advanced materials.
Contact: +65 9725-5690
Website:  https://yourpianolessons.com/
ThePiano.SG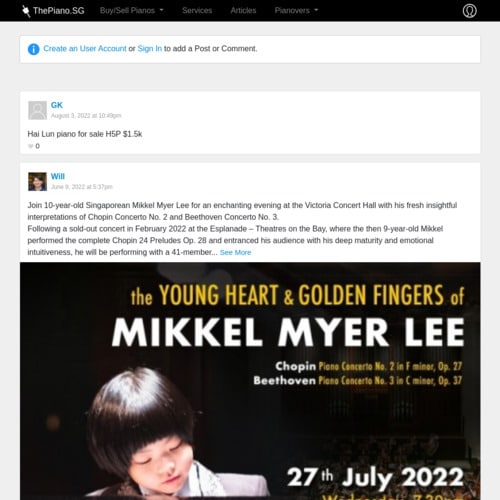 ThePiano.SG is one of the best piano lessons in Singapore, especially for children and adults with no prior experience playing Piano. Their teachers are very professional and patient, as well as friendly. The school is located in the heart of Singapore, so it's easy for anyone to get there quickly. They offer various courses depending on your requirements, such as different levels (beginner, intermediate), genres (classical, jazz), etc. Additionally, their teachers are charming and helpful, which makes learning easier! I recommend this school if you're looking for piano lessons in Singapore!
SG Music Pte Ltd operates the Piano.sg, Singapore's only online platform for promoting piano music in Singapore. They also lead the most prominent local piano community in Singapore, having close to 10,000 members on their social media platforms (Facebook & Instagram). Their mission is to promote piano music through events, concerts, workshops, masterclasses, and competitions.
Website: https://www.thepiano.sg/
Ms. Liew Piano Studio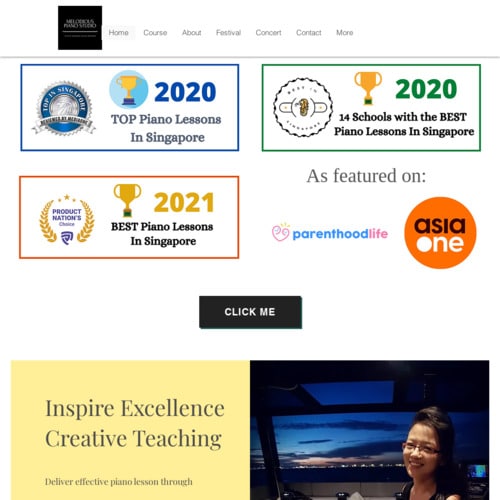 Ms. Liew Piano Studio is a piano school located in Singapore. Ms. Liew Piano Studio is an internationally accredited music school. She studied my piano lesson under Ms. Raltsa Obretenová, a master's degree in piano performance from the national academy of music. Under guidance, she got a distinction in piano performance. She was awarded another high-distinction diploma in teaching (early childhood music) by the London college of music attached to the university of west London. She attended Piano Teachers' Training Program under Ms. Jena, too, for she holds a Masters' degree in music from the Johannes Brahms Music Academy. She has inspired me to strive for excellence in piano teaching as I learn new things daily. At Ms. Liew Piano Studio, you will find that they have experienced teachers dedicated to providing quality piano lessons for students at all levels, including beginners through advanced pianists.
Website: https://www.sgpianoteacher.com/
Music Lifestyle Academy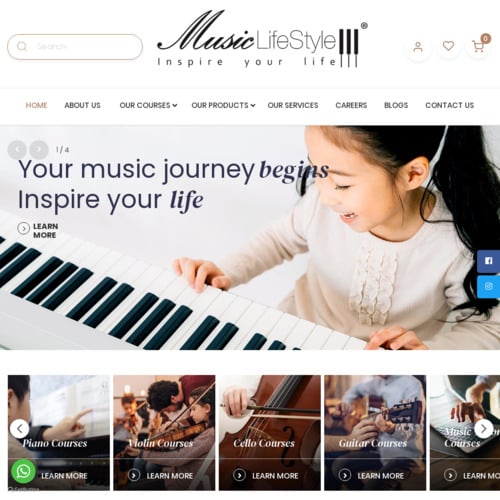 Music Lifestyle Academy, located in Singapore and began with the goal of sharing music as a lifestyle. They aim to instill an authentic love and appreciation for music through comprehensive educational experiences. Their students are also introduced to performance opportunities outside the classroom, including public recitals and charity events. Aiming to groom students into becoming future musicians, they provide age-specific music lessons from beginner to diploma level. They also offer individual tuition for those who wish to learn how to play instruments or sing. The school offers classical piano lessons for beginners as well as advanced students. They also provide jazz and pop piano lessons for those who want to learn different styles of music.
Address: 616 & 616A Serangoon Road, Singapore 218219
Contact: +65 6221 5221
Website:  https://www.musiclifestyle.sg/
Shu Hui Music 2023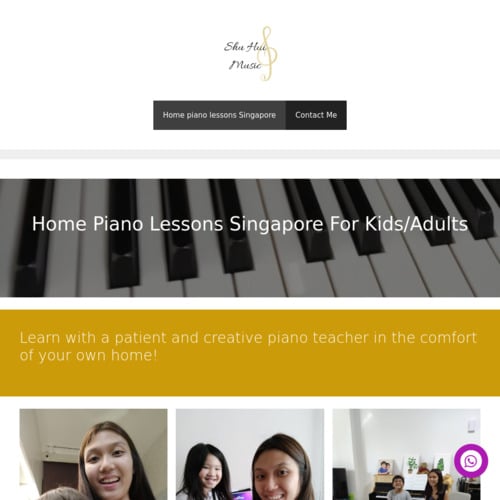 Shu Hui Music 2023 offers piano lessons for children and adults. Shui Hui is a full-time piano teacher who loves music. Music helps me express myself and share the joy of music with others. Her students come from all walks of life; they range from children to adults. They enjoy learning new songs and composing their music. Some of her students achieve Distinctions in their ABRMS theory and practical exams. She has ten years of piano teaching experience and has successfully guided students aged three to sixty-five. She also has attained a London College of Music associate teaching diploma, two years of piano majors at Lasalle college of arts, and ABRSM grade eight Piano and theory. These things have helped me adapt to every student and teach them in a way that suits her.
Contact: +65 94244374
Website:  https://shuhuimusic.com/
Apprentus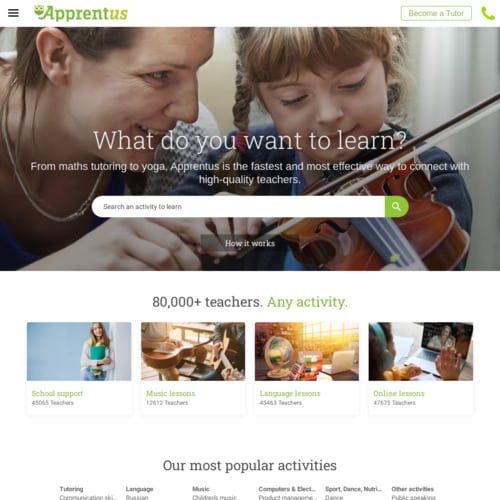 Apprentus is a new piano school in Singapore that offers music lessons for students aged 4 to 18. In addition, it provides various musical services, including performances, recording, and songwriting classes. Founded in 2014 with its world-class support team, thousands of teachers, and an ever-growing community of students, Apprentus is now the easiest way to monetize your knowledge and passion. Apprentus is an online marketplace where students can find qualified teachers in various fields. They help them connect with local instructors who offer lessons and services. Their goal is to make learning fun and easy! Apprentus specializes in teaching children with their distinct teaching techniques to help them learn the instrument more easily and quickly. They also offer guitar, violin, cello, and drums lessons if you're interested in learning 
multiple devices at once!
Website: https://www.apprentus.com/
D-Flat Studios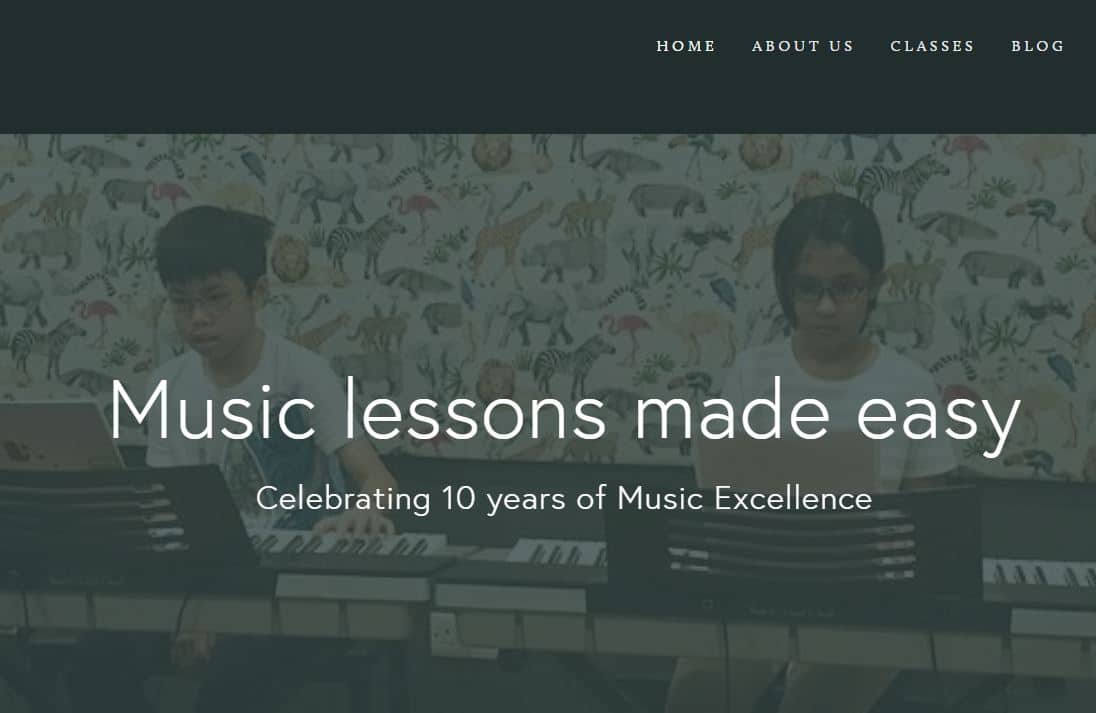 D-Flat Studios is one of the best music schools in Singapore for piano lessons. D-Flat Studios offers piano lessons for children, adults, and seniors, so you'll find a good program. The school is a member of the Yamaha Music Education Group, which means students have access to other schools worldwide when they're ready to take their skills further than one school can offer them. They believe every student should have an opportunity to experience music education outside the classroom. Through recitals, concerts, Masterclasses, and professional series, their students gain valuable skills and knowledge they can apply daily. They are dedicated to assisting their pupils to reach their fullest potential as musicians. They provide music theory, piano practice, and performance lessons to help them develop their sight reading and ear training skills. In addition, they aim to ensure they experience success by learning how to play an instrument. Students at D-Flat Studios share the same passion for music as their teachers—and it shows!
Address: 356 Tanglin Road Belvedere Block A, Level 3 Singapore 247674
Contact: +65 6871 4010
Website:  https://www.dflat.com.sg/
Conclusion
In conclusion, piano lessons can be a significant investment in your child's future. It can help them to develop their skills, build a love of music and improve their creativity. But, first, it is crucial to choose the right teacher who will guide them in their journey toward becoming accomplished pianists. With these tips on choosing the best piano lesson for your child's needs, you should be able to find just what they're looking for!