Last Updated on May 10, 2023 by Muisc Pro Editorial Team
When it comes to home theatre systems there are so many different options available. It can be hard to decide which features are going to be right for you and your budget.
The fact of the matter is if you want to improve your home viewing experiences, or even just listen to music in higher quality, investing in a home theatre system will transform your audio landscape.
To save you the hard work, we have scoured the market in Singapore to find the best home theatre options in 2020 and have presented them right here in one complete list.
1. Sonos 5.1 Wireless Home Theater System with Beam and One SL and Subwoofer
Best Wireless Home Theater System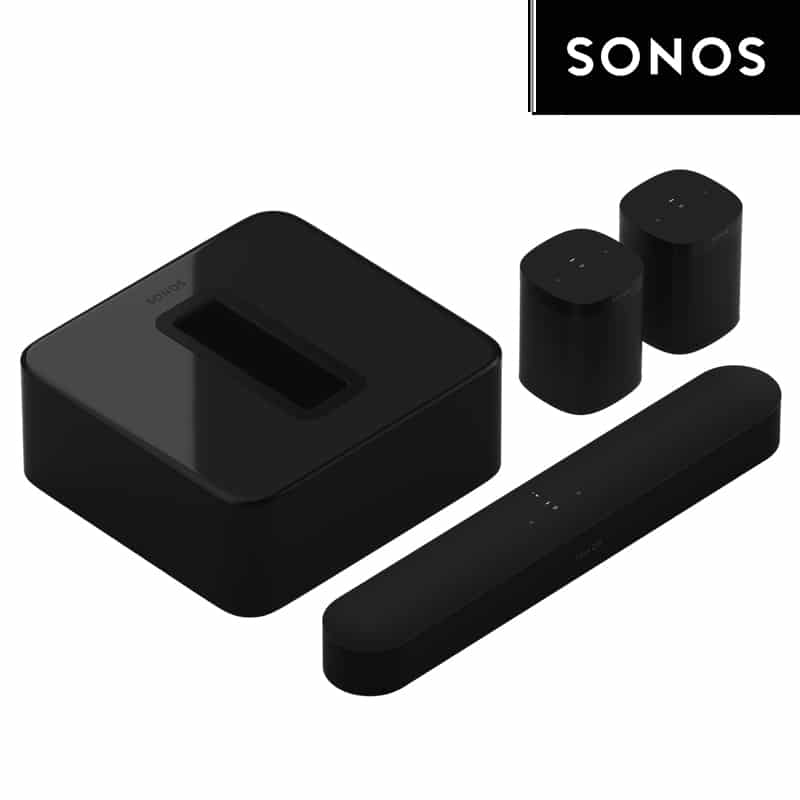 Voice control functions with either Amazon Alexa or Google Assistant.
Play through selected speakers or all at once.
Control through the handy Sonos app.
Connect to streaming services and internet radio.
For home theatre customers that want a stunning aural landscape, the Sonos Beam 5.1 Home Theatre System with One SL Speakers could be the choice for you. This awesome package includes the Sonos Beam, plus Sonos Sub and two Sonos One SL speakers.
Each component of the system is constructed with flawless, detailed and realistic sound in mind. Be enveloped as your home truly becomes a cinema. The system is really easy to configure with just a few button presses.
It runs over your wireless network for a cord free setup. No electrician required. Stream music and movies from your devices over your favourite apps, and control without having to leave your chair.
2. Sonos 3.1 Wireless Home Theater System with Beam and Subwoofer
Best Smart Wireless Home Theatre System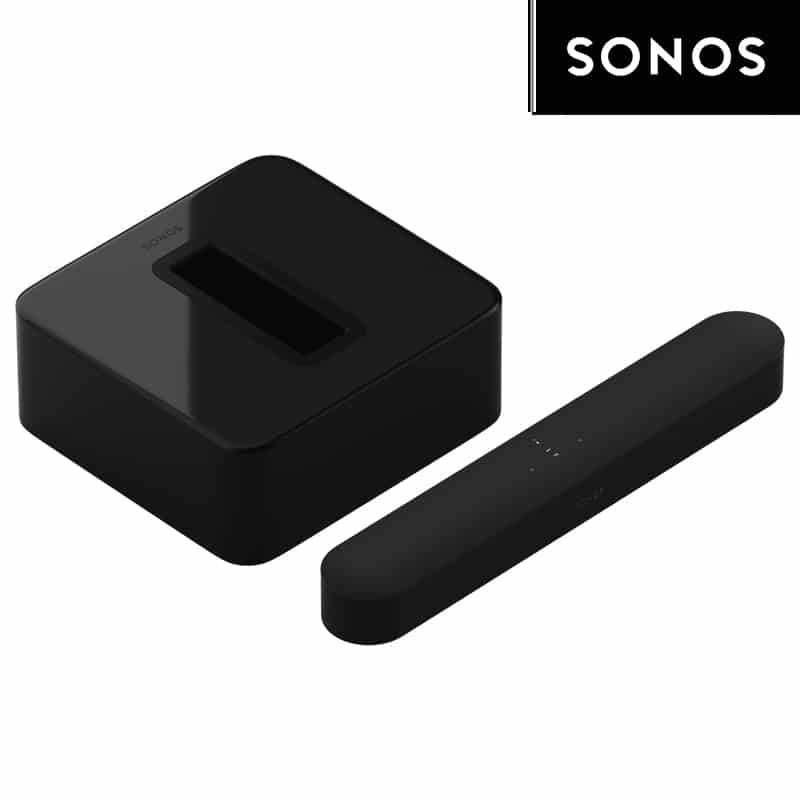 Configure over WiFi or dedicated Sonosnet 2.0 wireless network.
Control everything with the free Sonos app which is super simple to use on your mobile device, tablet or computer.
Play music and podcasts from all popular streaming services and stations.
Synchronise play across all speakers or zones, or play different tracks through each player.
Another great Sonos offering is the Sonos Playbar 3.1 Home Theater System with Sonos Playbar and Sub.
This isn't just a great home theatre package, but a solution for all your listening needs. Enhance the sound of your favourite movies, television shows and music, all streamed from your mobile device, computer, or library.
The Playbar gives you room filling sound thanks to the nine-speaker column line array. While the low end is boosted by the sub. A great mid sized offering at a great price.
3. Bose Home Theater System with Soundbar 700, Bass Module 700 and Surround Wireless Speakers
Top rated Wireless Home Theatre System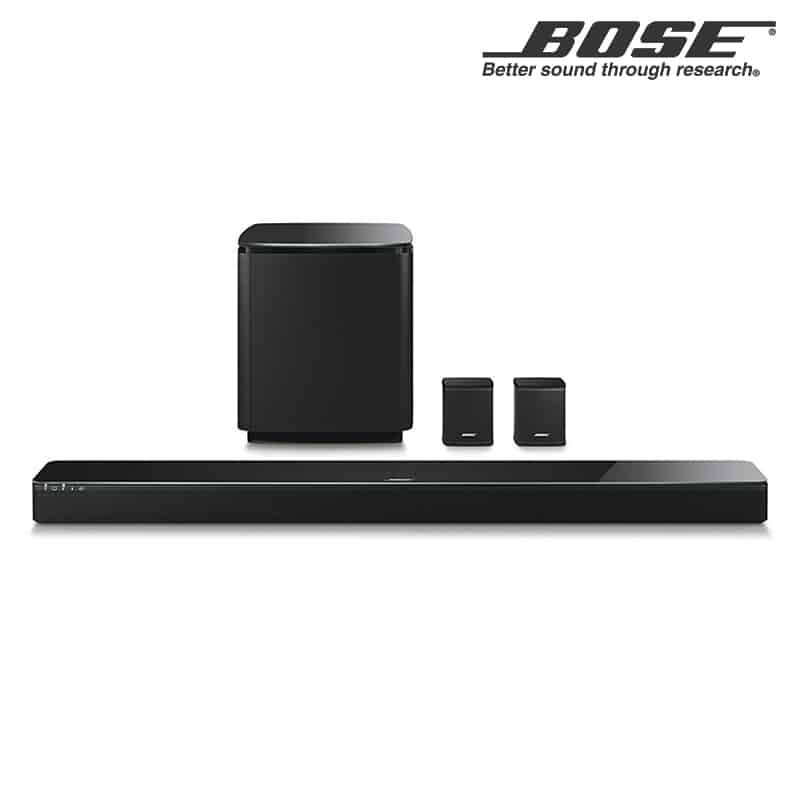 Ability to configure the setup fully over Wi-Fi.
Apple AirPlay 2 compatible.
Stream Spotify, Amazon Music, Apple Music and other popular services.
When it comes to home theatres, Bose knows that you don't just want to hear your music and audio, you want to feel it! Whether you are checking out the latest action blockbuster and can hear bullets whizzing by, or are listening to relaxing tunes for a fully immersive experience, you won't be disappointed with this offering.
The unmatched combination of the Bose Soundbar 700, the bass module, and surround wireless speakers will bring out the full detail of every sonic moment. What's more, you'll get a remote that you'll actually want to use. The universal remote allows you to manage all your entertainment in one place.
4. JBL Cinema 510 Home Theatre System
Best Budget Home Theatre System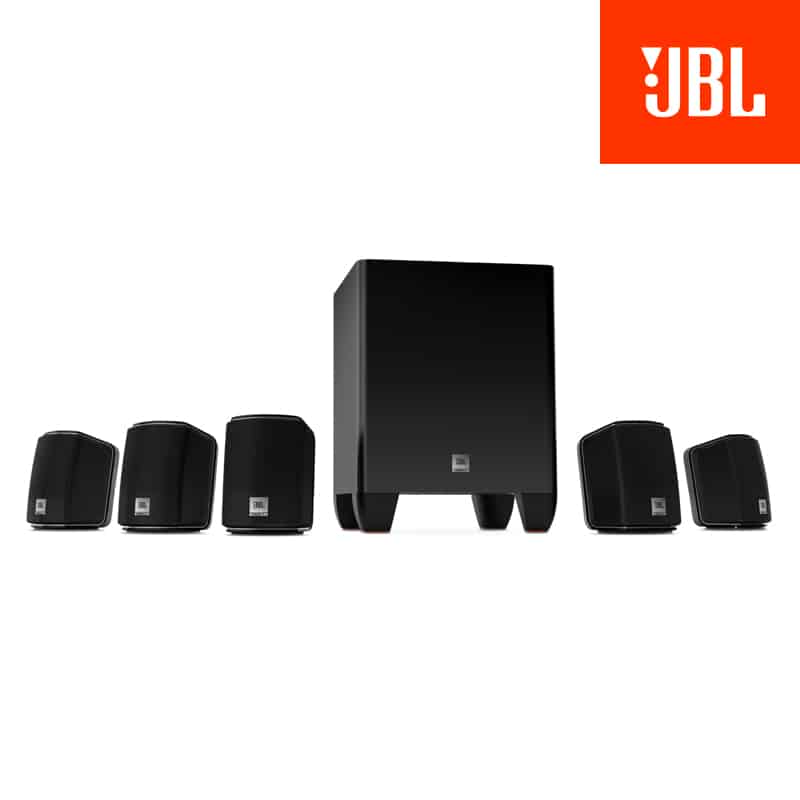 Easy connectivity for fast setup.
Voice matched satellites for realistic sound replication.
Stylish design to compliment home décor.
Powered subwoofer for resonant bass.
If you are shopping on a budget the JBL Cinema 510 Home Theatre System has everything you need and won't break the bank. The 510 can connect to any A/V receiver for a powerful and robust 5.1 surround sound system. It is supported by a thumping 6.5" powered subwoofer, and five voice matched satellites that give you a rich and immersive audio experience.
On the sub you will find volume and phase control so you can tweak the sound to your liking. It is designed to work with any flat screen TV and is a sleek and slimline system that will look great in your home.
Even better, the small footprint design will fit into tight spaces, making it perfect for those looking for space saving options.
5. Yamaha NS-P41 Home Theatre Speaker System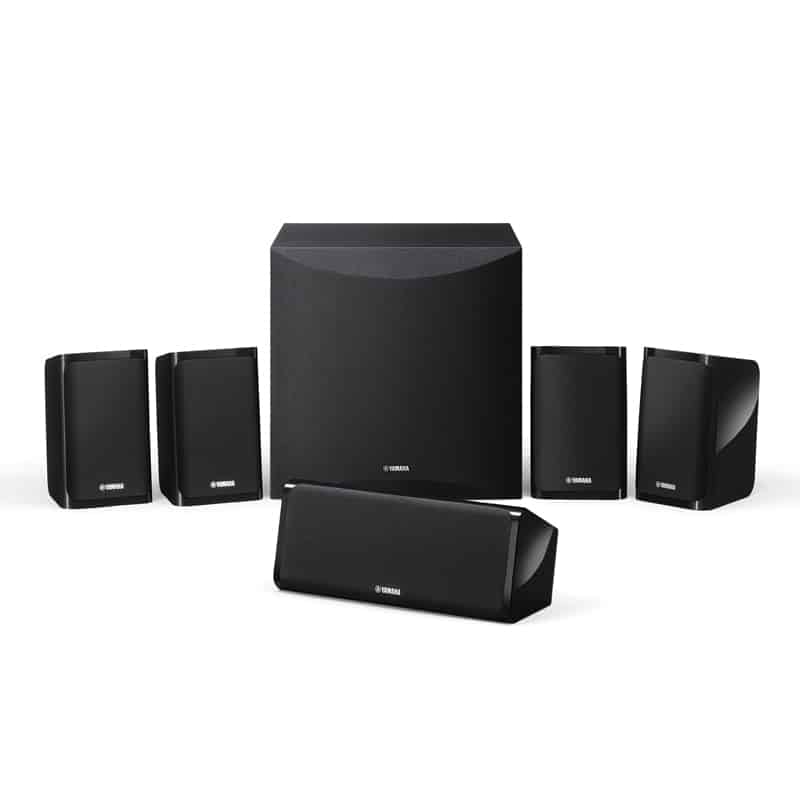 Keyhole openings for easy wall mounting.
Advanced YST II technology for tight control over the drive speaker.
Maintains stable and accurate low range response and high sound pressure levels.
Attractve classic Yamaha design.
Another good option is the Yamaha NS-P41 Home Theatre Speaker System. The speakers in this setup are fine tuned to deliver clear and bright sound that will be like music to your ears.
The surround sound speakers are in perfect communion with the sub so that you won't get those booming moments that can happen when watching movies and television. Instead you get rich and expansive sound that is easy to listen to over long periods.
These speakers aren't just great for viewing, but also listening to music, podcasts and audiobooks thanks to the great vocal reproduction.
6. Sony Home Cinema System with Bluetooth (BDV-E2100)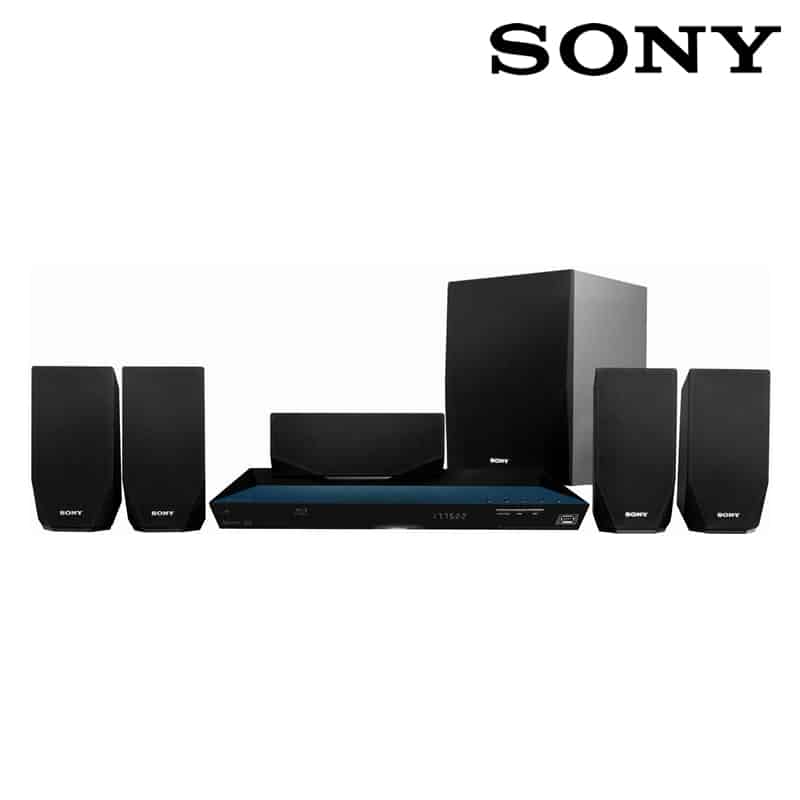 One touch listening thanks to NFC technology.
Easily pair with Bluetooth in a single press of a button to stream from your mobile or device.
Cool minimalist look inspired by the gleaming facets of quartz.
Are you ready for Sony cinematic quality? Then hold on to the edge of your seat and strap in for the Sony Home Cinema System with Bluetooth (BDV-E2100)! Here you will get room filling 5.1 channel surround sound delivered instantly over your wireless connection.
You can stream movies, music, podcasts, and more right from your devices, and control everything over an easy to use app. Never leave your sofa to grab the remote again.
The bass boost option gives you deep and powerful sound when you need it, while the digital music enhancer cleans up the output. No crackles or unwanted vibrations! A classic offering from Sony, who definitely knows the home audio game.
7. Jamo Studio Series S 807 5.0 Home Cinema System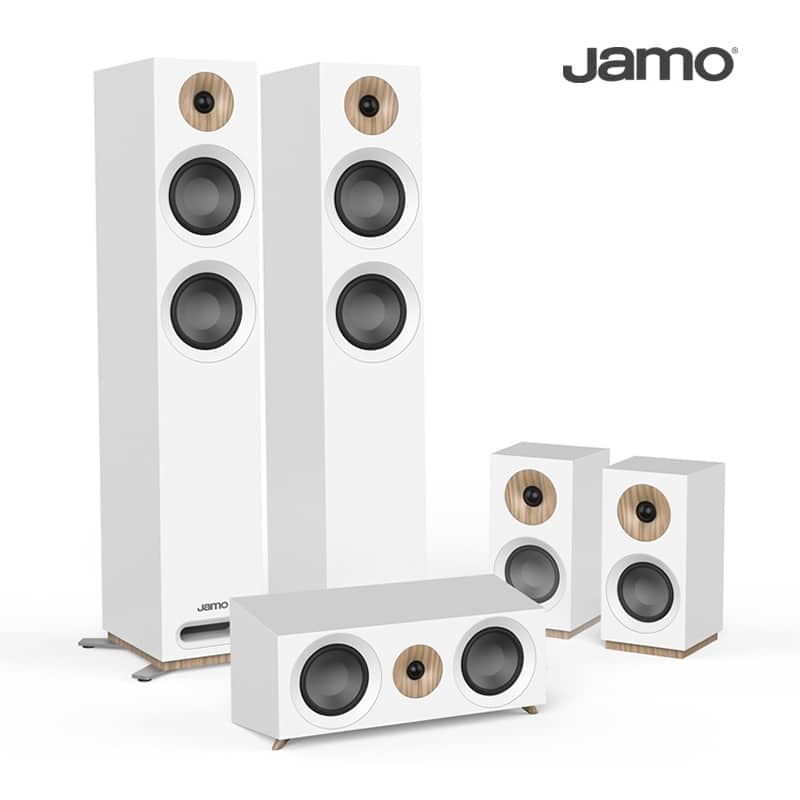 Comes with 2 S807 tower speakers, 2 S801 surround sound speakers, and 1 S81 centre channel speaker.
Dolby Atmos sound ready.
Sleek and minimal design.
With the Jamo Studio Series S 807 5.0 Home Cinema System you will find modern design right alongside high performance audio output. This system has clearly been designed with luxury viewing in mind, and comes ready for Dolby Atmos sound output. That means incredible acoustic performance so you'll never need to go to the cinema, even for blockbusters.
Not only does this system sound great, it also looks fantastic. The fully magnetic grilles give a clean and minimalistic look that home décor aficionados will love. The speakers are tower and bookshelf design, and are wirelessly configured, so they can be setup without any inputs or wires. There is plenty to like in this package.
8. Onkyo SKS-HT588 5.1.2 Channel Home Cinema Speaker System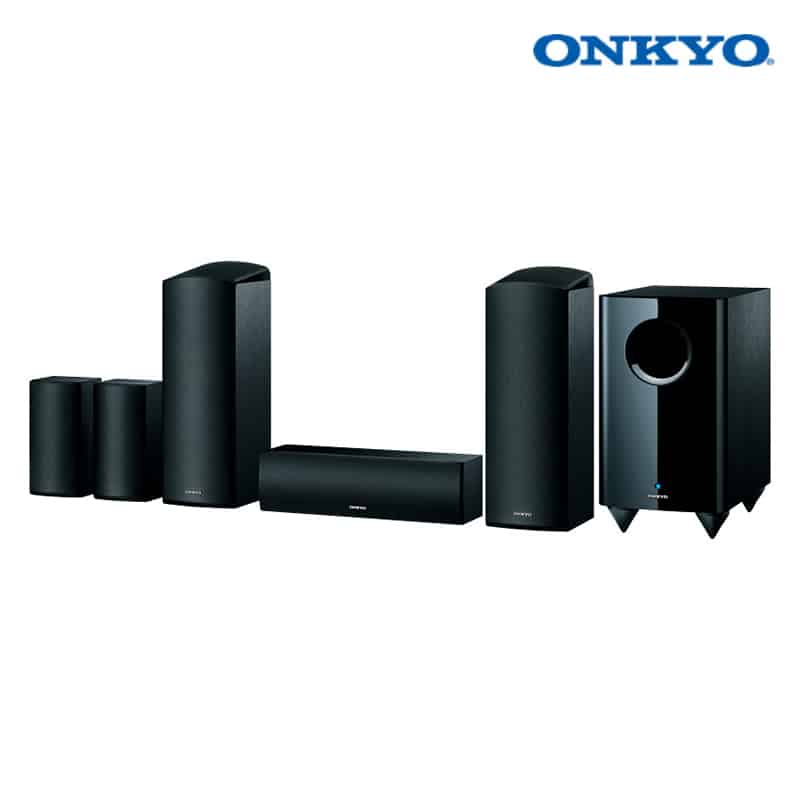 Dolby Atmos enabled speaker system for premium listening.
A centre speaker with 2 way bass reflex.
Upfiring driver for realistic overhead sound.
Bass reflex powered subwoofer.
A full range surround sound acoustic suspension.
The Onkyo SHS SKS-HT588 5.1.2 Channel Home Cinema Speaker System is a great option for those who want a system that looks great, sounds great, and offers simplicity of use. It is pre-configured for Dolby Atmos sound, so all your movies and shows will fill your theatre space with luscious audio.
You can also listen to MP3's audiobooks and podcasts streamed from your device over wireless. One of the most appealing features is the upfiring driver housed in the top of the cabinet, which sonically bounces off the ceiling for realist overhead sound reproduction. Finished in an elegant black hairline design, the Onkyo SKS is definitely worth a look.
9. Sony 9.1 Channel Wireless Bluetooth 3D Blu-ray Home Theatre System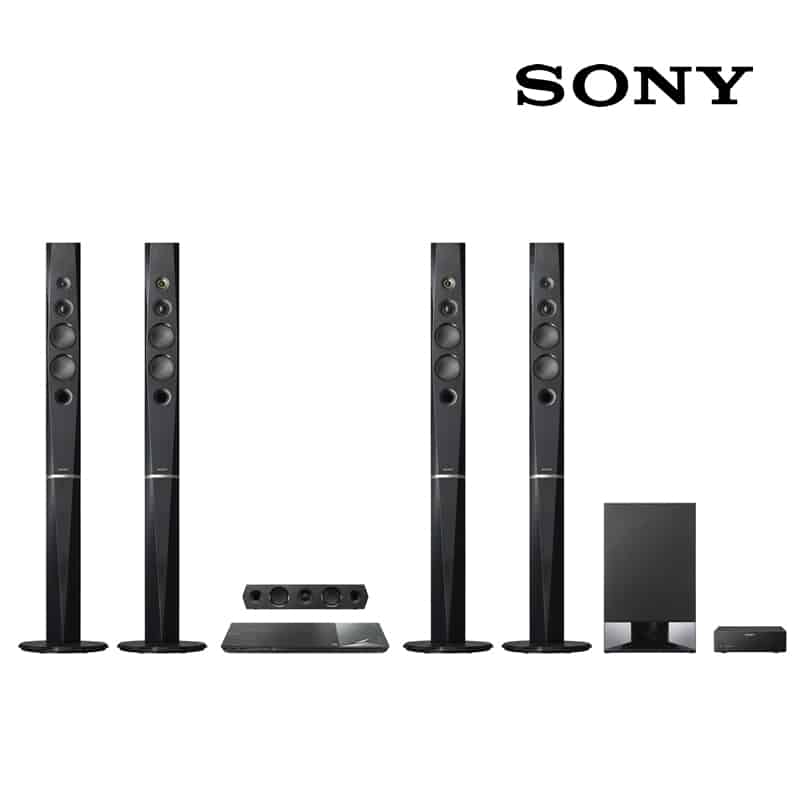 Stream movies and music wirelessly via NFW, Maracast, Bluetooth and Wi-Fi.
Incredibly detailed playback quality with 4K upscaling.
1200 watts of RMS power.
3D and Blu-Ray compatible.
If you have dreams of turning your living room into a full scale cinema experience, then you can't go past the Sony 9.1 Channel Wireless Bluetooth 3D Blu-ray Home Theatre System. This stellar offering delivers movies in incredible detail thanks to 4K scaling and passthrough – that means everything from a boom to a whisper will be heard in detail.
The 5.1 inch surround sound magnetic fluid speakers and high res audio converts analogue sound to digital precision. The included subwoofer and 5 speakers are supported by a total of 1200 watt watts, creating a layered experience for all kinds of viewing and listening.
10. JBL Cinema 610 5.1 Home Theatre System with Subwoofer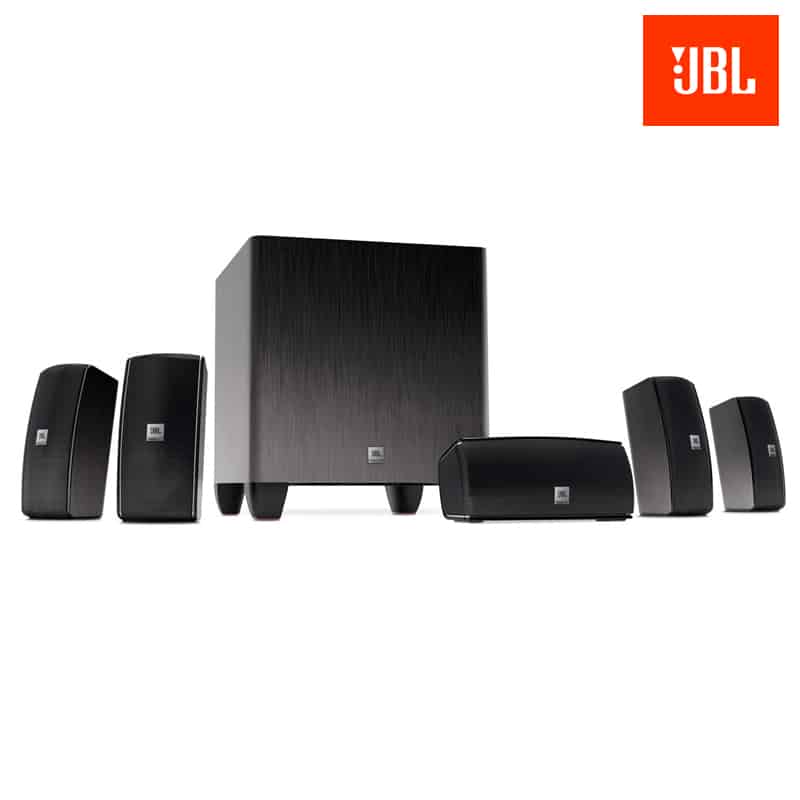 Dedicated centre speaker for full cinematic power.
Easy setup, installation and customisation.
Great balance between sub and 5 satellites.
Don't just watch movies: feel them. Whether it is a thrilling epic, or a romantic comedy, this offering won't let you down on the audio front. With this JBL 610 5.1 Home Theatre System and Subwoofer, you can transform your television into a true cinematic experience the whole family will love.
Sit back and feel the throbbing bass of the 8" bass reflex 60 watt powered subwoofer, while the five voice-matched satellites cocoon you in surround sound.
The true standout feature of this offering is the dedicated centre speaker that ensures flawless sound reproduction and dynamic dialogue. There are customised wall mount options for easy configuration to suit your living room.
Home Theatre System Round-up Summary
As you can see, there is no shortage of great home theatre options on the market in 2019. No matter what your budget, or what your specific needs; we are sure there is something on this list for you.
We absolutely love the Sonos 5.1 Wireless Home Theater System with Beam One SL and Subwoofer for its flawless blend of sound quality and features. The added convenience of wireless technology also makes it a great choice. For those who don't need as much power, the Sonos 3.1 Wireless Home Theater System with Beam and Subwoofer presents another stellar option.
No matter which system you choose, we hope you have many great viewing and listening experiences to come.
What to look for when buying a home theatre system?
Firstly, when it comes time to go shopping for a home theatre system, it is important to know what to look for. This will save you lots of time and headaches when you start comparing options. You don't want to leave it to the sales person to give you all the information on home theatre systems, because you will likely feel overwhelmed, or you might be swayed towards their first preference rather than what is best for you and your needs.
What is your Budget?
One of the most important things to consider when it comes time to buy is how much you want to spend? There are so many home theatre systems on the market that you can shop within a range of budgets.
Of course, spending a little more means you will get higher quality. However, that isn't to say that you can't find a decent home theatre system at an affordable price.
We suggest setting a budget and researching within that price range to avoid overspending. At the same time, don't buy the cheapest available, as that old adage of 'you get what you pay for' certainly applies.
Types of Speakers systems your require?
Next, you will want to consider the speakers that come with each home theatre system, as these are a crucial part of audio performance. Some home theatre systems come in a bundle of floor standing speakers, while some have bookshelf speakers.
Most home theatre systems will be either 5.1 or 7.1 channel speakers. There will be a sub woofer that delivers bass, or low-level frequencies, as well as satellite speakers at the front, centre and rear, to deliver what is commonly known as surround sound.
You can play with the configuration of your speakers to customise the sound to your liking. Many people choose to mount their speakers if they don't need to move them around, as this gives a real cinema quality.
What's the sound quality your are satisfied with?
These days there are loads of different connectivity options, and depending what you want to hook your theatre system up to, it is important to buy something with the right inputs and outputs.
Most recent model home theatre systems come with HDMI ARC 1.4 for sending sound from the TV to the A/V receiver. This is much better quality audio than the older HDMI 1.3.
Surround sound options can be quite overwhelming, so it is important to know that most current home theatre systems support Dolby Digital and DTS soundtracks.
That means you get pure and immersive sound for your viewing and listening pleasure. Some systems also give the added bonus of equalizers and presets, so be sure to look for this if honing your sound is important to you.
Wireless VS. Wired Home Theatre
One of the questions you are going to get asked when you go to buy a home theatre is whether you want a wired or wireless system. Wired systems have been around for a long time, while wireless systems are a future trend growing in popularity due to their convenience.
With wired systems, you need to connect them together with cords, and often you will need to have cords run into the walls or ceiling to conceal them out of sight. Sometimes this can require a professional electrician.
Wireless systems are much easier to install because they are configured over your home Wi-Fi system with just a few button presses. Wireless systems also present a number of other advantages, such as being able to connect to your mobile devices and tablets.
That means you can directly stream music through your home theatre, play movies directly from your apps, or control via an interface.
The only downside of wireless systems is that sometimes disruptions to the network can cause disruption to your sound. However, this is something many brands have thought of, and have solutions in place to ensure consistency.
While both systems have the potential to present high quality audio, wireless systems generally have more technological features and are leading the way in the market.