Top 7 Best Column Line Array Portable Speaker 2020 Reviews
When it comes to portable speaker systems it is sometimes easy to overlook column line arrays, because these compact and slender options might look like they can't pack too much of a punch. Tall and skinny, they could be mistaken for a lamp or piece of furniture. However, despite appearances, these systems can do all the things a more robust speaker set can do, and often even more. Not to mention, they are discreet, chic and easy to transport if you are using them for live performance.
With premium cutting edge technology and high-class sound quality, 2020 has been a very good year for stick speaker systems so far. Notably the LD Systems Maui 5 offers heaps of features for an affordable price, but there are plenty of other options on offer too. That is why we have done the rounds and brought together our reviews of the seven best options on the market, to help you select the perfect system for your needs.
LD Systems Maui 5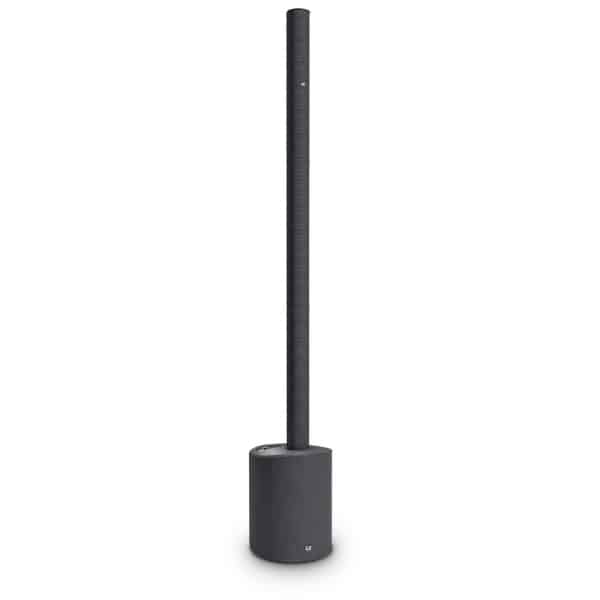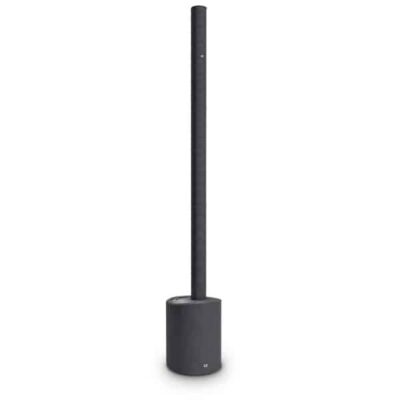 The LD Systems Maui 5 is the easy standout amongst competitors in the column line array field. Consisting of a subwoofer and three mid/high bars, this ultra lightweight and compact offering gives 800 watts of power and a maximum SPL of 120 dB at only 11 kg. It will fit onto any car seat so can travel with you wherever it needs to go. The subwoofer (contained in the base) and the three column system is also super fast and easy to assemble.
Check Price
The LD Systems Maui 5 has a reinforced sound and feedback resistant monitoring, as well as a vented 8" subwoofer that boasts Class D amplification alongside thermal and short circuit protection. There is built in blue tooth technology for wireless streaming and microphone connection so you can connect to your devices and other instruments without needing to cart around lots of messy cables.
The individual level controls allow you maximum custom control over the subwoofer and master volumes, as well as high shelf filtering to correct room sound and achieve that perfect balanced performance. You really can't go wrong with this system.
Features:
• Compact Plug and Play column system
• Built in blue tooth
• 800 watts of power
• Maximum SPL120 dB
• Frequency range: 50 – 20,000 Hz
• Coverage (H x V): 120° x 20°
• 8″ Subwoofer
• Height: 198.5 cm
• Weight: 10.9 kg
• Black colour
If you are in need of a battery powered column, you might also want to consider the Maui 5 Go, which gives the same 800 watts of sound, with the added bonus of up to 30 hours of battery life.
Bose L1 Compact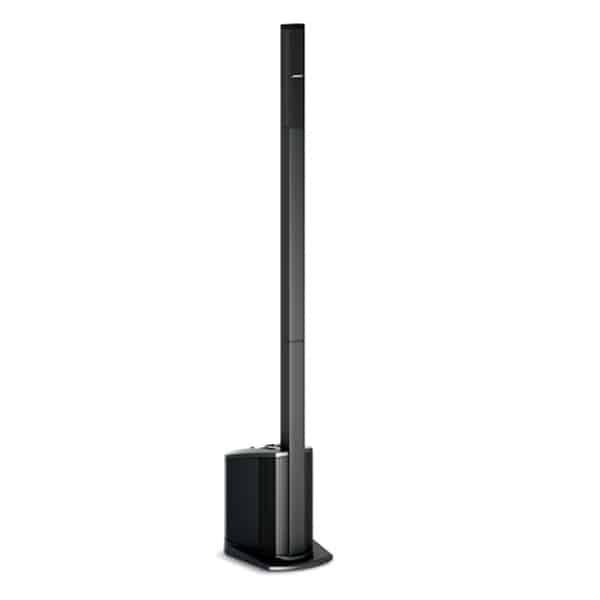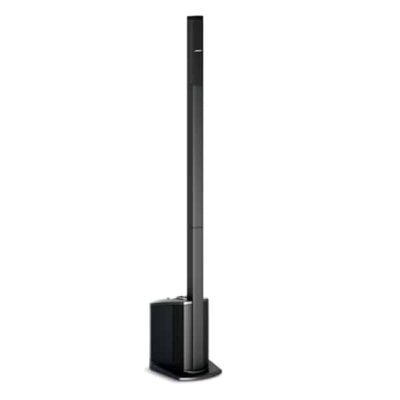 When it comes to sound quality in a column line array, it is hard to go past the Bose L1 Compact system. The slimline speakers distribute a premium, clean, and even aural performance across the whole room while your selected bass module delivers signature Bose warmth. The L1 compact 1s model comes with either a B1 subwoofer bass module, or the heftier B2 bass module for those who need some extra drive in the low end. If your performance needs to shake the room, this might be the option for you.
Check Price
The L1 Compact boasts 180-degree dispersion coverage so you're sound will be crispy, even at the edges. Plus, the L1 technology means that you don't need to bring a separate amplifier or monitor because they are already built in. This system really outperforms the competitors when it comes to sound quality with that signature Bose premium finish.
Along with the incredible sound, there is plenty more to like about the Bose L1 Compact 1s with both the B1 and B2 modules.
Features:
• Lightweight and easy to transport
• Superb sound quality
• Strong bass power with the B2 module
• Eliminates the needs for monitors and amplifiers
• Weight: 11.2 kg
• Height: 199.4cm
Electro-Voice Evolve 50
The Electro-Voice Evolve 50 delivers wide sound in a light but powerful system. While this stick PA might not be as compact as the Maui 5, it makes up for anything it lacks with crystal clear audio performance. With 1000 watts of full sound, and still boasting a very easy assembly, it is another option to consider when you want a portable system that can travel the distance with you.
The Electro-Voice range comes with a vast range of features including an input panel featuring the industry-leading QuickSmart DSP interface. This clever component has a super intuitive navigation system that operates via LCD and a single knob. There is also the EV QuickSmart mobile app, which uses cutting-edge Bluetooth Low Energy (BTLE) technology for operation and wireless configuration of up to six Evolve systems. This gives you high-resolution Bluetooth streaming as well as the sweet convenience of being able to control everything from your mobile device.
The ferrite subwoofer is contained in the wooden base to further enhance acoustic performance, and the eight 3.5 inch neodymium drivers give consistent 120 degree coverage. All in all the Electro-Voice Evolve 50 is a sleek and powerful column line array option.
Features:
• Portable column PA with built-in Bluetooth
• 12 inch sub woofer in wooden casing
• 120° sound coverage
• Weight: 26.25 kg
• Height: 175.4 cm
• Maximum output of 1,000W
JBL Eon One
For those wanting flexibility (both with sound and convenience), this could be the column line array option for you. The JBL Eon One is small and lightweight enough to transport in one hand, and can be used in a diverse range of settings. The controls are also super simple, and it comes with nifty features like Bluetooth for connecting to all your instruments and devices, and a bunch of different routing options.
Features:
• High tech linear array config with six 2" HF drivers
• Powerful 10" bass-reflex subwoofer
• Built-in Bluetooth connectivity
• Lightweight (18.5 kg) and can be carried in one hand.
• All round compact Dimensions: 593 x 369 x 434 mm
If you are after a battery-powered option for even more convenience (you won't even need a power cord), grab the JBL Eon One Pro – perfect for outdoor gigs, parties and wherever your life takes you.
LD Systems MAUI P900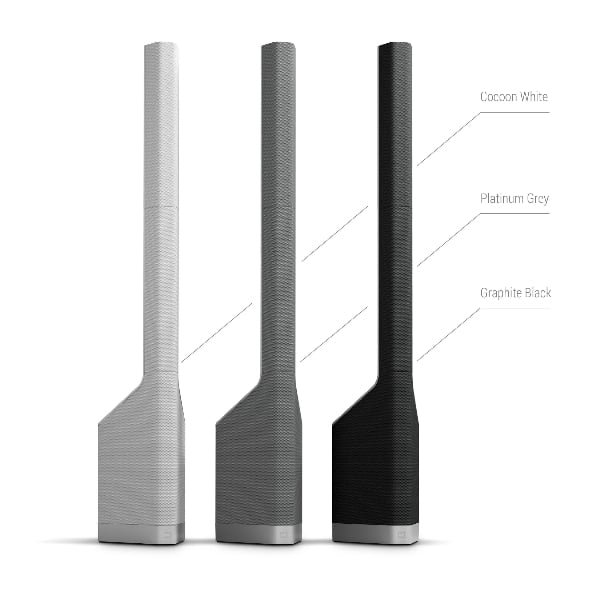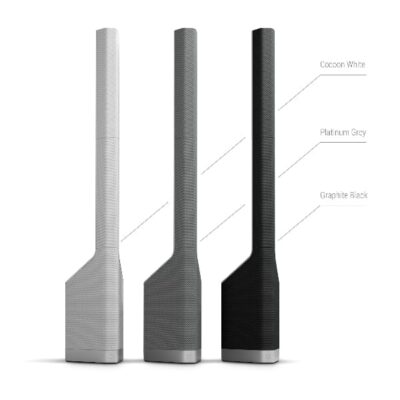 This stellar offering form LD Systems combines cutting edge technology with sleek design. The Maui P900 is a great premium system for live events with a huge 1400 watts of power from an RMS class D amplifier. If you are looking to shake the room, then look not further. With 50 neodymium transducers, and a maximum of 131 dB sound pressure with 20,000 Hz frequency response, this is an earthquake in a box. Utilising LD Systemts SonicGuide and WaveAhead technology, you will receive an extremely detailed and wide dispersion with a coherent wavefront. Even better, output is distortion free even at the loudest volume. With full bandwith audio via built in Bluetooth with a range of 230 feet, you get extreme convenience at your fingertips.
Features:
• Extremely powerful column PA system for a wide range of live event and installation applications.
• Award winning aesthetic design by the Porsche Design Studio.
• Heavy duty aluminium casing.
• Massive 1400 watts from class D RMS amplifier.
• Up to 131 dB SPL.
• 50 high quality neodymium transducers for crystal clear clarity.
• SonicGuide and WaveAhead technology onboard.
• Comes in white, grey or black.
Summary
So, hopefully we have demonstrated that good things can come in small (or skinny) packages. The market for column line array speaker systems is alive and well, and delivering a really good range of products for professionals and amateurs alike. While we really love the Maui 5 Go for its overall performance and portability, the Maui 5 for its affordabilty, and the Evolve for its unbeatable sound quality, all of these options deliver on exceptional performance. Whatever your needs, we are sure you will find the right product here to suit. Don't be afraid to try out one of these tall, dark wonders. With all the ease and built-in features, you will be saving yourself loads of time, space and hassle.