Last Updated on May 10, 2023 by Muisc Pro Editorial Team
Any recording artist will tell you that an audio interface is essential for optimal recording, whether that's at home or in the studio – on a Mac or a PC. But what exactly is an audio interface? It's that little device that connects all your audio equipment to your computer: your microphone, a midi keyboard, studio monitors, and anything else you use while recording. An audio interface sets the professionals aside from the beginners, because those who have been recording for a while know that the sound card that comes as standard in your computer just can't cope adequately with high-quality recording. If you have tried you will have likely experienced delays, interference and shoddy output. Your audio interface helps to enhance your sound quality, gives you more control over your gear, and allows you to organise all your inputs and outputs through one device. Not to mention it gets rid of pesky latency!
However, when it comes to choosing the best audio interface, it really depends on a few factors. You need to ask yourself: what is your budget? What type of connectivity do you need? How many inputs and outputs do you need? What exactly do you plan to do?
Once you have considered these questions and others specific to your needs, take a look at our guide of the best audio interfaces currently on the market below.
The Universal Audio Volt 476 leverages UA's renowned analog expertise to deliver a USB-C audio interface worthy of a decades-long legacy. This USB-C audio interface boasts top-flight analog circuitry and class-leading 24-bit/192kHz AD/DA conversion, enabling you to create professional-sounding music productions, livestreams, and podcasts. The Volt 476 boasts two microphone preamplifiers with switchable 610-style analog sound, two additional line inputs and convenient input metering. Its crown jewel is its built-in 1176-derived FET compressor with three push-button application modes. Beyond that, six analog outputs and a headphones output make monitoring a snap. You also get MIDI I/O for your synths and controllers. The Volt 476 vaunts a rugged industrial design plus it comes with a cutting-edge native software bundle
[maxbutton id="6″ url="https://www.musicshop.sg/products/universal-audio-volt-476-usb-c-audio-interface?_pos=1&_sid=7b4883169&_ss=r" ]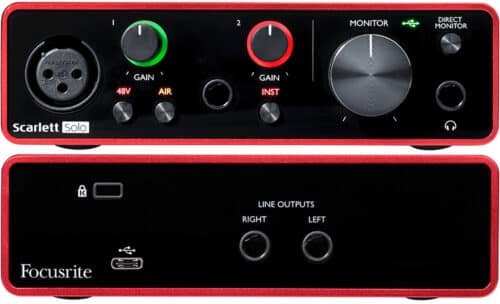 Key features: 
– Robust USB interface with a significant makeover from the previous generation. 
– Great sound quality and loaded with features. 
– Includes Pro Tools and Focusrite creative pack. 
Are you ready to record your own music? Well, it's never been easier than with the Focusrite Scarlett Solo (3nd Gen) USB Audio Interface with Pro Tools. The Scarlett Solo has everything you need, including a powerful preamp and crystalline DI for your instruments. This is a great package for both amateurs and professionals. The Focusrite gain halos and Direct Monitor Switch give you complete control over your levels and the ability to hone in on every detail with ease. 
The 3nd gen of the Scarlett Solo sees an upgrade on its predecessor with an attractive red exterior. Inside, the bar has also been raised. You will now find improved low latency, and an optimised pre-amp gain structure for more accurate setting of levels, as well as 192 kHZ sampling for studio quality sound everytime. There is also added protection circuitry for safeguarding against power surges. 
Included in the package is the extremely popular Pro Tools software, along with the Focusrite creative pack. There is also 2GB of samples from Loopmasters. This is everything you need to harness your creative energy. 
[maxbutton id="6″ url="https://www.musicshop.sg/products/focusrite-scarlett-solo-3rd-gen-usb-audio-interface?_pos=2&_sid=f859f5662&_ss=r" ]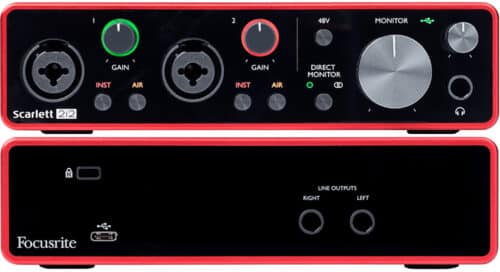 Key features: 
– Stellar Scarlett mic preamps.
– Sample rates of up to 24-bit/192kHz.
– Headphone output with easy volume control.
– Improved low latency for monitoring with plug-ins without the need for DSP.
– Handy traffic light halo indicators. 
There is a reason why Focusrite are one of the world's top sellers of USB interfaces. A perfect example can be found right here with the Scarlett 2i2 3rd Gen Audio Interface with Pro Tools. The Scarlett 2i2 builds on all the amazing features that make this company an industry leader. With a sleek construction, unmatched latency reduction, 192 kHZ sampling, and an improved preamp gain structure, you can't wish for more from a recording interface. 
The Scarlett 2i2 has two inputs with Scarlett mic pre amps alongside line level instrument jacks – perfect for any studio or mobile application. You can run it on USB power right from your laptop with analog circuitry protection to ward against power surges. 
Remember that old saying: red goes faster? There is no exception here. The Scarlett 2i2 offers real time monitoring via a native plug-in so you can always keep up with the performance of your instruments and make adjustments on the fly as required. There are built in individual controls for reverb, delay and EQ. Suitable for everyone from the amateur home recordist to the most experienced user. 
[maxbutton id="6″ url="https://www.musicshop.sg/products/focusrite-scarlett-2i2-3rd-gen-usb-audio-interface?_pos=2&_sid=fc71c0042&_ss=r" ]
https://youtu.be/dHfknbOeSOE
The EVO 4 is loaded with professional-level components and functionality that deliver high-quality performance and stunning audio. Class-leading converters, along with a 24-bit/96kHz sample rate and a 113dB dynamic range ensure that you're capturing pristine, distortion-free sound. Built to Audient's high standards, the EVO 4's mic pres are transparent and flattering and its JFET instrument input adds just a touch of color for a rich and satisfying sound. The EVO 4 has stereo monitor outputs and a front panel headphone jack, and it's powered over its USB 2.0 connection—no need for an additional power adapter. And the large volume knob feels great and gives you precise control over your monitor mix and output levels.
[maxbutton id="6″ url="https://www.musicshop.sg/products/audient-evo-4-usb-audio-interface?_pos=2&_sid=86b3f0ec4&_ss=r" ]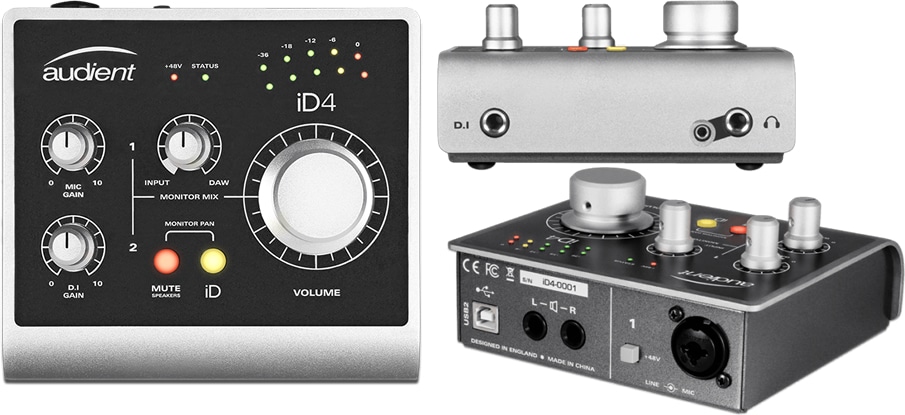 Key features:
– Windows, Mac and iOS compatible.
– Dual headphone inputs to easily collaborate with friends and band mates.
– iD4 Monitor Mix allows you to blend inputs with your DAW.
– Designed to last with all-metal construction and aluminium knobs.
Do you want all the audio performance features of a large format console in a portable desktop package? Then look no further than the Audient iD4 – 2in / 2out High Performance Audio Interface. With the iD4 you can record your vocals and instruments simultaneously while maintaining high quality audio. On-board you will find an Audient console mic preamp, exceptional converter technology, dual headphone outputs, and a console style monitor control. All this combines to create a robust and easy to use interface.
Audient use Class-A mic pre design throughout their entire range to guarantee world-class audio in every product. The iD4 gives you high performance analogue design with outstanding converter technology for a unique and flawless sound. You can hear the audio just as you intended it – and this is one of the things that make Audient a first choice among many recordists.
For ease of use the iD4 volume encoder becomes a virtual scroll wheel with a single press of a button, giving you the ability to adjust DAW hosts, plug-in parameters, and scroll through your library with ease. This really is one of the most enjoyable interfaces to work with thanks to its supreme intuition.
The iD4 is perfect for guitar, bass, keyboard and drum machines with the ability to plug straight in and start recording right away. You can make professional quality recordings just about anywhere with the JFET D.I input designed to replicate a classic valve amplifier. A very classy audio interface with lots to love.
Here you have an interface that punches above its weight class. With a super-small profile, it somehow still manages to pack in big performance. The single Class A console mic preamp sits alongside leading conversion technology, dual headphone jacks and a monitoring console that is super simple to control. The smart inbuilt ScrollControl virtual wheel gives you the power to tweak your tracks in your DAW, scroll through your music library and more. A great solution for your mobile rig, or your home studio.
[maxbutton id="6″ url="https://www.musicshop.sg/products/audient-id4-mkii-2in-2out-high-performance-audio-interface?_pos=1&_sid=42870bf85&_ss=r" ]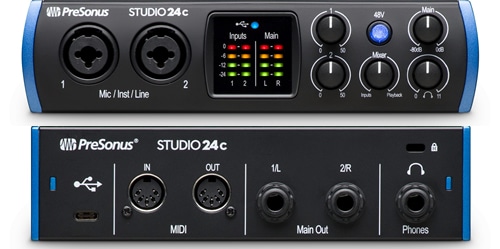 Features
– Simultaneous I/O up to 2 inputs/2 outputs
– 2 mic/instrument/line inputs with XMAX-L mic preamps
– 2 balanced ¼" TRS main outputs
– 1 stereo headphone output
– 1 USB-C™ compatible 2.0 port
This interface is one of our favourites because it presents a complete, all-in-one recording package at a great price. It is compatible with Mac and Windows and includes a full range of USB cables so it can be connected to most computers. Featuring two luscious XMAX-L preamps, the 24c has excellent sound quality, which is perfect for DJs and musicians. It works alongside virtual instruments with ease due to the onboard MIDI I/O for your controller. Plus, the included Studio One Artist software and Magic Plug-in Suite gives you all the power and control you need.
[maxbutton id="6″ url="https://www.musicshop.sg/products/presonus-studio-24c-usb-c-audio-interface?_pos=1&_sid=5f337a736&_ss=r" ]

Key features:
– The perfect option for recording large bands. 
– Front panel with mute, mono, level controls and main mix controls. 
– Easy to use and transportable to record in the studio or on the road.
– Includes Studio One Artist software. 
Do you want one audio interface that can record the entire band? Then look no further than the Presonus Studio 1824c: The full-featured, ultra-high-def, USB-C™ compatible audio interface. The PreSonus audio engineers have spent the last 20 years honing their interfaces and have now delivered this all encompassing audio interface that allows you to record large sessions with ease. 
The Studio 1824c gives you eight PreSonus XMAX analog mic preamps with crystalline 24-bit 192 kHz conversion to record small and large bands alike. There are balanced line level inputs, and an additional 8 channels so you are never left wanting more. The StudioOne software is also included for an all-inclusive recording package with unlimited tracking and tight room integration. 
If you are looking for stress free recording, then you have come to the right place. The 1824c features professional input and output metering so you can keep your eye on your levels across the session and easily make adjustments as needed. The DSP monitor lets you create four individual near-zero latency mixes to translate your raw power into clean outputs. It's so easy even the drummer will be able to use it. 
[maxbutton id="6″ url="https://www.musicshop.sg/products/presonus-studio-1824c-usb-c-audio-interface?_pos=1&_sid=2cadc3db1&_ss=r" ]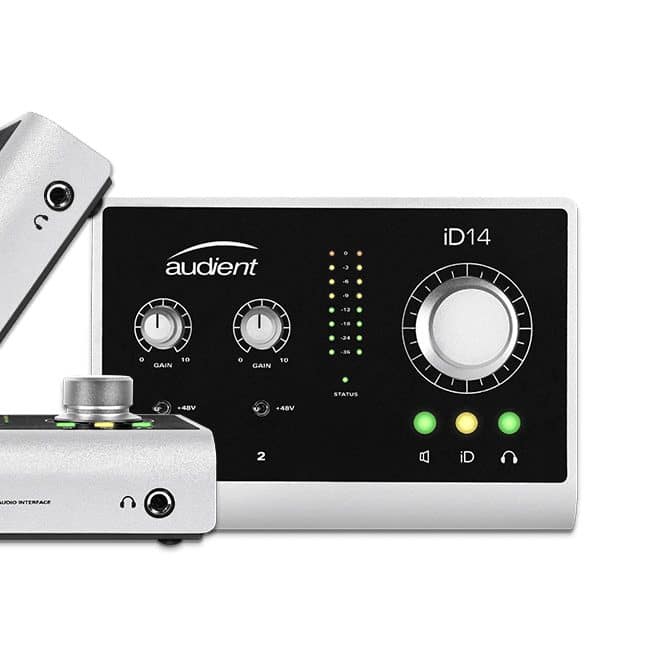 Features:
– 10-in/4-out USB Audio Interface
– 2 x Class-A Audient Console Mic Preamplifiers
– High Performance Burr Brown AD/DA Converters
– iD ScrollControl Mode
– 1 x Discrete JFET Instrument Input
– Main Speaker Output


Did someone say power? The Audient iD14 is a recording party in a sleek package. With 10 inputs and 4 outputs, you can invite the whole band around for a session to remember. Despite its capabilities, this is still a compact interface that fits right on your desktop. Delivering that excellent Audient quality via Class A mic preamps and world famous Burr-Brown converter technology, your sound will be transformed. Whether you need robust recording capabilities now, or are considering future studio expansion, this is a versatile powerhouse highly worth your consideration.
[maxbutton id="6″ url="https://www.musicshop.sg/products/audient-id14-mkii-10in-4out-high-performance-usb-audio-interface?_pos=1&_sid=e9ce33d75&_ss=r" ]
AudioBox USB 96 USB Audio Interface
Features:
– 2 dual-purpose front-panel input channels, each with high-quality mic preamplifiers
– 2 combo mic/instrument inputs
– 48V phantom power for condenser microphones
– 1 USB 2.0 port
– 2 balanced ¼" main (L/R) line outputs
With a great entry level price tag, this interface will allow you to start recording and composing tracks that won't sound like they have come direct from your mum's garage. It is a compact, super affordable and convenient option with two channels, boasting top-quality audio via the onboard PreSonus preamps with 24-bit/96kHz resolution. This one also includes the Studio One Artist DAW.

Features:
– Desktop 2×4 Thunderbolt 3-powered audio interface with class-leading 24-bit/192 kHz audio conversion
– Unison mic preamp and guitar amp emulations from Neve® , API® , Manley® , Marshall®, Fender® , and more*
– Realtime UAD Processing allows near-zero latency tracking with classic UAD plug-in effects, regardless of software buffer setting
– Includes studio compressors, EQs, reverbs, and guitar amp emulations, and more as part of "Realtime Analog Classics" bundle
– Bus-powered connection to Mac and Windows systems for easy portability and reduced cable clutter
If you are a lover of analogue sound, you might fall in love with the Universal Audio Arrow. This offering gives you access to the tones and sounds of some the world's most famous tube pre-amps via included software and plug-ins. It's much coveted amongst guitarists and bass players. Additionally, this interface is about as anti-clutter as they come. It has a robust metal construction and a super sleek and slimline design that easily fits into your laptop bag for easy recording on the go.
[maxbutton id="6″ url="https://www.musicshop.sg/products/universal-audio-arrow-thunderbolt-3-audio-interface?_pos=1&_sid=74059afd8&_ss=r" ]

Features:
– Desktop 10 x 6 Thunderbolt 3 audio interface for Mac and Windows with elite A/D and D/A conversion inherited directly from the acclaimed Apollo X rackmount interfaces
– 2 Unison mic preamps offer stunning models of classic tube and transformer-based mic preamps and guitar amps
– UAD-2 DUO or QUAD Core Processing for tracking through vintage compressors, EQs, tape machines, mic preamps, and guitar amp plug-ins with near-zero latency
– Front-panel Unison™-enabled Hi-Z instrument input and headphone out
– Built-in Talkback mic for communication with studio talent and recording slate cues
– Improved monitor functionality including monitor remote functions and Mono, Mute, DIM, and ALT monitor controls
– Up to 8 channels of additional digital input via Optical ADAT or S/PDIF
If you've ever experienced the Audio Apollo then this is the next generation, which levels up on its predecessor with a huge dynamic range, expanded monitoring controls and improved functionality. If you have never encountered this brand of interface before, you will find rich and warm sound, convenient real-time tracking and another option for recreating classic and vintage sounds. It's another one for lovers of the sounds of yesteryear.
[maxbutton id="6″ url="https://www.musicshop.sg/products/universal-audio-apollo-twin-x-duo-heritage-edition?_pos=2&_sid=c49d2a22c&_ss=r" ]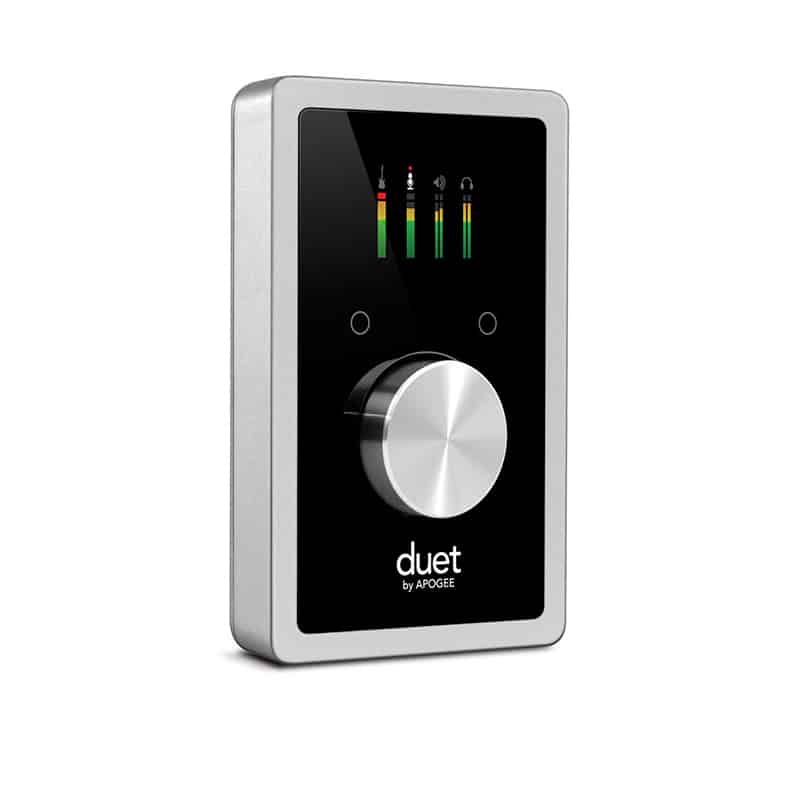 If you want the ability to record great sounding tracks to your iPad, the Apogee Duet is the answer to your prayers. It boasts a slimline design with two inputs and four outputs and excellent quality audio up to 24-bit/192kHz resolution. This interface is especially suited for iPad sessions or recording on the go.
[maxbutton id="6″ url="https://www.musicshop.sg/products/apogee-duet-for-mac-windows-ipad-and-iphone?_pos=1&_sid=ab7f2019f&_ss=r" ]
In summary
So there you have it!
As you can see there are a plethora of options on the market that really can suit any function, budget or need. Our choices are based on finding the perfect balance between value, usability, sound quality and features. Remember, you don't want to be overwhelmed by choice. Decide what you need, and use your checklist as a guide. There is no use spending loads on features that won't serve you, but you also don't want to buy the cheapest option available only to need an upgrade in a couple of months.
Whether you are just starting out, looking for a single channel to learn the recording ropes, or a professional in need of multi-channels and complex features, we're sure this list has something for you. Now, you just need to decide which one to choose, and start unleashing your creative energy!