Last Updated on May 10, 2023 by Muisc Pro Editorial Team
Going wireless is definitely on trend. You see it everywhere in the digital world: wireless headphones, wireless keyboards and mouses, and much more. If you are a presenter, a singer, a karaoke guru or even a church pastor, following the trend might transform the way you interact with your audience. Wireless microphones gives you the freedom to roam, making the way you speak or sing more dynamic and captivating than ever before. However, a bad wireless microphone will have the opposite effect, and will cut out if you roam too far from the receiver, or will have bad sound quality. It is important to know what you are looking for when it comes time to go wireless. The market is saturated with options, but not all of them are good. That is why we have compiled this guide of the best wireless microphones available to suit a range of functions, whether you need a wireless handheld microphone, wireless lavalier microphone  or wireless headset microphone . Check them out below!
Handheld wireless microphones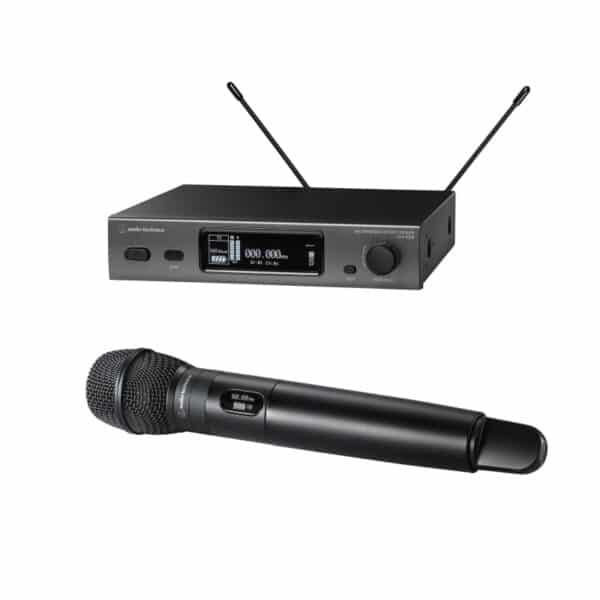 Audio-Technica ATW-3212/C510 Wireless Handheld Leading the charge in affordable and high class handheld digital wireless technology is Audio-Technica ATW-3212/C510 Wireless Handheld Microphone. This feature packed offering includes all the features you need to excel in the wireless space, while delivering on a clear and crisp sound without interference or interuptions. Notable features include the huge 300 feet operating range, which gives every user the freedom they need to roam throughout presentations and performances. No longer will your stage presence be static! Express yourself with flair! This handheld mic is perfect for use in small, medium and large venues and suits every function: corporate events, performance based events, religious events or special events. The C510 guarantees reliable clear voice amplification across the wireless frequency to reach your audiences ears with ease. Operating on the 470–530MHz frequency band, the C510 employs an industry standard bandwidth for ease of ease, and offers twice the tuning range of previous models. You can even switch to a backup frequency with the simple press of the button on the body pack in the unlikely event you experience interference. However, the versatile auto squelch does everything possible to squash possible interuptions before they occur. With this system, Audio Technica really has thought of everything.
[maxbutton id="6″ url="https://www.musicshop.sg/search?q=Audio-Technica%20ATW-3212/C510″ ]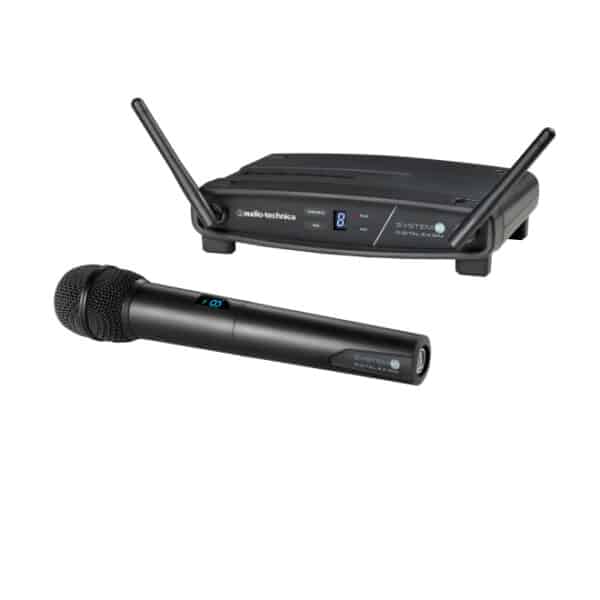 Audio-Technica's ATW-1102 System 10 Leading the charge in affordable and high class handheld digital wireless technology is Audio-Technica's ATW-1102 System 10. Here you have a hi-fi digital system that operates in the 2.4GHz range with a broad 24-bit operation. This wireless system with handheld mic is ideal for live performances, speeches, and church services due to its reliability, easy setup, auto frequency scan function, and most importantly, interference-free sound output within 100 feet line of sight operation for up to 7 hours. With a single button press, the ATW-1102 automatically selects the best open frequency, which is especially important if you are using multiple wireless systems. You can coordinate up to 8 channels simultaneously. Everything is operated through an easy LCD display which gives a live indication of operation status and battery life. No complaints about this convenient and cost-effective selection, perfect if you need a handheld option you can trust.
[maxbutton id="6″ url="https://www.musicshop.sg/product/audio-technica-system-10-atw-1102-wireless-handheld-microphone-system/" ]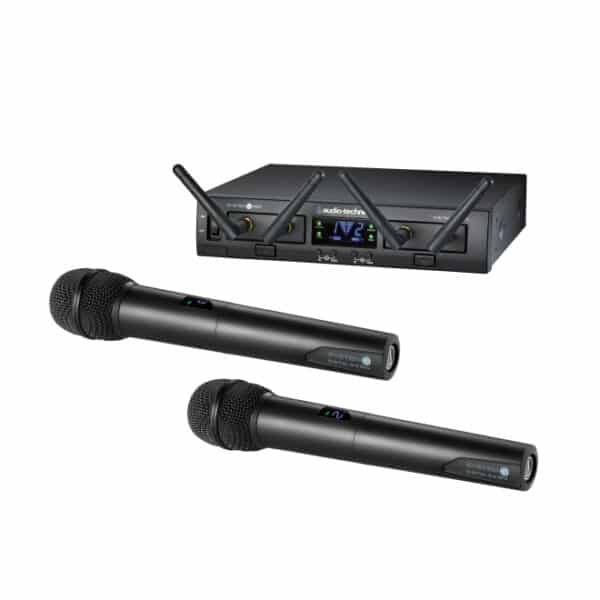 Audio-Technica ATW-1322 Dual Handheld Wireless Microphone If you need to roam a little wider, or need two receivers, the Audio-Technica ATW-1322 is the perfect option for you. It still boasts great Audio-Technica sound quality operating at 24-bit/48 kHz in the 2.4GHz range, however, you get exceptional interference free output up to 300 feet.With your two robust receivers, you and your performance or presentation partner can roam at opposite sides of the auditorium before meeting back in the centre for a grand finale. You still get auto-scanning features and can use up to 10 channels simultaneously with this package. A versatile and dynamic option for serious performers.
[maxbutton id="6″ url="https://www.musicshop.sg/product/audio-technica-atw-1322-wireless-dual-handheld-microphone-system/" ]
LD Systems U505 HHD2 Dual wireless handheld microphone system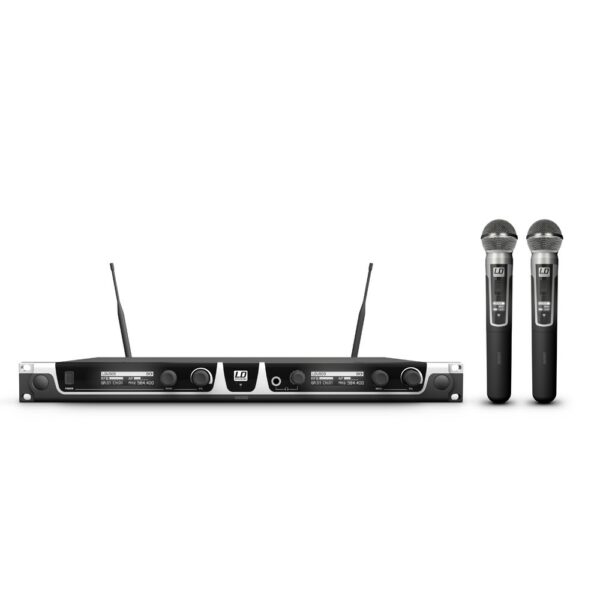 LD Systems U505 HHD2 LD systems offers another good option for dual wireless handheld use. This wireless dynamic setup offers an automatic channel scan with one touch infrared frequency syncing. There is pilot tone squelch technology to squash any unwanted noise, and it comes in a very robust and rugged enclosure. Excellent for a tough life on the road. The LD Systems U505 HHD2 LD systems vocal sets bring you affordable professional technology and sound quality. The radio systems for vocals and speech deliver impressive performance and high reliability, which will certainly exceed your expectations. We have designed the range specifically for professional users to ensure that your performance is an impressive and emotional experience.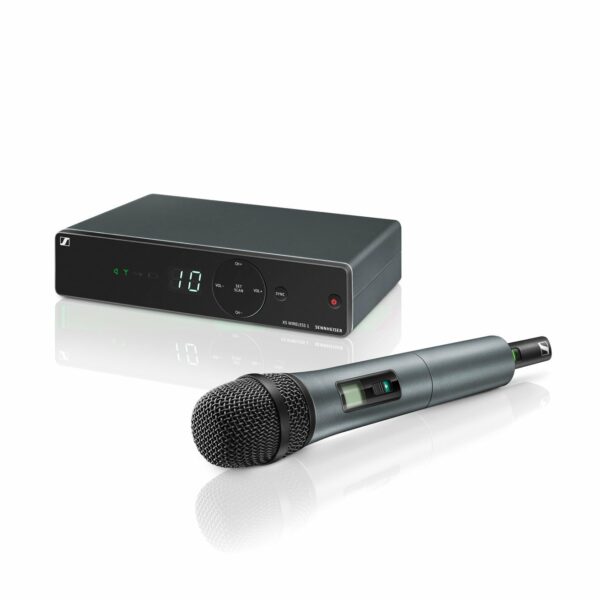 Sennheiser XSW 1-825 Wireless Handheld Microphone Sennheiser presents you with a super easy to use and streamline gateway into wireless technology. If you want to spend a little less but still want an adequate system, this could be the option for you. The transmitter has an 825 cardioid capsule that promotes feedback rejection and outputs a bright and clear sound. The receiver has built-in antennas to improve sound pickup across a 200-250 line of sight range for up to 10 hours. You can easily scan and auto select a channel, and can operate up to 10 systems at once. A great affordable option for singers and presenters alike.
[maxbutton id="6″ url="https://www.musicshop.sg/products/sennheiser-xsw-1-825-wireless-handheld-microphone?_pos=2&_sid=1c4fbe6f8&_ss=r" ]
Sennheiser EW 100 G4-835-S Wireless Handheld Microphone System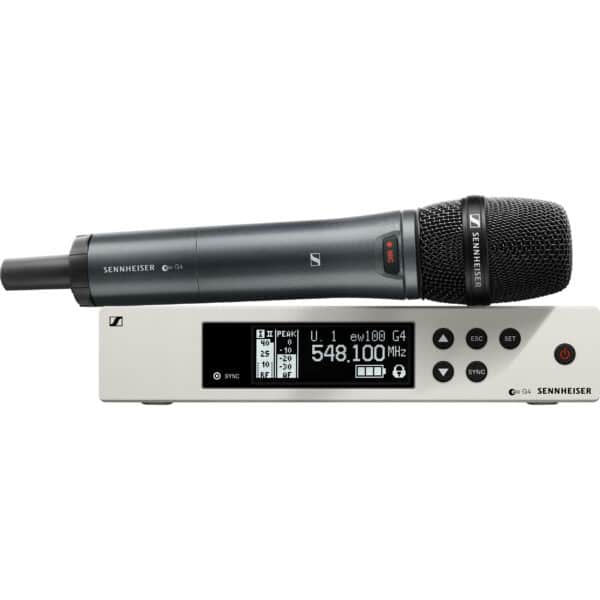 Another member of the Sennheiser family, the EW 100 G4-835-S features a tight cardioid pattern to promote greater feedback rejection while honing in on the vocals up front. The EM 100 G4 rackmount receiver taps into 1,680 UHF frequencies across a 42MHz bandwidth and gives surprisingly good performance within its range. If you are choosing this system, expandability and mobility are highlight features. You can setup up to 12 receivers simultaneously with 330 feet of range for up to 8 hours. The Sennheiser EW 100 G4-835-S is a rackmount wireless handheld microphone system designed for presenters, clergy, lecturers, and performers working in business and educational settings, houses-of-worship, theaters, or on musical stages. This system comes with an SKM 100 G4-S handheld transmitter equipped with an interchangeable MMD 835 dynamic cardioid microphone capsule optimized for speech. Up to 12 wireless mics can operate simultaneously in the same space using this system's true diversity receiver housed in a rugged, full-metal chassis. The receiver's auto-scan function searches a wide 46 MHz UHF tuning range with 1840 selectable frequencies available, seeking out a clean interference-free channel for your audio transmission.
Shure SVX288/PG58 Dual Vocal Wireless Handheld Microphone System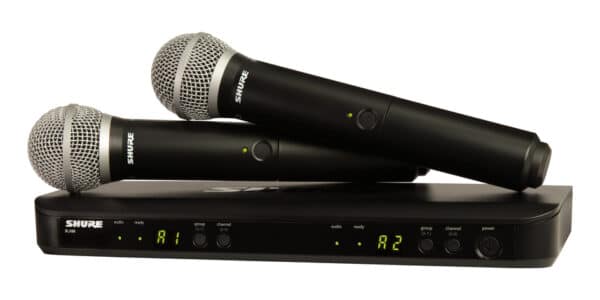 The Shure SVX288PG58 wireless system delivers stellar Shure sound for two performing vocalists. The package includes a power supply for the receiver, AA batteries for the transmitters, and a user guide—everything you need to be up and running fast. Setup is simple, and the vocal-optimized PG58 microphones are great for both lead and background singers. And by using a single receiver for both transmitters, you can save some space in your live sound rig with the Shure SVX288PG58 dual-channel wireless system.
Wireless Lavalier Microphones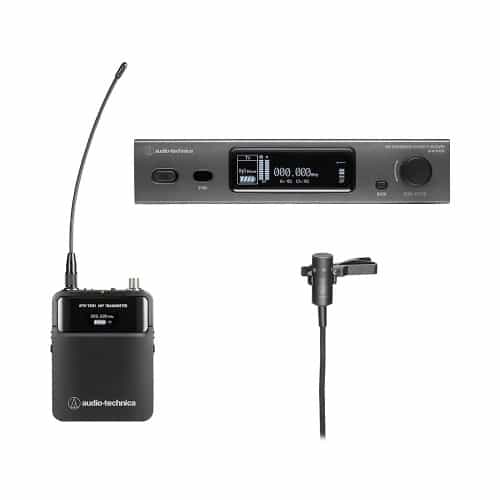 The Audio-Technica ATW-3211/831ch Wireless Lavalier Microphone System a great option if you need a trustworthy lavalier mic. The 3211 operates across the 470–530MHz frequency band, and delivers twice as big a tuning range as previous Audio Technica models. Featuring much loved auto squelch technology, this system will crush interference before it occurs by automatically tweaking your squelch settings to maximise the frequency range. There is also a toggle switch on the operating unit to quickly silence your input if needed, displayed on a handy transmitter display. The transmitter and the receiver of this unit have an easy to read OLED screen for identifying your settings and keeping you up to date with any important alerts. When you are on stage you will have piece of mind knowing that you and your microphone are always on the same page. You can easily scan and select frequencies via the IR sync function, and you can even set a backup frequency for a quick switch in the unlikely case of interference. Perfect for a whole range of functions including live performance, corporate address, spiritual sermons, special events, nightclub shows and more. With a 300 feet operating range here you receive premium operational convenience at an extremely affordable price.
[maxbutton id="6″ url="https://www.musicshop.sg/products/audio-technica-atw-3211-831ch-wireless-lavalier-mic" ]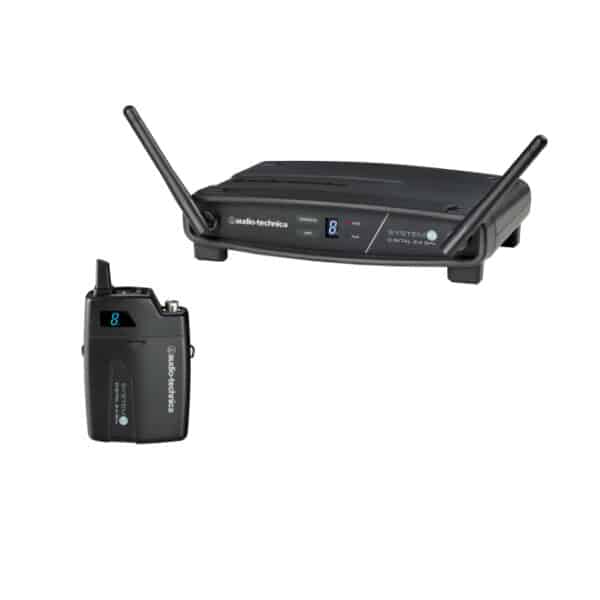 Audio-Technica ATW-1101/L Wireless lavalier system The Audio-Technica ATW-1101/L Wireless lavalier system features the same great System 10 technology featured above, but with a lavalier mic unit. This is perfect to clip on to the collar of any roaming speaker who likes to gesticulate with their hands, as well as dancing performers. You get the same great roaming range and battery life out of the receiver, with the added flexibility of handsfree. Automatically scan and lock in your channel, with up to 8 other units at once, and hit the ground lift switch to wipe out any audible hum.
[maxbutton id="6″ url="https://www.musicshop.sg/products/audio-technica-system-10-atw-1101-digital-wireless-bodypack-system" ]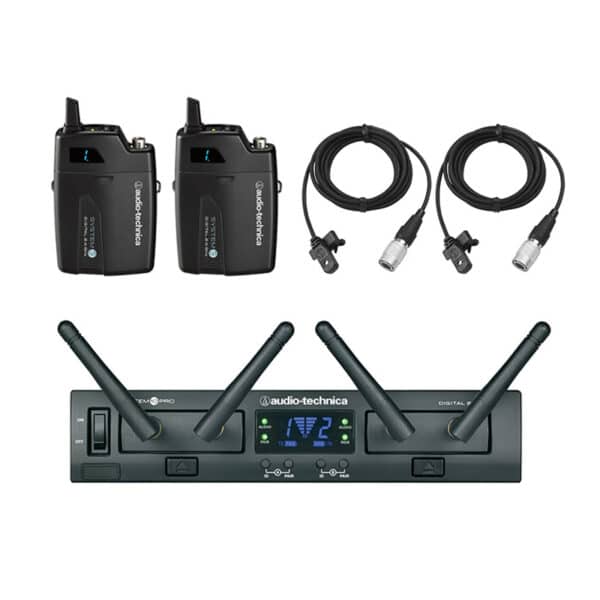 The Audio-Technica ATW-1311/L System 10 PRO is a two-channel digital wireless lavalier microphone system featuring a half-rack ATW-RC13 receiver chassis equipped with two ATW-RU13 receiver units. The easy-to-use system comes preconfigured at the factory, ready to operate right out of the box with no setup required. Three levels of diversity reception and automatic frequency selection provide seamless, reliable performance with clear digital audio for presenters, lecturers, clergy, and performers. Yes, you really are seeing double. This package comes with not one but two AT831cw body pack microphones included. Double the fun for all your professional singing and speaking needs. Known for outputting clean and crisp sound, this omnidirectional condenser mic fits comfortably under a tie knot or can be hidden in your costumes for discreet use that won't distract eyes from your dynamic performance. All the great Audio-technica features and everything you could want in a lavalier system.
[maxbutton id="6″ url="https://www.musicshop.sg/products/audio-technica-system-10-pro-atw-1311-at831cw-dual-wireless-lavalier-microphone-system?_pos=3&_sid=93678b1e9&_ss=r" ]
Sennheiser EW 100 G4-ME4 Wireless Lavalier Microphone (Clip On Mic) Set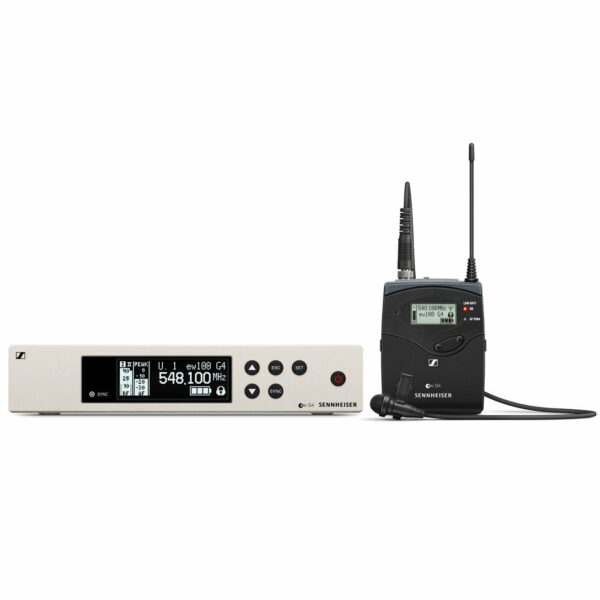 Sennheiser EW 100 G4-ME4 Wireless Lavalier Mic The Sennheiser EW 100-G4 ME4 system is especially great if you are already using the G1, G2, G3 suite of products because it is entirely backwards compatible and means you won't need to do a full reconfiguration. Your past investments can easily be bought into the future. If you aren't using Sennheiser, there is still plenty to like with the ability to connect up to 12 receivers, and a sleek cardioid lav mic that gives bright natural speech production.
Wireless Headset Microphones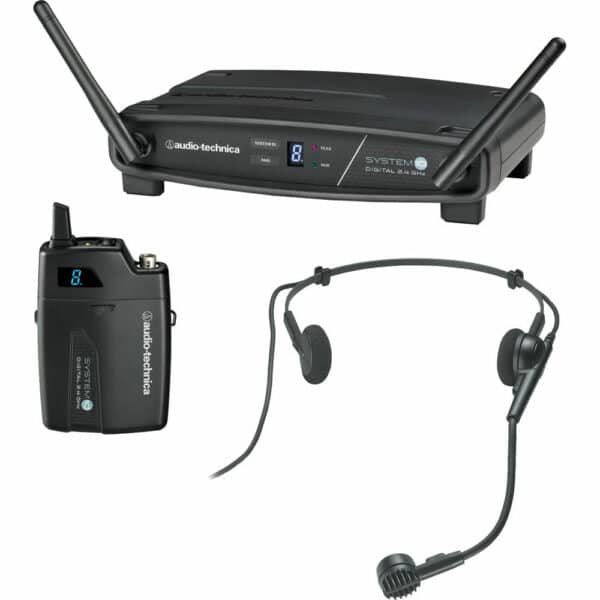 Audio-Technica-System-10-ATW-1101-H-Wireless-Headworn-Microphone The third option featuring Audio-Technica's series 10 technology features a head worn microphone for those who want a handsfree microphone that won't be bumped or rustled on their clothing. This is another sublime choice for live performers who have a spring in their step, as well as excitable speakers. This headset is super stable and reduces the risk of unwanted interference or dislodging mid-performance. Still at an affordable price, with the ability to daisy chain up to 8 systems, this package brings more of the exceptional quality that we've come to expect from Audio-Technica.
[maxbutton id="6″ url="https://www.musicshop.sg/products/audio-technica-system-10-atw-1101-digital-wireless-bodypack-system" ]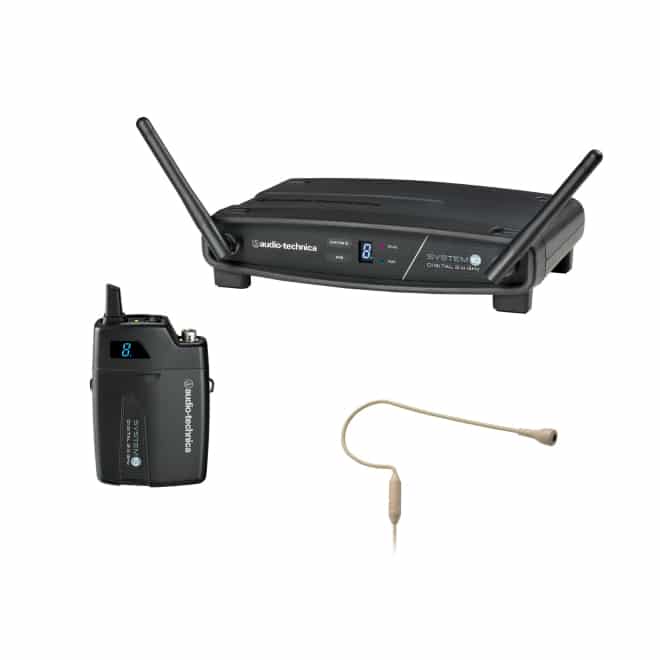 Audio-Technica System 10 ATW-1101/H92-TH Wireless Headworn Microphone They say that blondes have more fun, and they certainly do when they use the Audio-Technica System 10 ATW-1101/H92-TH system. The key difference between this and the ATW-1101/H system, is that the headset in this package is beige instead of black. Say goodbye to a headset that stands out like a sore thumb in your fair hair, and hello to increased discretion, so your audience won't spend valuable time wondering what is on your head, when they should be taking in your deft stagecraft. Not to mention, this headset is super comfy and designed to fit snugly so you won't even notice it's there.
[maxbutton id="6″ url="https://www.musicshop.sg/products/audio-technica-system-10-atw-1101-h92-th-wireless-headworn-microphone-system" ]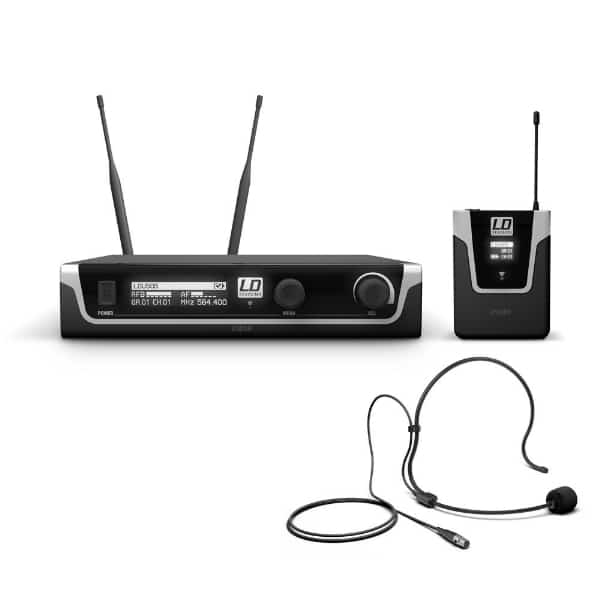 LD Systems U505 BPH Wireless Microphone w Bodypack/ Headset The LD Systems U505 BPH headset system isn't as sleek as the Audio-Technica options here, but it still boasts extremely robust and efficient wireless technology. With German engineering, it is very reliable and has operations available in 3 frequency bands. The automatic scan True Diversity UHF wireless technology allows you to connect to the best free channel with one touch for super simple setup. It also has a clever mute function that protects when interference creeps in to provide high quality, latency-free transmission. It can run for up to 10 hours with 2 x AA batteries.
[maxbutton id="6″ url="https://www.musicshop.sg/products/ld-systems-u505-bph-wireless-microphone-w-bodypack-headset" ]
Summary of our wireless microphone review
So there you have it! We have saved you the woes of buying a wireless microphone system that just isn't going to cut it, and have provided an option for every function we can think of. Just remember that all of the microphones here meet the current frequency legislation for operating wirelessly, but if you are going to choose something that isn't on this list, be sure to check that it is compliant, and to confirm any specific legislation in your location. Do also checkout our full range of microphones for sale.