Last Updated on May 10, 2023 by Muisc Pro Editorial Team
Mesh WiFi systems are made up of a router connected to your modem, and satellite modules placed around the home. These all form a single wireless network, sharing a single SSID and password. Mesh systems ensure flawless WiFi signal for all your devices across your entire home, and are growing in popularity. However, it can be hard to know which system is best for you.
That is why we have compiled this list of the best WiFi mesh systems in Singapore right now. Here, we are sure you will find the perfect WiFi mesh system for you.
Netgear Orbi WiFi System (RBK50)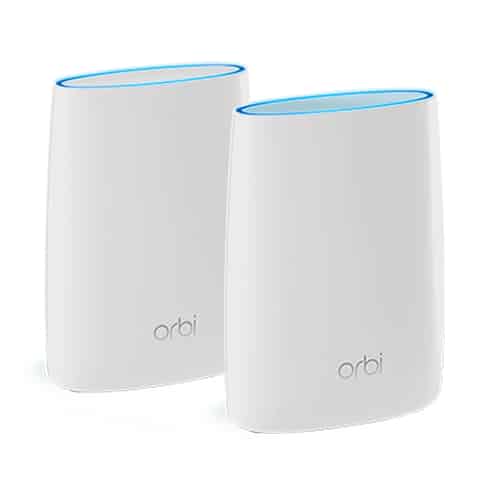 Works with all major internet service providers.
Very quick and easy to set up with the intuitive Orbi app – you can even do speed tests and setup parental controls in the palm of your hand.
Best anti virus and data theft protection included with the NETGEAR Armor package.
Compatible with Amazon Alexa and Google Assistant for voice command control.
In our opinion, the best performance WiFi mesh system is the Netgear Orbi WiFI System (RBK50). We found that this setup marries convenience, design and performance to deliver across even the largest homes. It covers up to 5000 square feet with fast and disturbance free WiFi.
That means you get speedy internet on all your devices, no matter how many people are connected at once. Orbi creates a single seamless network, so even if you are walking between rooms, your signal doesn't drop out. This is everything you want from a mesh system.
Netgear XRM570 – Nighthawk Pro Gaming Router and Mesh WiFi System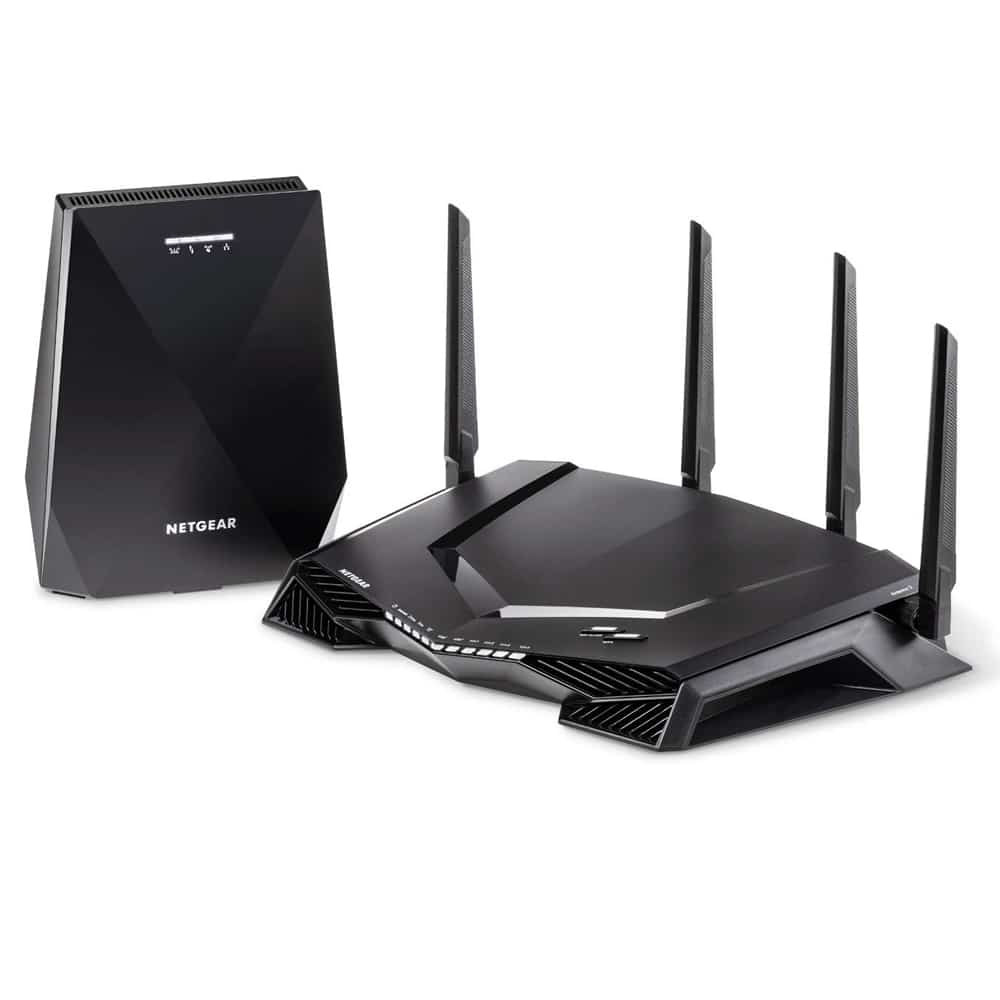 Equipped with 6 gigabit ports.
Enjoy wired or wireless professional gaming wifi sysyem
Top speeds guaranteed.
If you are looking for the best WiFi mesh system for gaming, then you can't go past the Netgear XRM570. This setup has been specifically configured with gamers in mind, sporting the Nighthawk Pro Gaming Router to enhance your online gaming experiences. Here you will have a seamless and dropout free system that will get you through even the longest gaming sessions.
The XRM570 offers flexibility and control across your whole home or gaming area, and empowers you to stream top speeds no matter where you are. Not to mention, it is super simple and fast to setup. The system pre-pairs automatically to sync to the gaming router and mesh extender with ease. Excited for your next LAN party or game night? Ready, set, play, with this robust addition to your network.
TP-Link Deco M5 AC1300 Smart Home Mesh Wi-Fi Router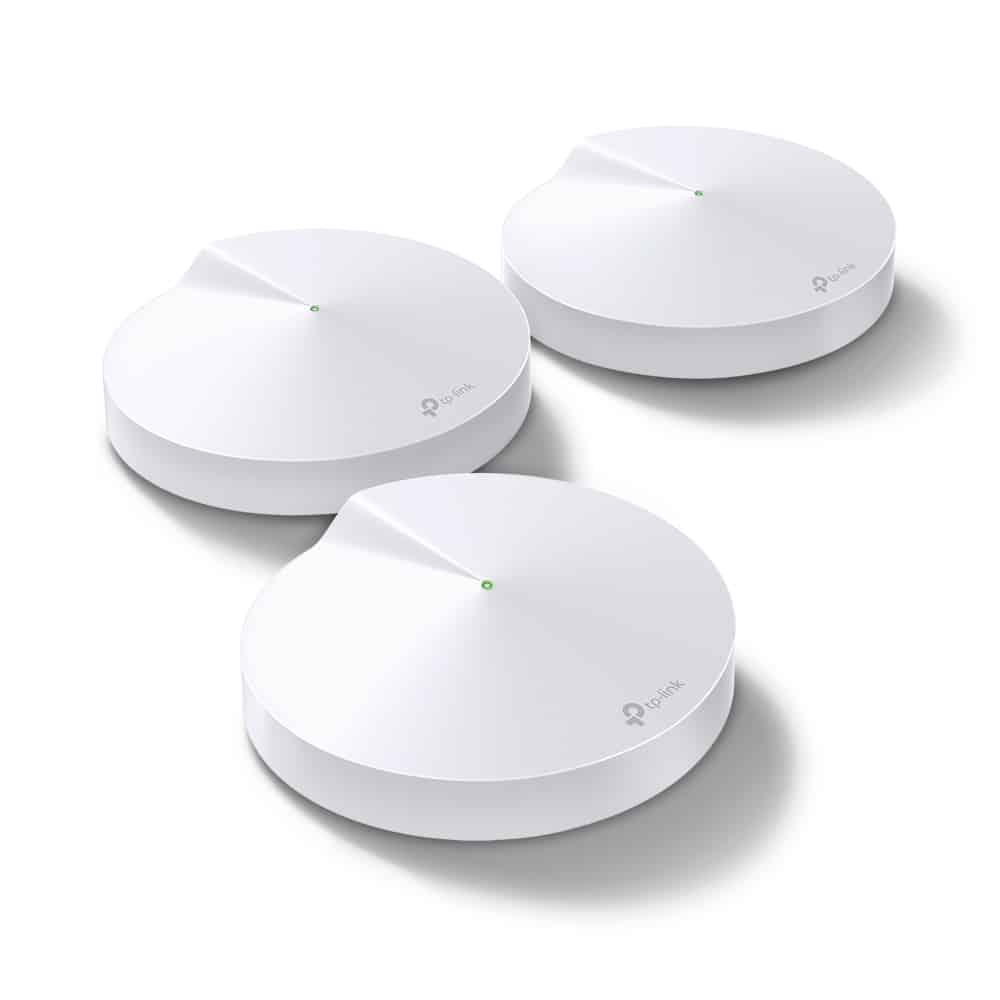 Includes HomeCare with robust parental controls.
Manage content and control when devices can access the internet.
Prioritise devices and applications for boosted performance when needed.
For those who are looking for an affordable system, the TP-Link Deco M5 AC1300 provides the best budget WiFi mesh for home use. This is the perfect whole-home WiFi solution that won't break the bank. While it presents an attractive price point, it doesn't skimp on features, and offers comprehensive security for your devices and data.
The AC1300 will deliver fast and uninterrupted WiFi to every room of your home with the help of the three satellite AC1300 units. That means it can cover up to 4,500 square feet seamlessly. Even those who aren't tech savvy will find the Deco easy to set up, and if you have any issues you can rely on TP-Link's 24/7 lifetime support. What more could you want?
Gryphon Secure Mesh WiFi Router with Parental Control System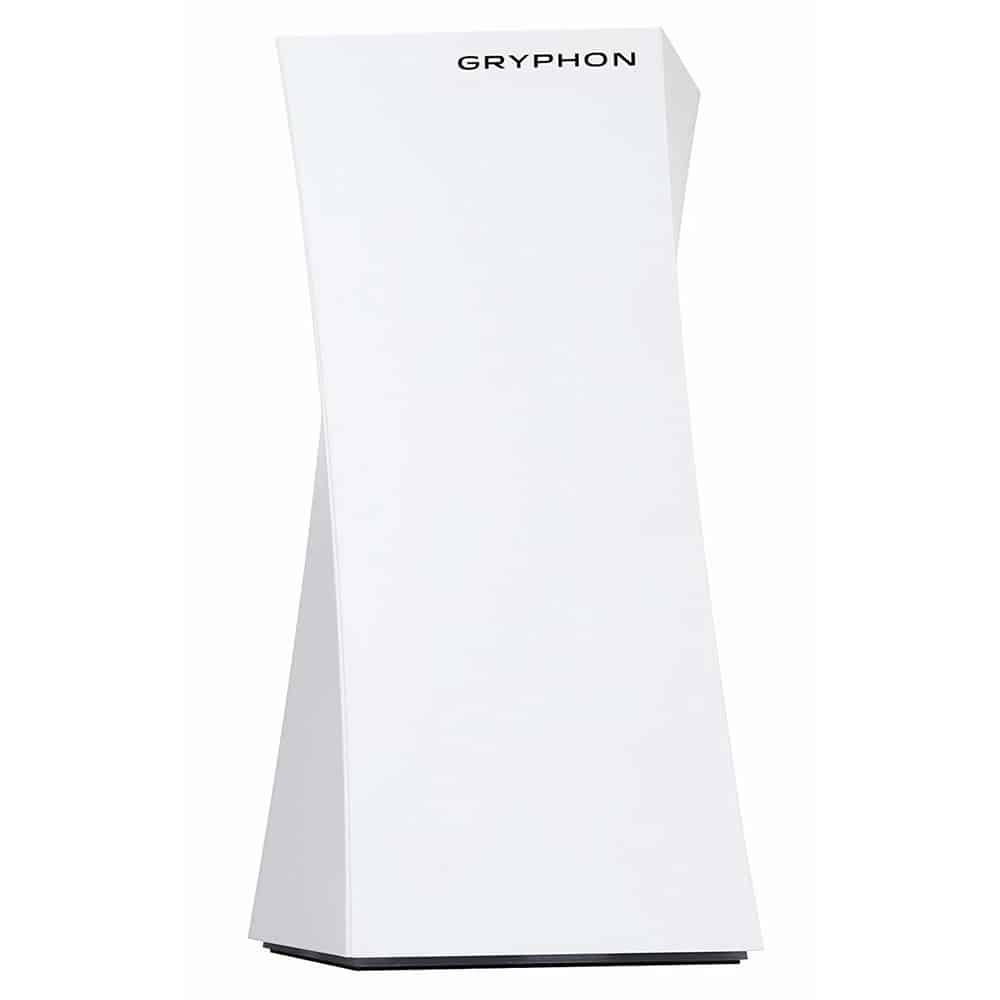 Built with security in mind and digital parenting control solution.
Malware filtering by ESET technology.
Exceptionally fast speeds.
If security is your highest priority when it comes to internet usage and data, then look no further than the Gryphon Secure Mesh WiFI Router with Parental Control. Here you will find the most secure WiFi mesh system that we came across. The Gryphon gives you exceptional WiFi coverage and lightning fast speeds across your entire home without threatening your privacy or security.
No matter how many devices you have streaming at once, you will still receive flawless reception. That means multiple devices can stream music, watch movies, browse and play games without any annoying dead zones or bottlenecks. The state of the art internet security system protects your connected devices against hackers and intruders with 24/7 monitoring.
TP-Link Deco M9 Plus – AC2200 Smart Home Mesh Wi-Fi System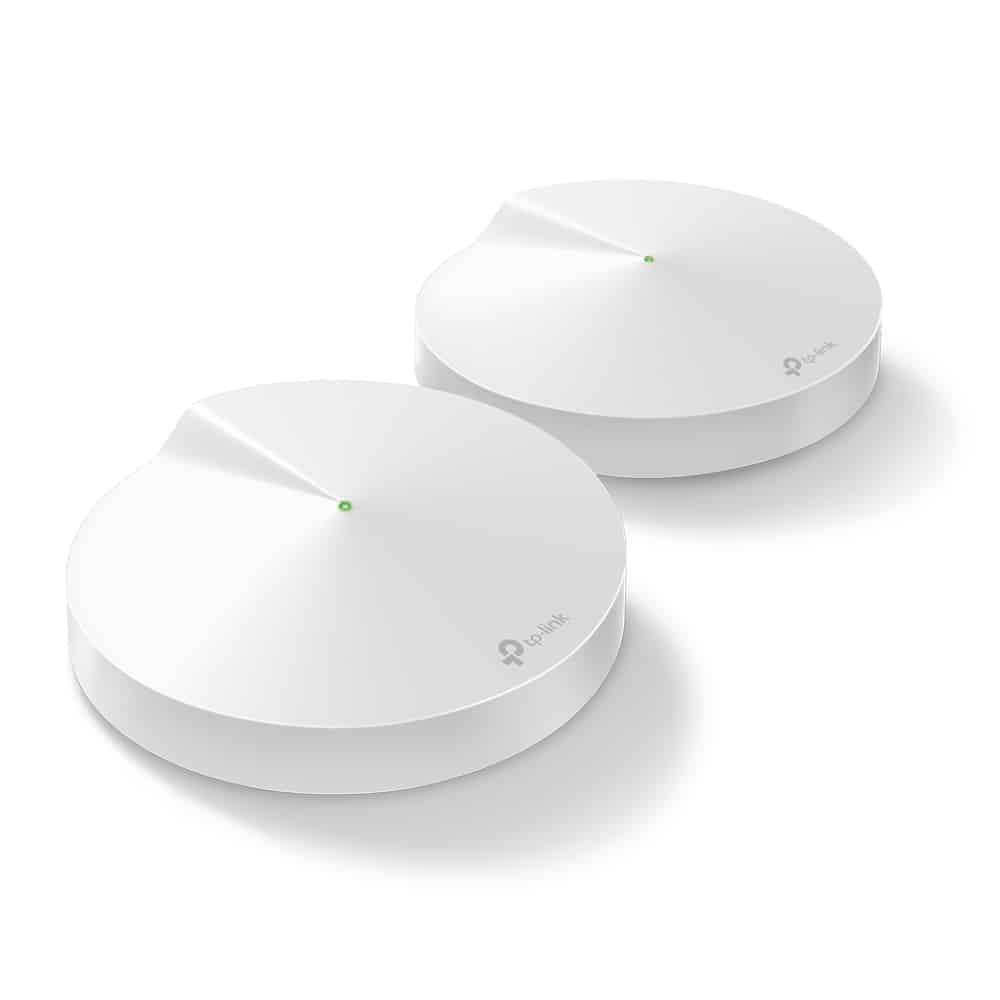 Performs the role of a smart hub for your smart home devices.
Speeds up to 2134Mbps.
HomeCare technology provides exceptional security.
The TP-Link Deco M9 Plus is another great way to eliminate weak signal across your home. In this system the units work together to make a unified whole of home network to give you the fastest possible speeds.
In the package you receive enough equipment to flawlessly cover 4500 square feet. The Deco M9 is designed to handle the traffic of even the busiest networks, and promises lag free WiFi for up to 100 devices!
Velop Mesh WiFi for home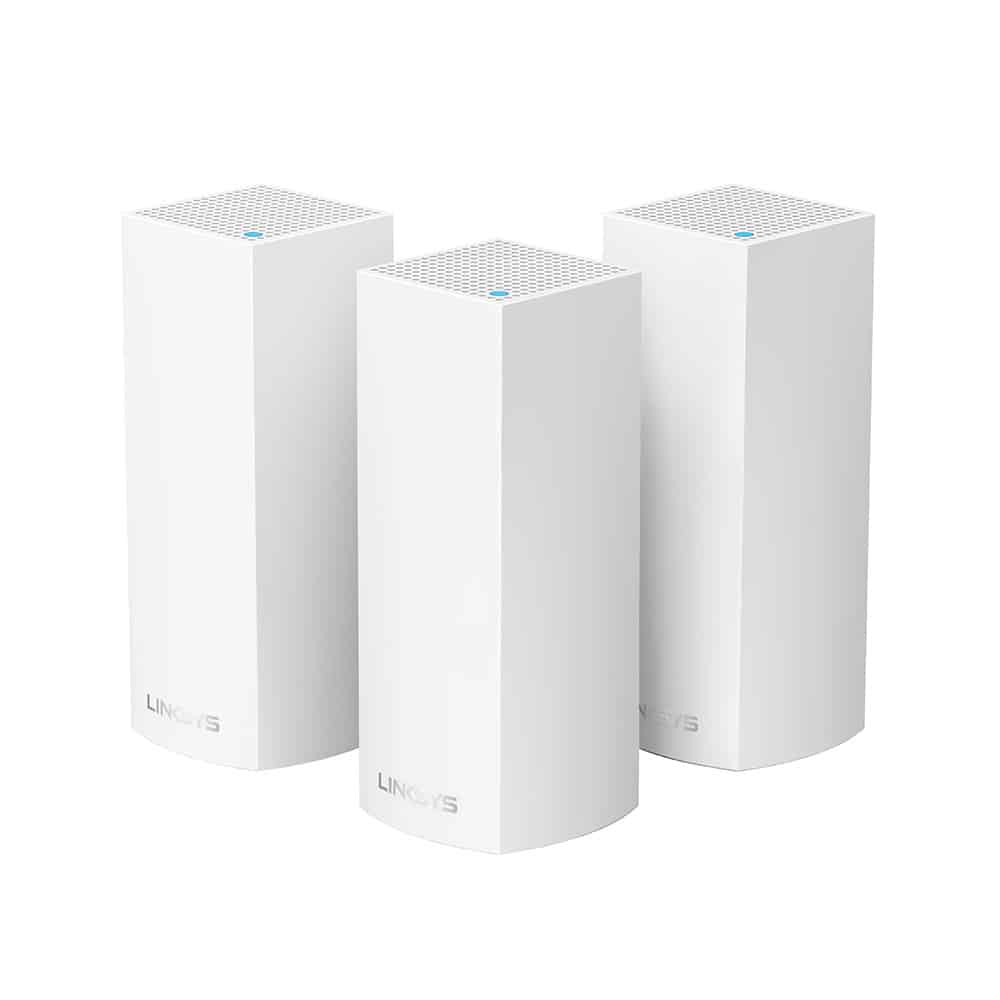 Handy security and parental controls.
Automatic updates for your peace of mind.
Control on your mobile with the Linksys app.
In the Velop Mesh WiFi system you will find another great home network option. The family of nodes work together seamlessly to deliver supreme coverage no matter what size (or shape) your home is.
The Velop Mesh is super easy to setup; you just pair your satellites with a master node and plug into any wall socket. Thanks to the Linksys app you can keep tabs on your wirless network around the clock and monitor or restrict usage for devices and applications.
ASUS Lyra Wifi Mesh System
View and control each family member's internet and app usage.
Notifies you of problems through Lyra app.
Puts network management in the palm of your hand.
The ASUS Lyra WiFi Mesh System is an excellent networking choice for a range of buildings. It is perfect for large family homes, dorms, share houses and even multi-level homes.
It works to banish dead zones thanks to the tri-band configuration, which extends your WiFi to every corner and crevice. All your devices will stay connected to the best possible signal no matter where you are in the range. It also has a load of security and monitoring features that parents will love.
Samsung SmartThings Wifi Mesh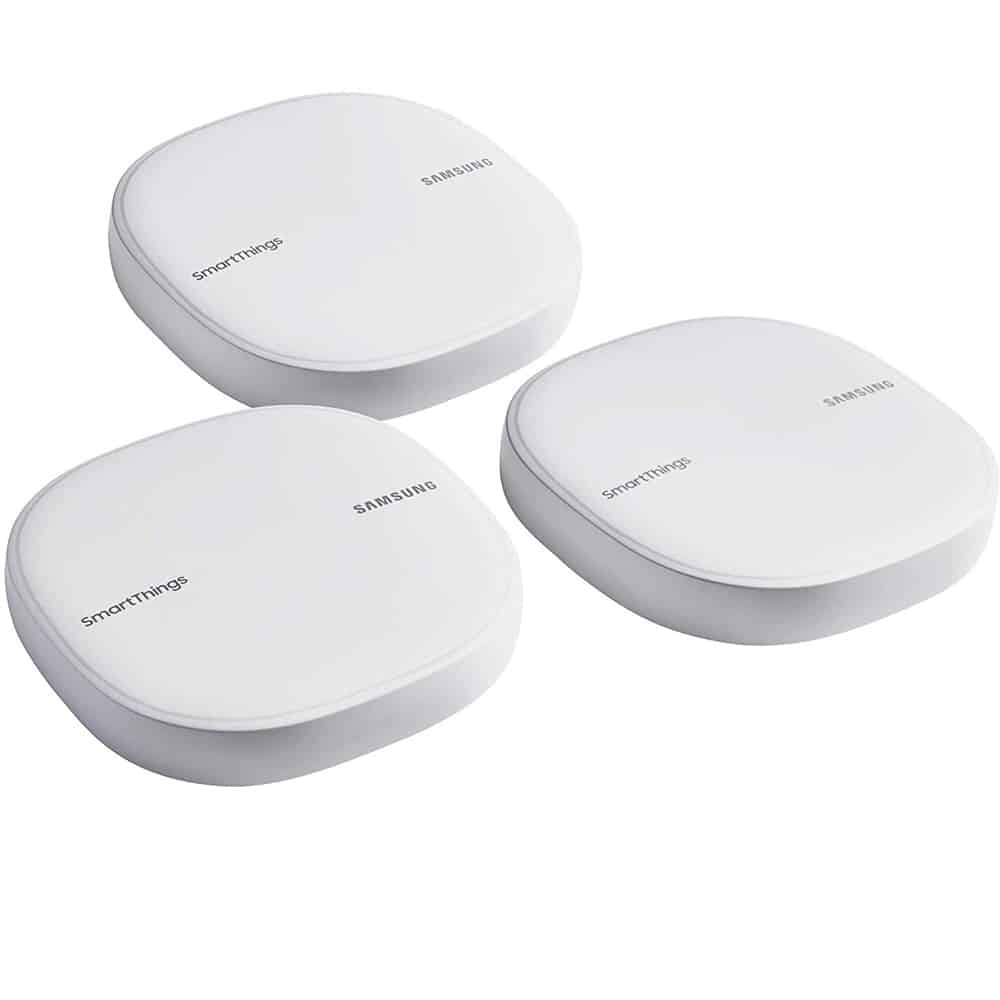 Super simple setup thanks to the companion app.
One device covers up to 1500 square feet. 3 devices covers 4500 square feet.
Allocates capacity to the devices that most need it.
Samsung's WiFi mesh offering is definitely intelligent. The SmartThings WiFi mesh uses multiple access points to oversee a secure, fast and stable network that learns your environment and optimises performance over time.
That means SmartThings will choose the clearest channel available to avoid congestion, and avoids weak WiFi 24/7. If you have a very large space, you can add up to 32 hubs for additional coverage.
Google Nest Wifi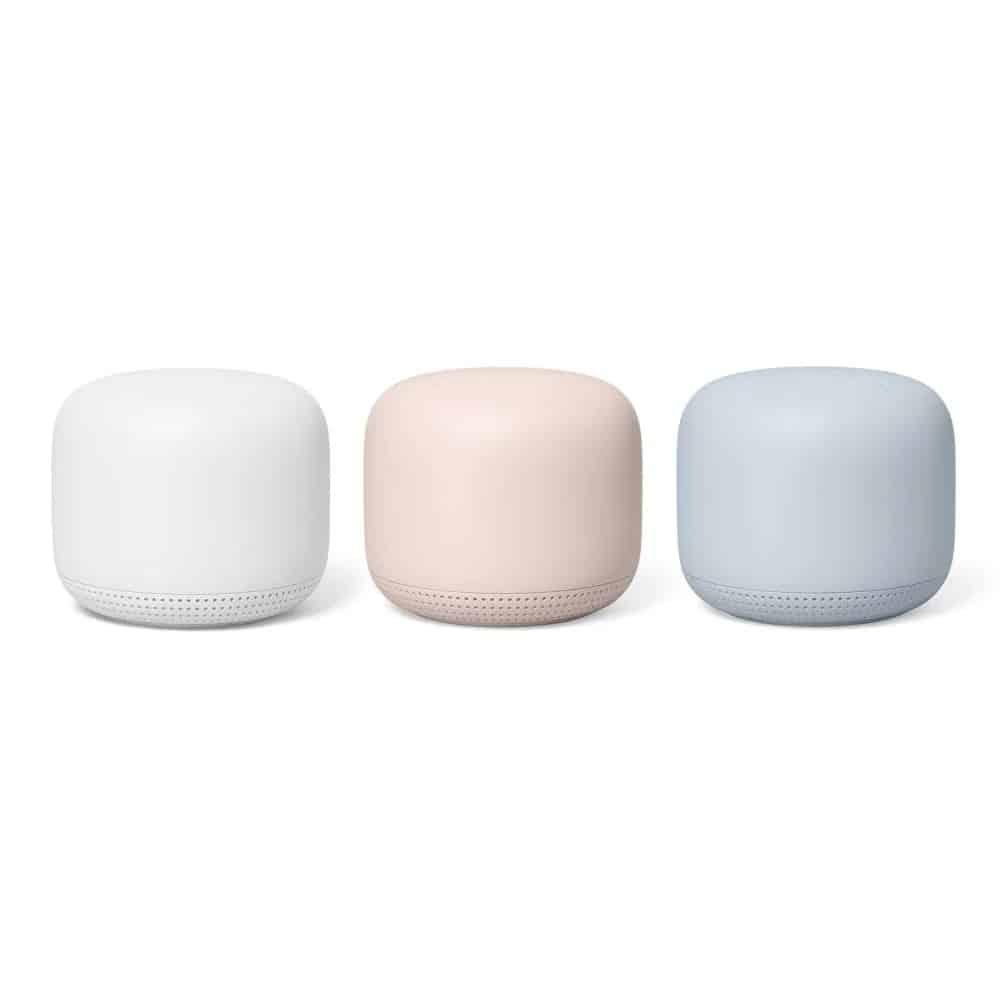 Manage from your smartphone.
Control each users online time and block explicit content. Great for parents.
Pick which devices and applications get the most bandwidth.
Voice command compatible.
Technological giant Google has also brought an option to the WiFi mesh game with the Google Nest. This mesh system plugs into your modem and creates a strong and reliable network. Each node works with the router to expand signal for flawless coverage in every room. Compatible with Google Assistant and the Google Home app, the Nest is a breeze to use, and a great addition to your smart home configuration.
AmpliFi HD Mesh Wifi System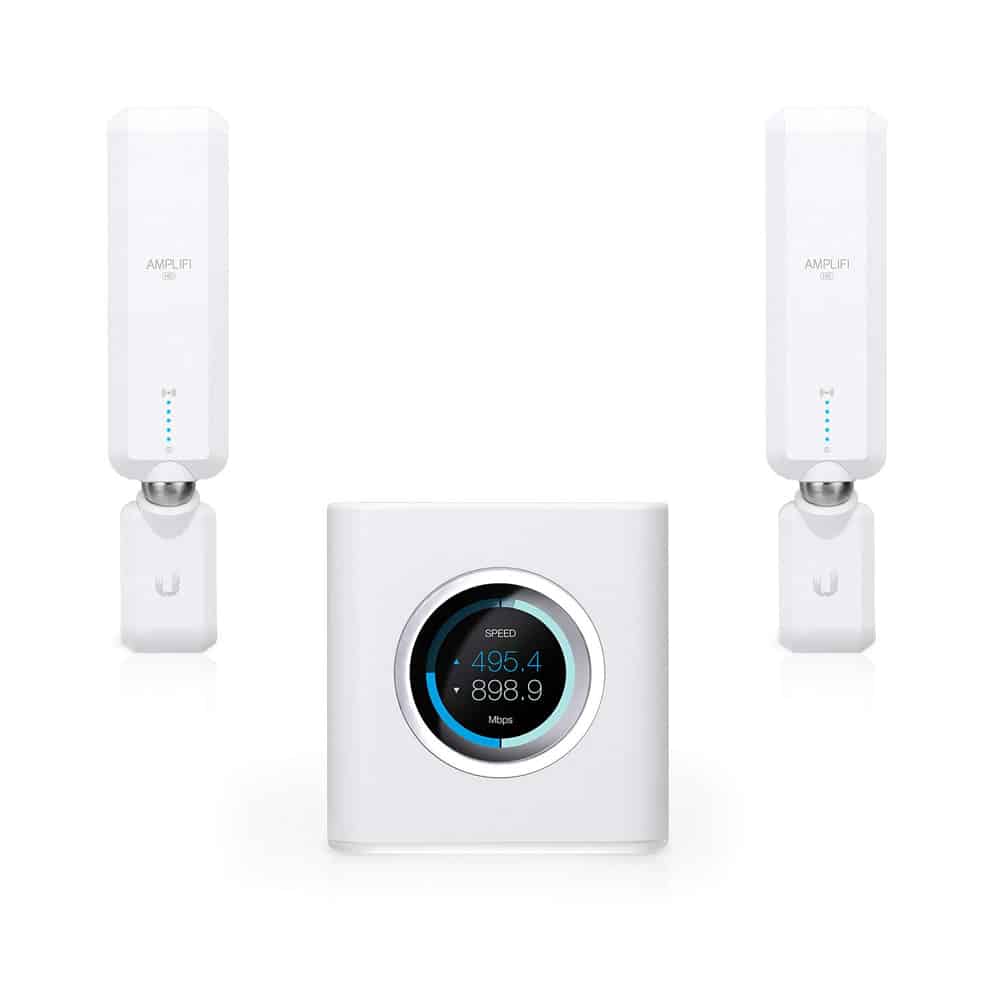 Integrated 802.11AC WiFi technology.
Mesh points that pivot on magnetic connectors.
Seamlessly plugs into any outlet. No wires, no fuss.
The AmpliFi HD Mesh WiFi system has to be one of the most attractive offerings available. It is beautifully designed to complement any home décor. Now you no longer need to hide your router away. The Super Antenna Technology provides superior speed and range, while the sleek LCD touchscreen is super intuitive and easy to use. You can even take your home network wherever you go thanks to the free Teleport app.
Tenda Nova MW6 Whole Home Mesh WiFi System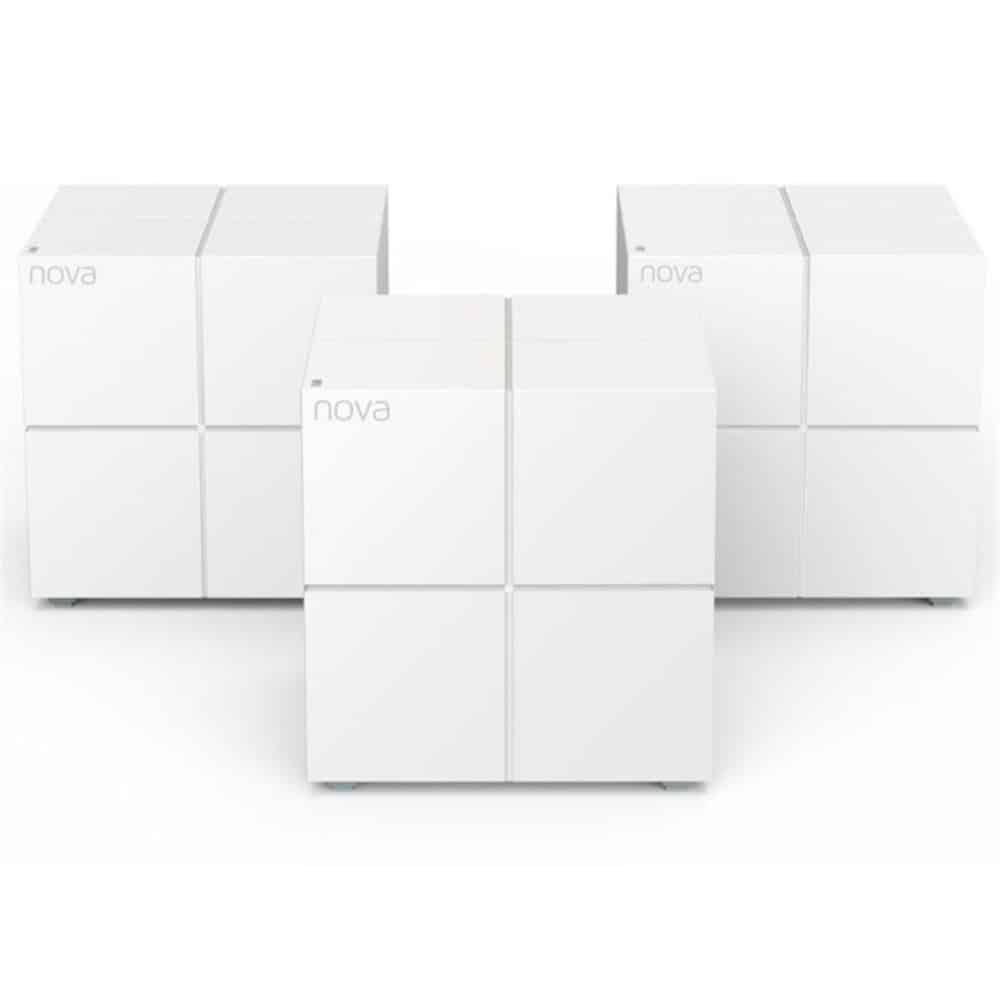 Wave2 MU-MIMO technology outperforms traditional router technology.
Automatic network optimisation.
Easy to setup and configure right out of the box.
Last but not least is the Tenda Nova MW6 Whole Home Mesh WiFi system. In this system there are three units that cover up to a whopping 6000 square feet. In terms of range, this puts it ahead of many of the competitors. The Smart Autopath Selection Technology really maximises the home wireless network, which is ideal for large homes. No matter what your home is constructed from, there won't be any dead spots or bottlenecks.
Summary Round up List
As you can see there is no shortage of great WiFi mesh systems on the market for a wide range of users. When it comes to overall performance, we just couldn't beat the Netgear Orbi WiFi System (RBK50).
However, if you are a gamer who is ultimately concerned with lightning fast speeds for many users at once, the Netgear XRM570 – Nighthawk Pro Gaming Router and Mesh WiFi System is the way to go. For those on a budget, the TP-Link Deco M5 Smart Home Mesh Wi-Fi Router presents a great combination of features at a good price.
If you still need a little more information about mesh WiFi, check out the additional information below.
What is a Mesh Wifi System?
A mesh WiFi system provides WiFi coverage across your entire home and reduces problems caused by dropouts and interference. These systems are made up of multiple networking components including a main router that connects to your modem, and a series of satellite nodes (also known as modules).
All components are included in a single network and share the same SSID and password. The nodes use mesh technology to send signals to the router, and to each other, creating even and uniform coverage with consistent speeds no matter where you are in the home. Mesh systems are becoming extremely popular as they allow multiple users to seamlessly use a single WiFi network while each performing bandwidth intensive tasks.
Each node in the system functions as a hop point for other nodes, so that no matter where a node is, even if it is the farthest from the router, it will still deliver a strong WiFi signal. If you are experiencing signal issues, there is a good chance a mesh WiFi system is the answer to your technological prayers.
Mesh Network vs Range Extender: Is mesh WiFi better?
If you are having problem getting WiFi across your whole home or building, the two main solutions are either a mesh network or a range extender. Range extenders (also known as repeaters) duplicate the WiFi signal by repeating it, to extend the routers capabilities. A mesh network, on the other hand, is made up of separate router-like devices that are positioned in different rooms or locations.
While similar, these two systems have some distinct advantages and disadvantages. A range extender works well if your home isn't very big, but in larger houses, or in places with significant dead zones, a mesh network definitely works better. In addition, mesh networks are really easy to configure as opposed to range extenders, which can be complicated. In our opinion, if your budget allows, a mesh network is the better way to go.
3 things to consider when buying a Mesh WiFi System
When it comes to shopping for a mesh WiFi system, there are a few things that you should think about to make sure you get the best product for you. While there are other factors that may be important, we recommend at least considering the following three things:
1. Design – Your mesh system needs to integrate into your home, so it is important that it is visually appealing, or at least doesn't look messy. Most brands opt for minimalism in their external designs, and have small internal components to keep the overall profile of the system sleek and slim.
2. Speed – As a general rule it is always better to have more speed than less, because greater speed allows for more bandwidth, and therefore more intensive things can happen on your network at once. If you have lots of devices, and like to run multiple streams at once, you should opt for the highest speeds you can.
3. Coverage – You can always get more mesh nodes down the track, but when you are starting out you should get as much coverage as you can to cover the area you need to service. The better the coverage of each mesh node, the less nodes you will need to cover your overall home.
If you consider these three things, we are sure you will find a mesh WiFi system that is right for you.