Last Updated on May 10, 2023 by Muisc Pro Editorial Team
Best Portable PA Sound System and Speakers (Powered, Battery Operated, Column PA)
A Portable PA System, or Public Addressing system, is used to amplify sound and includes a speaker, a microphone and an amplifier in one handy system. Perfect for travelling performers, businesses, churches, schools, party hosts, and anyone who needs to have their voice (or their music) heard loud and clear.
When it comes to portable PA systems, the market is certainly flooded with options, and it can be hard to discern just which brands and speakers are going to be the best match for your needs. That is why we have put together this handy guide of the best portable PA' system, to help you cut through all the technical jargon and hone your sound quality, whatever your needs.
We've got everything you need to know about battery powered single speaker systems, battery powered column line arrays, powered dual speaker systems, and powered column line arrays. Check it all out below!
Not sure which Portable PA System is suitable for you? Get PA System Recommendation & Quote Now
Battery Powered Single Speaker Portable PA Systems
Highly Recommend for the Good Sound Quality, Affordable Price Point, Truly Portable PA System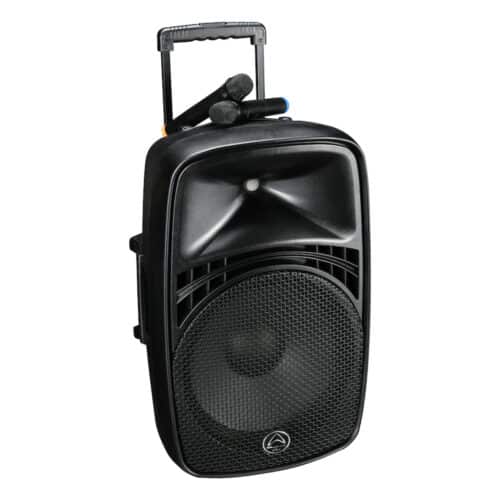 Set includes 2 Handheld Wireless Microphone.
Ultra portable with wheels and easy pull up retractable handles
Offers up to 100W of Peak Power
Built in mixer with USB MP3 Media Player
Built tooth wireless connectivity enabled
Free Remote for Media Player Control
2 Free UHF Wireless Handheld Microphone


One of the best battery powered PA system that you can trust is the Wharfedale Pro EZ-12A. This compact offering is an absolute breeze to take with you wherever you go and marries form and functionality. Buskers and performers get ultimate freedom without sacrificing sound quality.
This 12" high powered PA has an internal battery so it can operate chord free, or plug in via a 100v-240v main input. Street performers, you will have power, even on longer days, with 5 hours playtime per charge.
Within the system there is an internal MP3 player so you can stream all your favourite backing tracks, and a wireless microphone input so you can configure your mic with just a couple of button presses. The 12A has a maximum output of 115dB, which is enough for most small scale performers.
This handy travelling companion comes with an ergonomic handle and wheels for simplicity of transport. Includes 2 wireless microphones.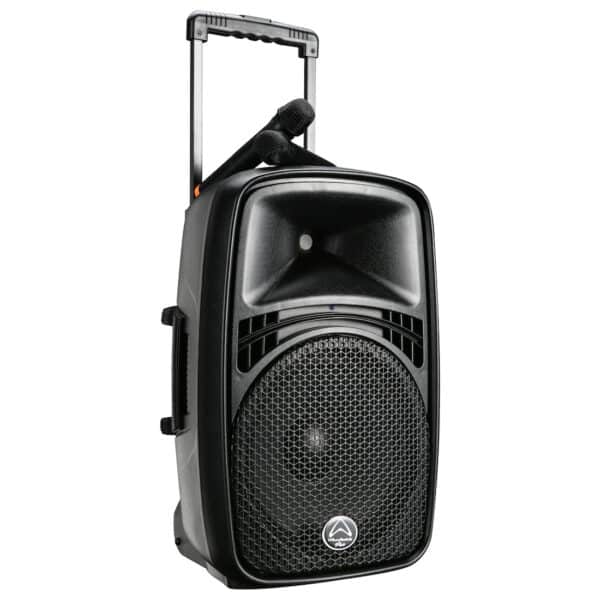 Set includes 2 Handheld Wireless Microphone
The big brother in the Wharfedale Pro family is the EZ 15-A. Much like its smaller sibling, it packs lots of features into a compact package, but this offering boasts 15" of high powered output. Whether you are playing a café, a live music venue, or busking in the street, this is a great option for solo musicians and acoustic performers.
This portable PA will literally travel with you wherever you go. It has a pull up handle and robust wheels so you can trasport it without throwing out your back, and you can easily put it in the boot of your car. The EZ-15A packs in 118dB of maximum sound pressure level, so your music will never fall on deaf ears. You can run off battery power for up to 5 hours, or plug in via the interal 100v-240v main input. Also comes with 2 wireless mics; perfect for duets!
Samsontech Expedition XP106W 100W Portable PA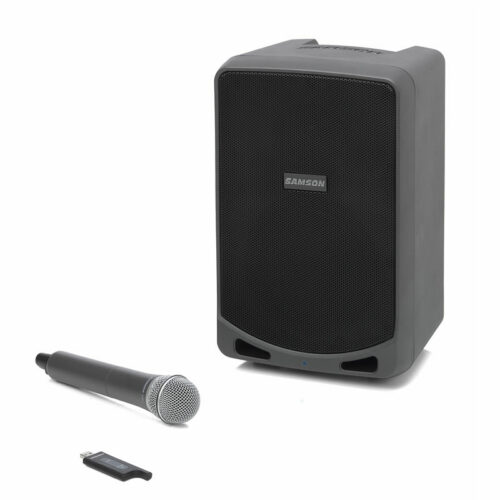 Set includes 1 Handheld Wireless Microphone
Samson's Expedition xp106 is an excellent rechargeable portable PA that has loads of incredible features for a range of uses. The Bluetooth connectivity means you can easily stream music and connect to other devices, while the inbuilt 4-channel mixer allows you to make all the adjustments you need without extra equipment. It even comes with a handheld microphone. With this portable PA you will be able to take your show with you wherever you go. 
We love this offering for its versatility, along with a clean, crisp and clear sound that won't let you down. Great for musicians, classrooms, tour operators, parties, business uses, and even fitness applications. This is the perfect setup for anyone who needs to be able to control music and sound from anywhere in the room. 
Thanks to the rechargeable battery you can use indoor and outdoor. 
Up to 20 hours of battery life on a single charge. 
100 watt class D amplification to fill small to medium size rooms with rich sound.
Bluetooth to stream all your favourite tracks. Great for parties and more. 
Samsontech Expedition XP208W 200W Portable PA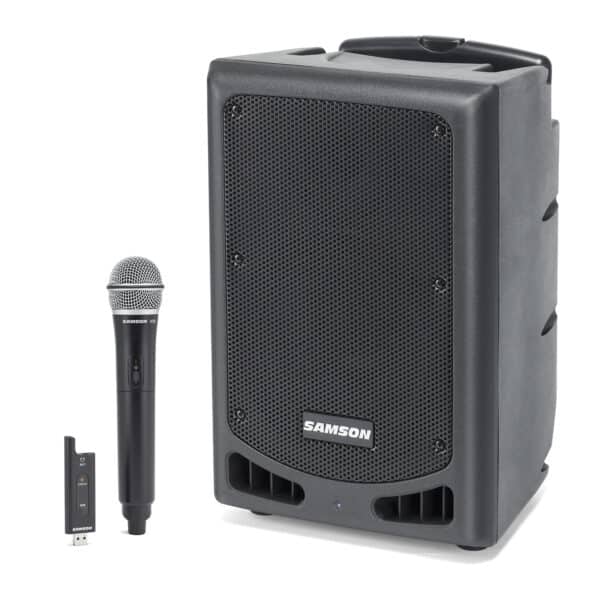 Set includes 1 Handheld Wireless Microphone
The Samsontech Expedition XP208W rechargeable portable PA system is a premium solution for anyone who needs high quality mobile audio. It boasts 200 watts of power and a whopping 20 hours of battery life, so when you have long times between charges, you will still be able to meet your amplification needs. The lightweight system consists of an 8" two way speaker housed in a rugged enclosure to stand up to the trials of life on the road.
Easy to transport, it weighs just 24 pounds and comes with a locking telescopic handle and smooth rolling wheels. The XP208W comes equipped with a built-in four channel mixer so you can make adjustments to your tracks in system. Not to mention, the intuitive interface is easy to configure thanks to built in Bluetooth capabilities.
You can also stream music directly from your devices. Adding depth to your sound is a variable reverb control and voice over ducker, which will lower your backing track automatically if your voice is detected. The system comes with a wireless handheld microphone for completely cord free performances. What more could you want!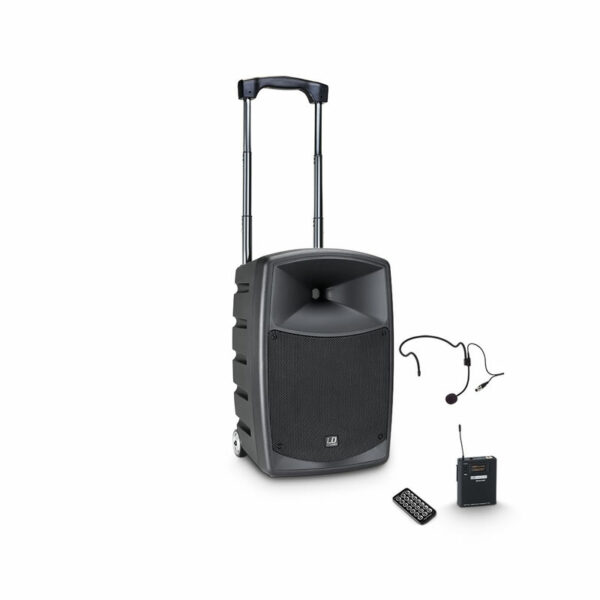 Set includes 1 Headset Bodypack Microphone.
With the LD Systems Roadbuddy 10 you will find an elegant solution for musos on the go. This sleek powerhouse looks stylish, while also offering loads of great features. With 8 hours of battery power from a single charge and class D power amplification, there is enough here to keep you crooning all day. The Roadbuddy has a 2 way speaker featuring a 10" woofer alongside a 1" compression driver for harmonic sound wherever you play. Included is a handheld microphone, so you have everything you need for your one man show, all in a single handy package.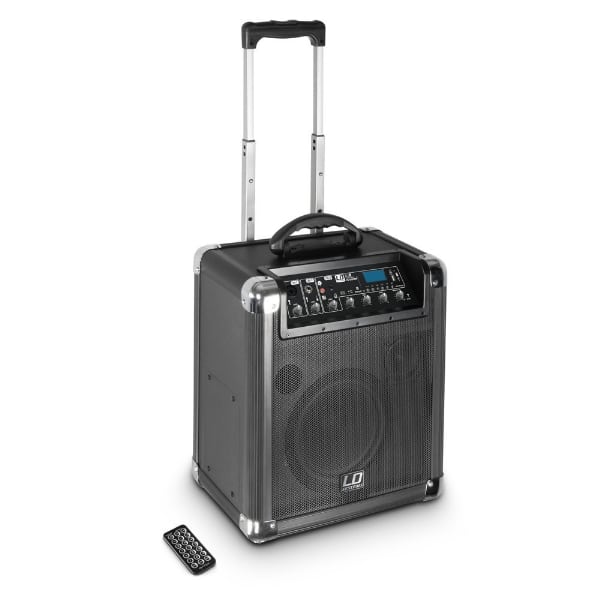 The Roadjack 8 is another system that allows you to take your sound anywhere. It also has built in wheels and a carry handle for added convenience, plus a rechargeable battery pack with 20 hours of play. The active 8inch 2-way system boasts a 90 Hz – 18 kHz frequency range and 100-watt peak output with three individually controlled channels.
There is also a built in Bluetooth player with wireless streaming capabilities for ease of control and music streaming directly from your devices. Clear sound, compact, durable and versatile.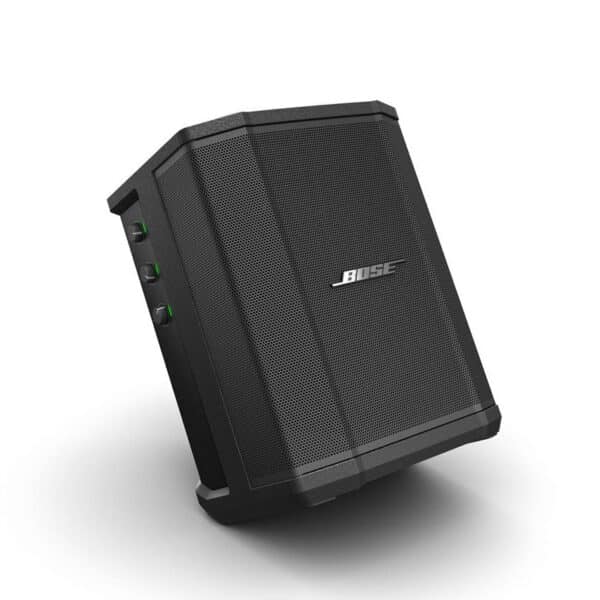 The Bose S1 Pro has a unique wedge shaped design that makes it very popular for musicians and DJ's that need to hone their sound in confined or limited spaces. It can slot in easily just about anywhere. The included rechargeable battery gives 6 hours of battery life, while the built in Bluetooth gives the convenience of wireless freedom. The S1 Pro has an on board 3-channel mixer with reverb, tone controls and line outs so you can connect to your other systems.
You can also play music easily from your devices via Bluetooth streaming, and get optimal sound quality for your microphones and instruments using the integrated ToneMatch processing system. The built in Auto EQ also works to eliminate unwanted noise for clean outputs. A good piece of equipment for professional musicians and backyard BBQ's alike.
Battery Powered Portable Column Line Array PA Systems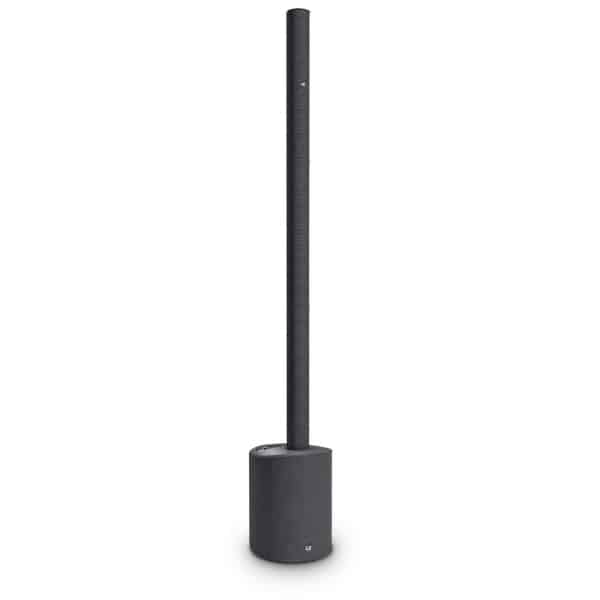 Ultra-Portable Column PA System
Suitable for up to 100+ Audience outdoors
Built in 4- Channel Mixer
Offers 800W of Peak Power
Lithium-ion battery pack for up to 20 Hours of party
The MAUI 5 Go brings the convenience of battery powered, to the great features of the regular LD systems column line arrays. It gives you up to 20 hours of performance from the lithium-ion battery pack. There is on board Bluetooth streaming as well as hi-Z instrument and line inputs, making it the perfect companion for delivering a speech or reproducing music at corporate or private events.
The Maui 5 Go is super easy to set up with custom multi-pin connectors, and the column setup gives a nice and wide dispersion range for full room sound. With 800 watts of peak output, this slender system has plenty of power, and the integrated 4-channel mixer allows you to customise your sound.
JBL Eon One Pro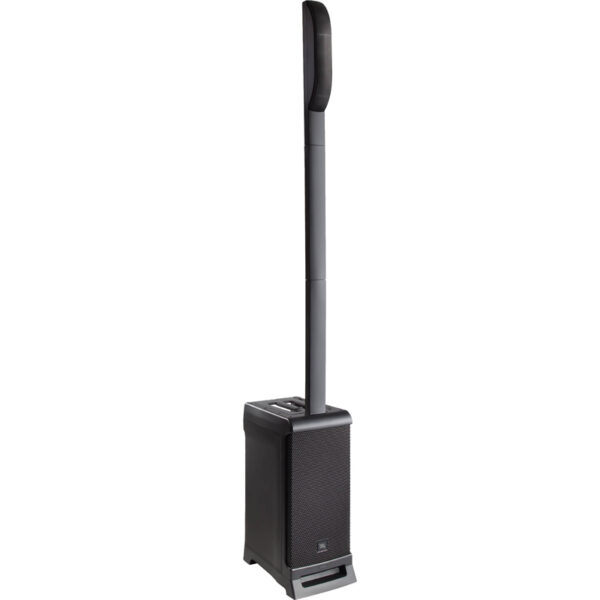 JBL are famous for their legendary, stadium filling sound, and with the Eon One Pro, they shrink that power down into a portable system. This portable PA option has optimised sound dispersion to reach your audience right at the edges of the room, with similar technology to the speaker arrays of larger venues.
The 8 inch subwoofer delivers bass you can feel and has a heftier low-end that some of its rivals. At 16kg and 6 hours of battery life, it fits ergonomically against your body for use just about anywhere.
There is a streamlined 7-channel mixer with inputs and effects to achieve the perfect mix. You can plug in your electric guitar or other instruments and get high quality sound from the Hi-Z inputs with professional condenser microphones. Bluetooth allows you to stream directly from your device, and plug in directly to the USB port to charge up and keep the party going.
Dual Speaker Setup Portable PA Systems
Perfect Dual Speaker Portable PA Recommend for the Small – Medium Size events at an Affordable Price.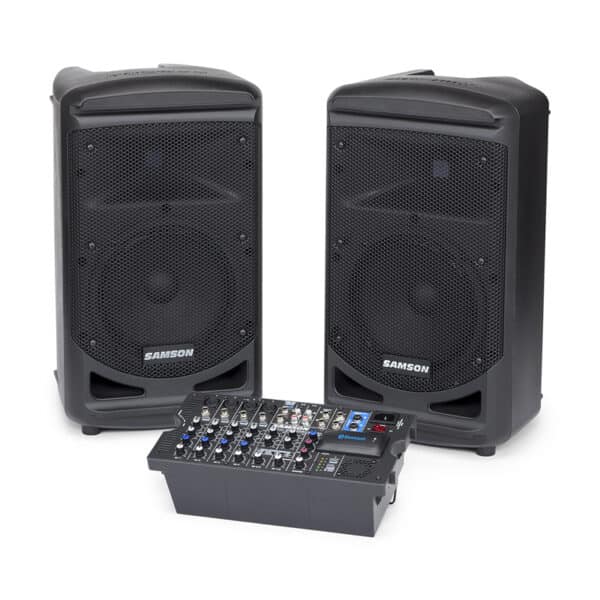 The Samson Expedition XP800 brings you 800 watts of portable power and sheer sonic force for whatever sound needs you find yourself with. In this all-in-one sound system you will receive great audio quality in a super easy to setup interface that even those without technical prowess can harness. If you are using the XP800 on the go, it also has a unique speaker locking design for easy pack down into a single unit weighing only 40 pounds.
A real highlight of this powerful PA is the on-board 8 channel powered mixer and pair of 8" speakers that work together flawlessly for a range of audio configurations. Experienced musicians will love the digital effects features and EQ on all channels allowing full sound customisation. You can even pair to Bluetooth to stream music and control from your mobile device. In this unit you get a massive 800 watts of Class-D amplification, making this a great option for a range of room sizes.
Bluetooth connectivity to stream from mobile devices and laptops.
2-band bass and treble EQ on all channels.
Four mic preamps that have multiple stereo options configurable for rehearsal or performance.
Removable mixer.
Powerful Dual Speaker Portable PA Recommend for the Large events at an Affordable Price.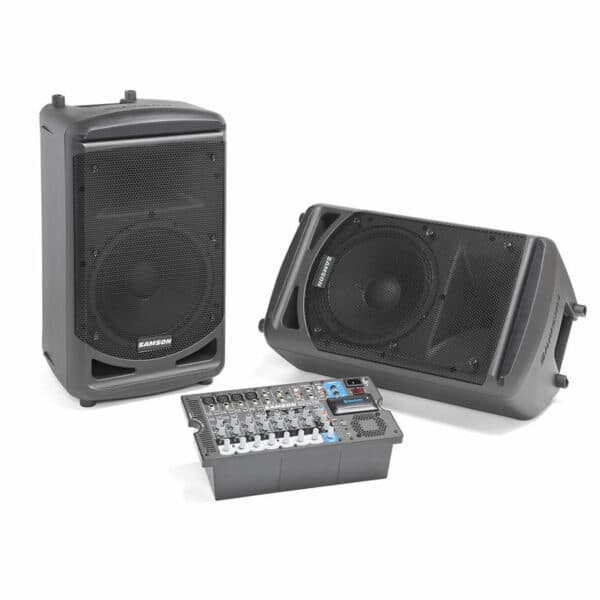 The Samson Expedition XP 1000 Portable PA is a phenomenal feature packed all-in-one system. The compact design manages to house a range of features, and outputs a whopping 1000 watts of Class-D powered sound.
This is an ideal system for live music performance, parties, DJ sets, pumping fitness classes, and any event when you need your sound to reach far and wide. The XP1000 is Bluetooth enabled which makes wirelessly streaming music a breeze. Connect to your device or laptop with a few clicks.
For those who want mixing power onboard, there is a powerful 10 channel mixer that can be removed if needed. The mixer has four line and mic input channels, both XLR and ¼" inputs, so you can connect your microphones and line level instruments with ease.
There are also three stereo inputs for connecting to wired mp3 players, keyboards and other sources. You can take total control of your sound with the two band EQ on each channel, and selectable compressors to ensure your vocal sound is spot on. A great and robust option.
2 way vented speakers for clean powerful sound.
10" woofers and 1" high frequency driver for perfectly balanced sound.
16 high quality preset DSP effects.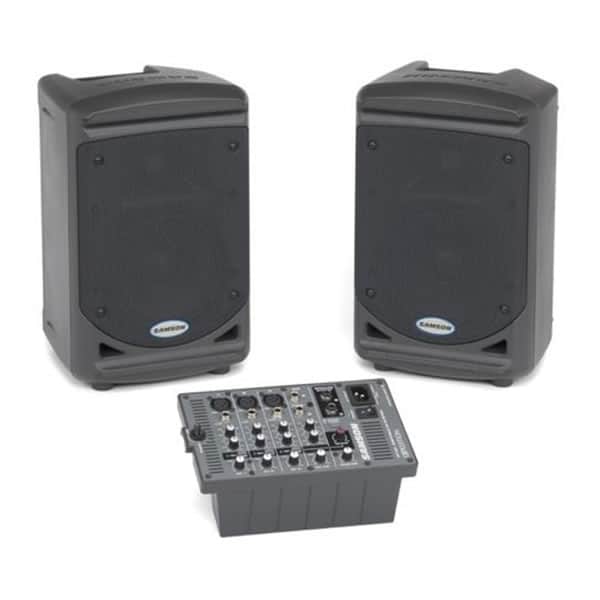 The Samson Expedition XP150 has a lot of power in a portable and simple package. The clever design packs all components into one unit that only weighs 24 pounds. The setup is comprised of a pair of two way vented speakers, alongside a removable 5 channel mixer, so you can literally unpack all your sound needs in seconds, or pack up and get on the road as soon as your done.
Sound aficionados will love the built in digital effects processing, and 2-band control on each channel. Super easy to use for beginners and pros alike. Whether you are a small act, a travelling soloist, a yoga instructor, or a business professional, this portable PA is perfect for small to medium sized functions. The Expedition XP 150 is the ideal system for when you need a smaller PA but you don't want to sacrifice on sound quality.
Removable five channel mixer powering 150 watt Class-D amplifier.
Can be used outside while maintaining sound quality.
Comes with three mic and line channels with a combination of XLR and 1/4″ inputs so you can connect mics, external devices, mp3 players, line signals and more.
2 band bass and treble controls on each channel.
LD System Dave 8 Roadie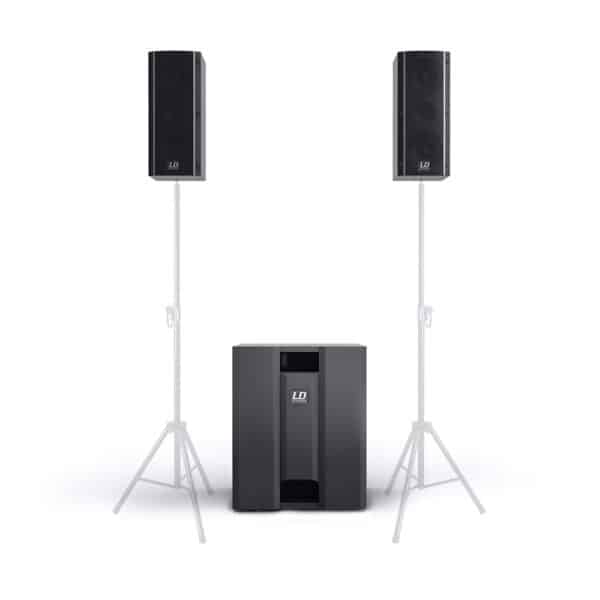 Another great option for anyone needing a portable PA is the LD System Dave 8 Roadie. This series was developed for a range of home recording, studio, and performance needs. There are connectivity options for microphone, guitar, keyboard, electronic drum kits, laptops, MP3 players, mixers and more. That means you can go straight from the studio to the stage with ease, if you require. A real standout feature of the Dave 8 is the 1400 watts of incredible peak power. 
The 8" bandpass subwoofer also guarantees thrumming bass reproduction for those who want their sound to be felt and not just heard. There are two 4" mid/high frequency drivers and a 1" tweeter in the much coveted d'Appolito arrangement, which means supreme balance and consistency across your sound. Not to mention, this system is built to withstand life on the road. 
The compact design, alongside the sturdy front grilles and robust carry handles means this unit will be with you for a long time. 
Integrated limiter to protect from overload. 
Onboard three channel mixer for easy tweaking on the fly. 
JBL EON208P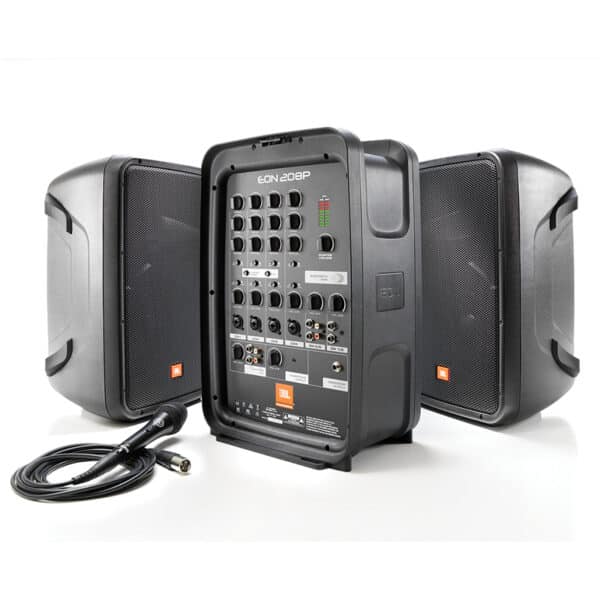 If you want quality sound and 8 channels of mixing capability via a detachable mixer, then this is the portable PA system for you. The EON208P has a clever suitcase-style design so you can transport it from place to place, and unpack your performance at each stop.
The detachable mixer gives you the power to connect mics, instruments and line-level sources at professional quality, while the two-way 8 inch stereo speakers give excellent audio cover. There is Bluetooth technology built in for connecting to your devices, and the 300-watt output ensures you'll be heard loud and clear in small-medium rooms. A robust portable system that you can carry in one hand.
Fender Passport Event PA System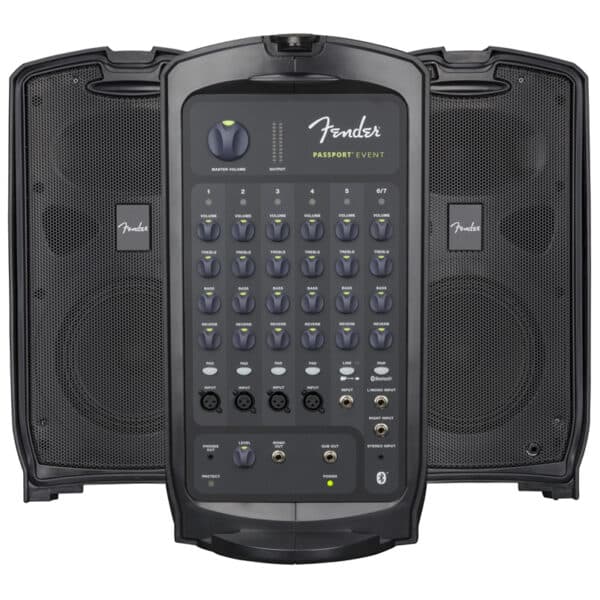 Fender have been in the portable PA game for a long time, so they have had time to refine their offerings. The Passport Event is a mid-sized offering that features Bluetooth connectivity and has handpicked the features required for travelling sound reinforcement.
Another suitcase styled design, you simply flip the latch when you reach your destination and reveal the two full-range speaker cabinet and powered mixer. The Passport is a great and simple piece of equipment for gigs, parties, small club events, schools, sporting events, and presentations.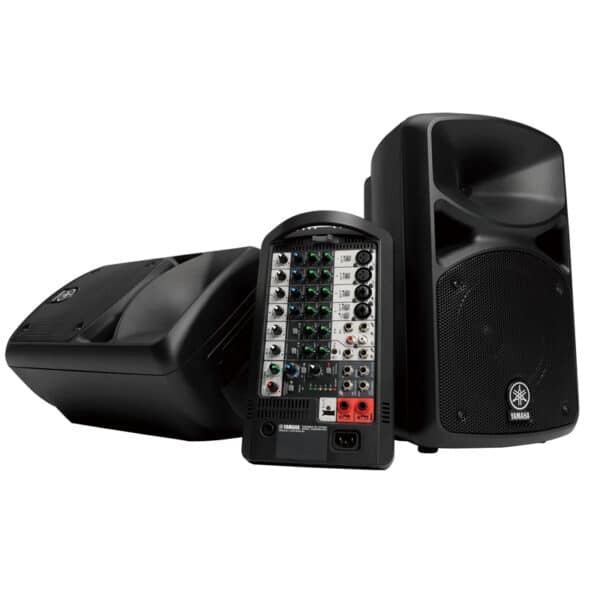 The Stagepas 400i is a convenient lightweight package including a detachable mixer and two sleek PA speakers with 400 watts of power. You can set up this system quickly and easily in a huge array of settings, with mobile connectivity for added convenience.
The SPX digital reverb and built-in feedback suppression technology promise low noise sound quality and reliability. The new speaker design of the Stagepas improves on its predecessors for more evenly distributed sound for a greater coverage area. The single knob EQ gives extreme ease of use so you can quickly kick up the bass or optimise the EQ for speaking engagements. Clean, powerful and collapsible for easy transport.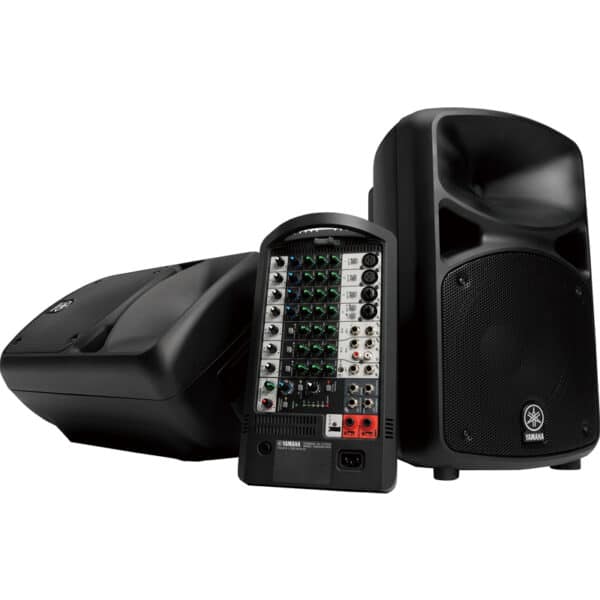 The big brother of the Stagepas 400i, the Stagepas 600i brings even more power to your portable PA needs. It packs an extra 280 watts to give you 680 watts of boosted performance from the onboard two-speaker system.
The combination of the new Stagepas highly efficient amp technology, the newly designed speakers, and the optimal performance DSP make the 600i a sturdy piece of equipment with competitive sound quality.
Housing the same SPX reverb controls and one knob EQ as the 400i, the 600i gives you ultimate control, while the higher-powered speaker really takes advantage of the cutting edge feedback suppressor. Definitely worth a look.
Portable Column Line Array PA Systems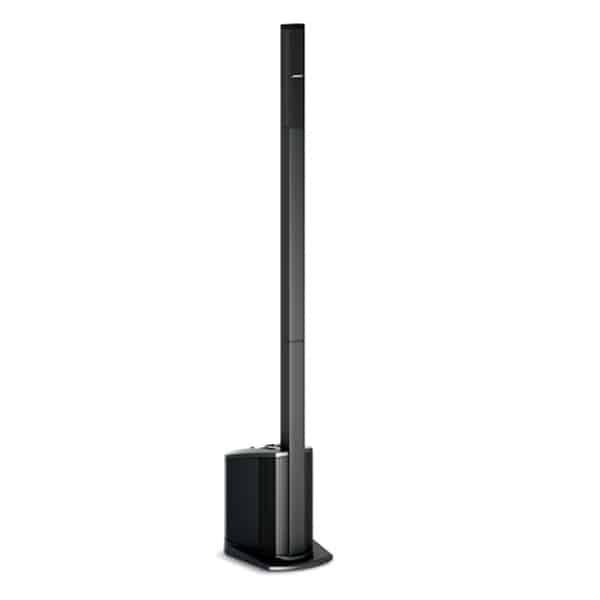 A stand out from the pack when it comes to sound quality, the Bose L1 compact packs a crystalline punch and delivers that classic premium Bose sound. The L1 compact gives a wide, even sound coverage in a small and lightweight system. It is smaller than its other L1 brothers and sisters, but doesn't sacrifice on features. With an unusual vertical shape, the slimline loudspeaker even fills the room thanks to the Bose Spatial Dispersion technology. With the L1 compact, there is no need to carry a separate amp, mixer or bass cabinet. Everything is already on board with a total of four inputs and two outputs. The ToneMatch preset instantly works to optimise your microphones and instruments for sweet, smooth sound that outperforms the competitors.
Electro Voice EVOLVE 50 Portable Column System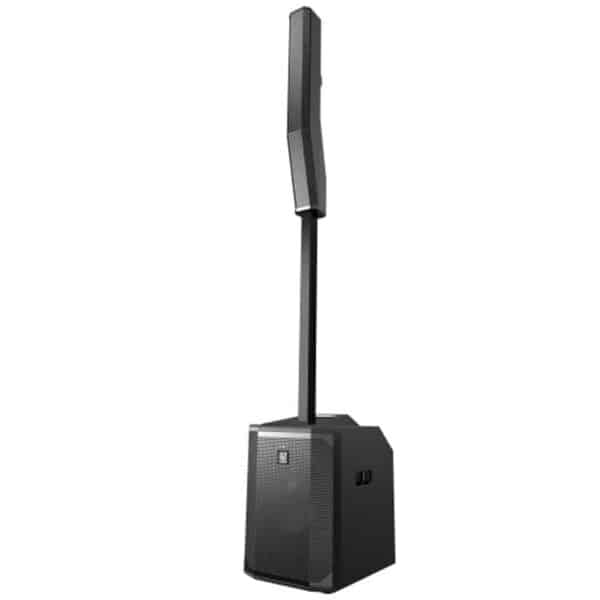 The Evolve 50 is a portable PA with POWER. The 1000 watt amplifier and 12 inch sub-woofer delivers a humming low end that is sure to get the room moving. With the cutting edge onboard technology, you can use remote control monitoring via Bluetooth on your mobile device to manage up to six systems at once.
For that kind of power, you usually need to cart around a hefty weight, but this offering from Electro Voice is super sleek, slender and transportable. It can travel the distance and is very easy to set up.
Summary
When it comes time to boost your sound for that next conference, gig, karaoke night, sermon, presentation or street performance, don't go past these compact powerhouses, currently selling at very affordable prices. Portable PA systems present exceptional value for money and optimal convenience. Whether you're looking for wireless capabilities, Bluetooth, battery power, or multiple lines, there is no doubt an option here that has you excited, and ready to start shopping for that perfect piece of equipment to makeover your sound today.
So there you have it. There are certainly no shortage of PA systems on offer for acoustic performers, vocalists and buskers. If you are looking for a battery operated system, we recommend the Wharfedale Pro EZ-12A – or if you need the extra power, the Wharfedale Pro EZ-15A. Though, all the options on this list have plenty of great features.
For non-battery operated alternatives, the Samson Expedition XP800B presents a great all in one option, while the Samson Expedition XP1000B is unrivalled for its sonic output and supreme features. Whether you want the freedom of battery power, or have the ability to plug in everywhere you play, there is certainly an option here for you.