Last Updated on May 10, 2023 by Muisc Pro Editorial Team
Finding the best music studio in Singapore can be daunting for aspiring artists. This is because there are so many studios to choose from, each with a different vibe and style, making it unique. So whether you're looking for a budget-friendly option or something more upscale, these are some of the best music studios around town:
Sonic Studio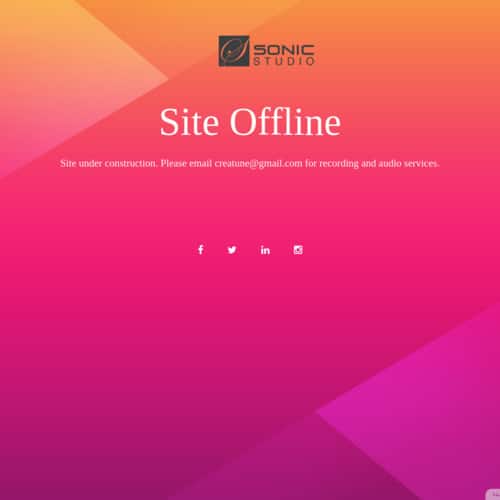 Sonic Studio specializes in Professional audio recording and music production, Music arrangement, voice-over recording, and music in general. They are hailing to be the best music studio in Singapore for having state-of-the-art equipment and the latest software to cater to almost all of their customer's needs. So whether your project is straightforward or complex, you won't have to worry because they got it all for you! 
Address: 336B, King George's Avenue, King George's Building, Singapore
Contact: +65 6294 4896
Website:  http://www.sonicstudio.biz/#
Red Roof Studios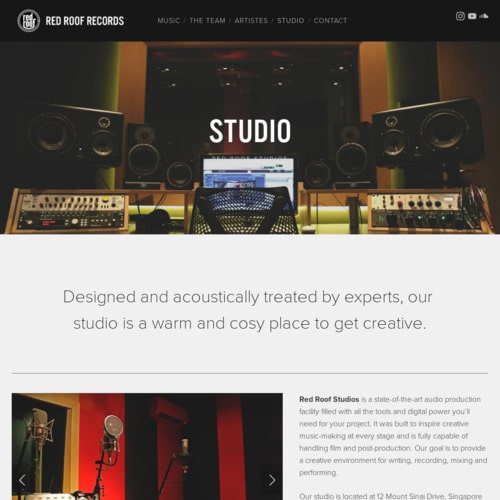 Red Roof Studios is an advanced sound studio equipped with all the latest technology to create quality productions. Built to inspire creativity, it offers everything you'll need to write, record, mix and perform. In addition, they're committed to providing a creative space where writers can express themselves through music.
Their studio is located at 12 Mount Sinai Drive, Singapore 277073. 
Contact Red Rood Studios at info@redroofrecords.com, and their team would love to hear about your upcoming projects and answer any questions you may have
Address: 12 Mount Sinai Drive, Singapore 277073.
Website:  https://redroofrecords.com/studio
Joy Music Studio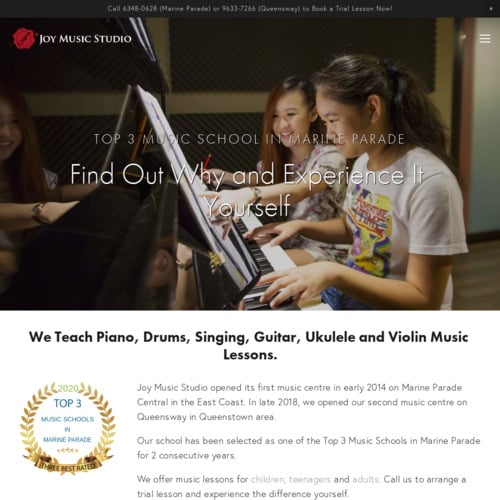 Joy Music Studio opened its first music center in early 2014 on Marine Parade Central on Singapore's east coast. We also opened another music center on Queensway near Queenstown in 2018.
This School has been selected as one out of three schools in Marine Parade to receive an award for our musical excellence for two consecutive years. 
Additionally, they offer music lessons for children and adults. Thus, whether students want to play music for fun or to pursue an exam certification, they nurture your child's passion for music and help them open doors for their future! 
Or if you're looking to gain certification for your playing music? Exam certifications are available with ABRSMS (Associated Board of the Royal Schools Of Music), Rock School, and Trinity College London.
Call them today to book your trial lesson and experience the best quality teaching!
Address: 1 Marine Parade Central #02-02 Singapore 449408
Contact: +65 6348 0628
Website:  https://joymusicstudio.sg/
Song Zu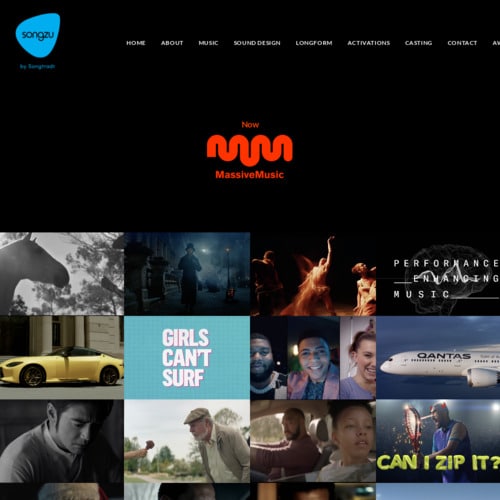 Song Zu is an award-winning music and sound design agency based in Australia and Asia. They create original compositions and soundscapes for advertising campaigns, film & television, online content, VR, and installation spaces. Also, they have scored and mixed a wide range of media projects, including TV shows, movies, commercials, short films, documentaries, and games. In addition, they offer complete audio and video post-production solutions, including music composition, voice-over casting, and editing. And if you're looking for their post-production studios, it's in Sydney and Singapore.
Address: 140 Neil Rd Singapore 088869
Contact: +65 6220 9606
Website:  https://songzu.com/
KJ MUSIC STUDIO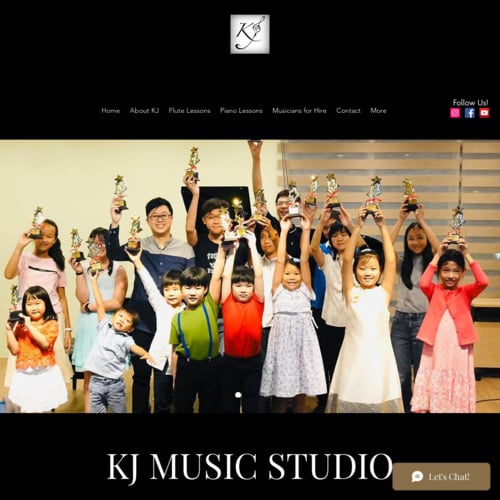 At KJ Music Studio, they offer quality flute and piano lessons as well as professional musicians for your events and functions! They have excellent teachers that also perform professionally. Their music lessons are fun and engage students so they can develop an interest in music. Students can also learn valuable life skills from music lessons, such as developing confidence, self-control, patience, and persistence. Additionally, they strive to inspire, motivate, and unlock the full potential of their students. 
They have a proven track record of student success in music exams and provide plenty of student performance opportunities.
Address: Bedok Reservoir Road Singapore 479283
Website: https://www.kjmusicstudio.com/
CYL Music Studio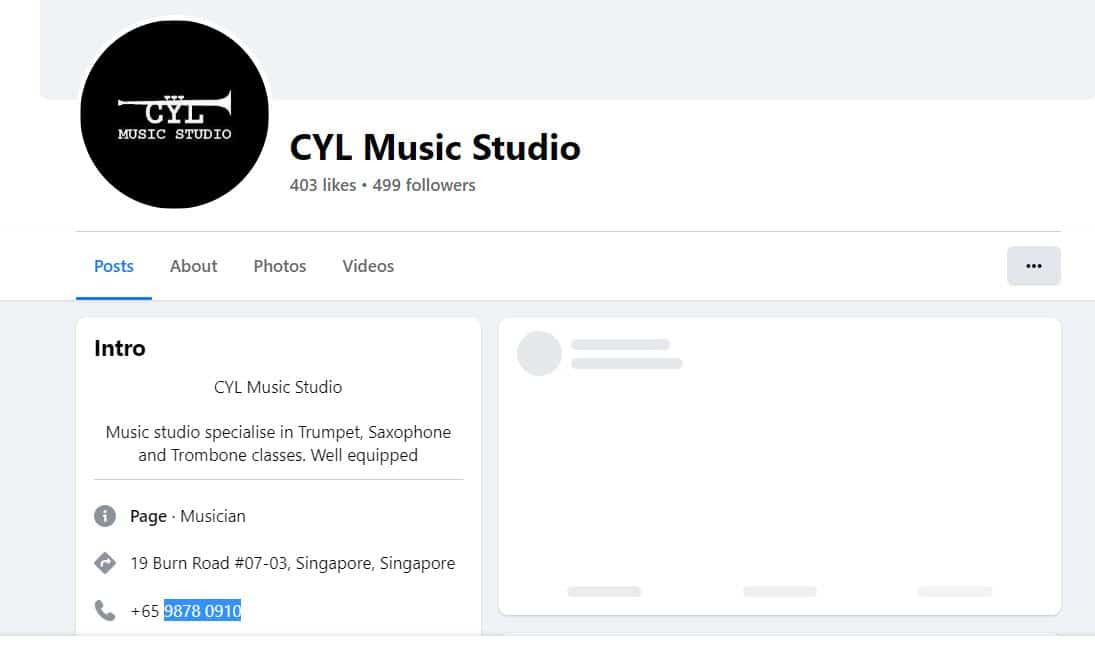 CYL Music studios specialize in Trumpet, Saxophone, and Trombone classes, and their studio is well equipped. They are located at 19 Burn Road #07-03, Singapore, Singapore. They have taught anyone (kids or adults) to learn music and play musical instruments. They also did concerts to provide a platform for their students to showcase what they know and boost their confidence in playing. So if you are looking for professional music instrument teachers and an excellent music studio, contact them on their social media or call them at +65 9878 0910.
Address: 19 Burn Road #07-03, Singapore
Contact: +65 9878 0910
Website:  https://www.facebook.com/Cylmusicstudio/
DREAMBOX STUDIO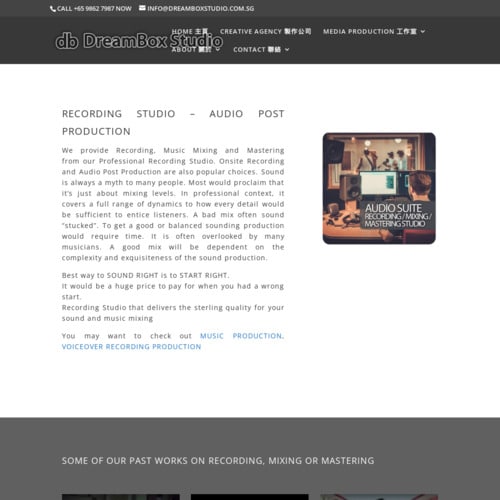 As media producers, Dreambox started with the vision of incorporating ideas into creative media content irrespective of platforms. Bearing no constraints on perspective and interpretations enabled Dreambox to make anything possible. Besides having its facilities, Dreambox has carved an image for itself, gradually taking the position as a media agency covering your needs.
Since its inception, Dreambox has been committed to providing quality services to its customers. From serving the local market, Dreambox has expanded into the international industry. To serve every customer's needs, Dreambox offers customized solutions to suit each client's business requirements. So whether your company is large or small, Dreambox can deliver the right message to your target audience.
Being a popular choice among, DreamBox honestly aims to penetrate with outstanding items which are agreed upon.
Address: 3 Upper Bukit Timah View, Singapore 588133
Contact: +65 9862 7987
Website:  https://www.dreamboxstudio.com.sg/media-production/recording-studio/
Backbeat Recording Studios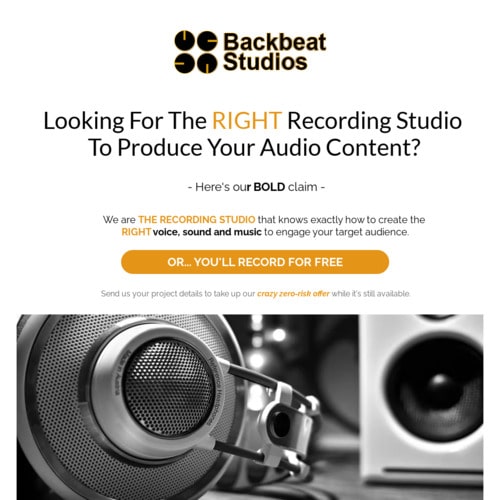 Are you looking for the right recording studio to produce your audio content? Backbeat Recording Studios is bold enough to say they know what you should do! They've got the right tools and talent to get the job done. 
They help you avoid messy scenarios with your recording with their 100% commitment to getting it right for you every time.
So if you're ready to make an impact with your brand, let them help you find the perfect solution. Send them your project requirements, and they'll let you hear the difference for yourself. Call them at 9677-5539
Contact: +65 9677 5539
Website:  https://recording-studio-singapore.biggerbetterbackbeat.com/
Leo Studio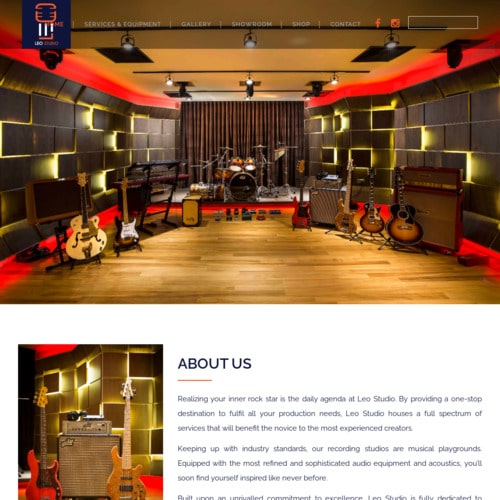 Realizing your inner Rock Star is the daily schedule at Leos Studio. By providing a One-Stop Destination to fulfill all your Production Needs, Leos studio houses a Full Spectrum of Services that will Benefit the Novice to the Most Experienced Creators. While keeping Up With Industry Standards, their Recording Studios Are Musical Playgrounds. Equipped with the Most Refined and Sophisticated Audio Equipment and Acoustics, You'll Soon Find Yourself Inspired Like Never Before. 
 Built Upon An Unrivalled Commitment To Excellence, Leos Studio Is Fully Dedicated to Providing the Most Enjoyable, Convenient, and Fulfilling Experience.
Website: https://www.leostudio.com.sg/
Doppler SoundLab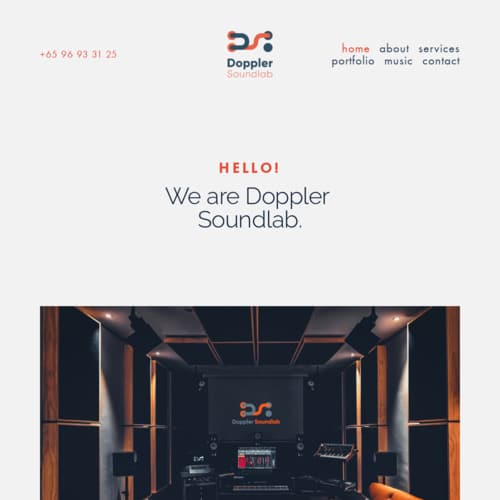 Doppler Sound Lab is an audio production studio in Singapore offering audio production services for film, television, commercials, music, games, and virtual reality. They live and breathe audio, and their 10+ years of experience have enabled them to continually deliver the most refined audio experiences to their clients and projects. But they don't just stop there. They continuously evolve and continue to hone the best interests of their clients' unparalleled success. Their cutting-edge audio services serve even these most demanding projects with passion and quality.  
Their studio is rigged with state-of-the-art equipment helping them maintain the best standards in the industry.
Your projects will be crafted with passion as you let them take them to new heights.
Address: 2 Kallang Avenue, #05-16, CT Hub, Singapore 339407
Contact: +65 9693 3125
Website:  https://doppler.sg/
Treble Cube Productions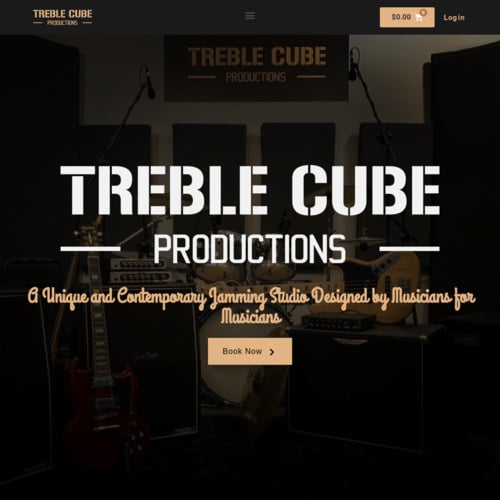 At Treble Cube Production, they are musicians just like you. Having spent many years and countless hours making music in various jam rooms across Singapore, they have decided to design their unique contemporary jam room. 
Special thanks to their friends in the music scene; they have made it their goal that everything in Treble Cube production is designed and created with their needs as musicians in mind. Paying specific attention to the little details such as location, color scheme, lighting, space, acoustics, equipment, booking system, and even toilet facilities, they hope that Treble Cube productions will provide their fellow musicians with a jamming room that is fun, comfortable, and convenient for music-playing or to hang out.
So they hope to give you the best jamming experience at an affordable price in their jamming rooms!
Address: 111 Kakit Bukit Ave 1, Level 3
Contact: +65 81894846
Website: https://treblecube.com/
Trinity Music Studio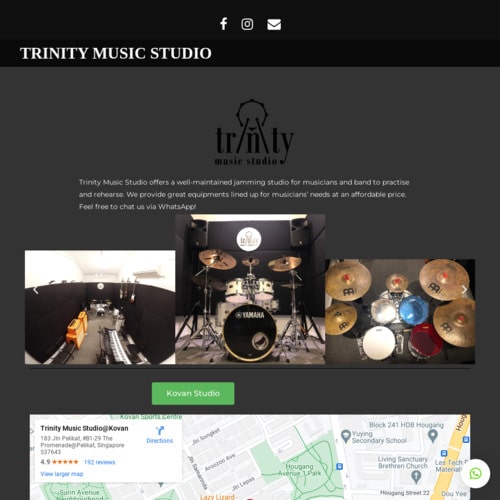 Trinity Music Studio provides a well-maintained jamming studio for musicians to practice and rehearse. They offer excellent equipment for musicians' needs at an affordable price, and they're happy to help you through WhatsApp! They have two studios in Singapore, the first at Kovan -183 Jln Pelikat, #B1-29 The Promenade@Pelikat, Singapore 537643, and the other is at Tai Seng- 50 Playfair Rd, #04-03A Noel Building, Singapore 367995. Check them out now!
Address: 50 Playfair Rd, #04-03A Noel Building, Singapore 367995
Contact: +65 9126 9764
Website:  https://trinitymusicstudio.com/
Presto Studios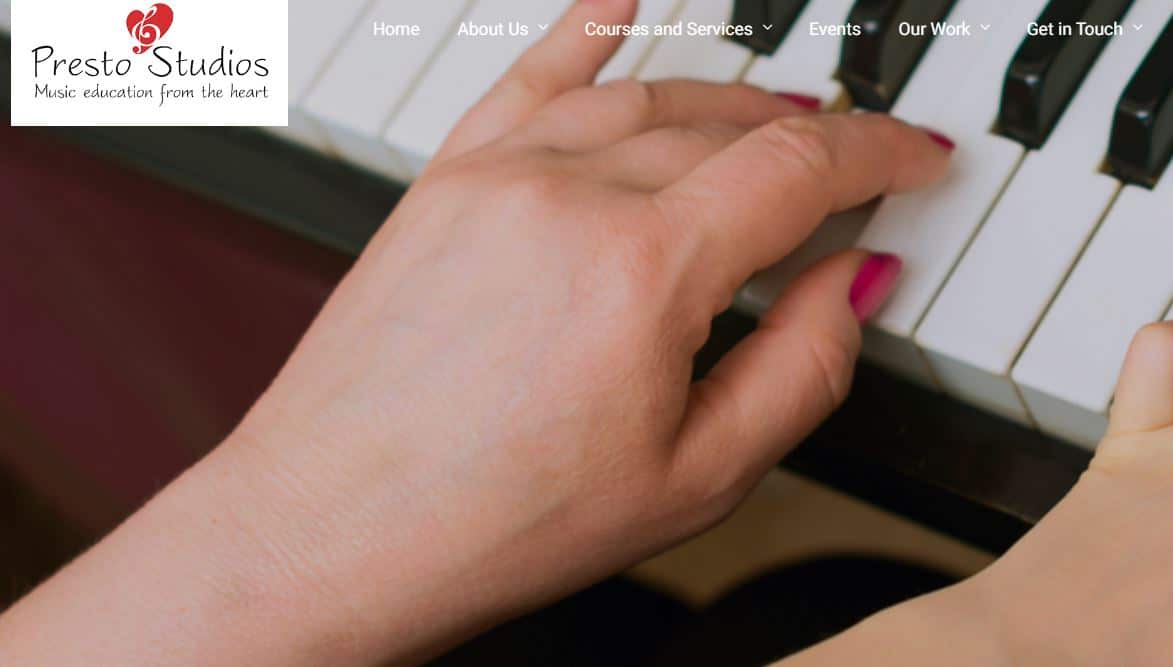 Presto Studios is dedicated to being the best music school that provides independent learning opportunities to develop musicians and build solid foundations for them to face the ever-changing challenges, especially in this new age. Their teachers create a fun environment where students can explore themselves and discover what they love about music. In addition, they encourage students to take ownership of their musical development and help them achieve their goals.
Presto Studios believes every student deserves an opportunity to develop into a musician who can express themselves through their unique voice. They aim to provide each student with an experience where they feel nurtured, supported, and challenged.
Address: Blk 7 Flora Drive #04-33 S(507012)
Contact: +65 9695 1830/6640 0403
Website:  https://prestostudios.sg/
Aeonix Productions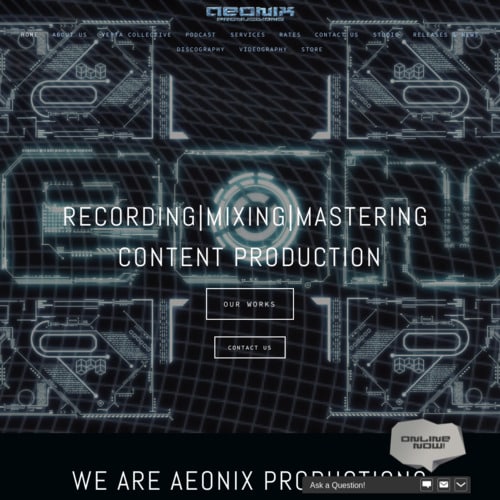 Aeonix Productions is a small studio based in Singapore specializing in audio and video production. Our goal is to provide high-quality services for artists and creative professionals worldwide. In addition, we strive to help our clients succeed by providing them with professional equipment and services.
Website: https://www.aeonixproductions.com/
Violin and Piano Music Studio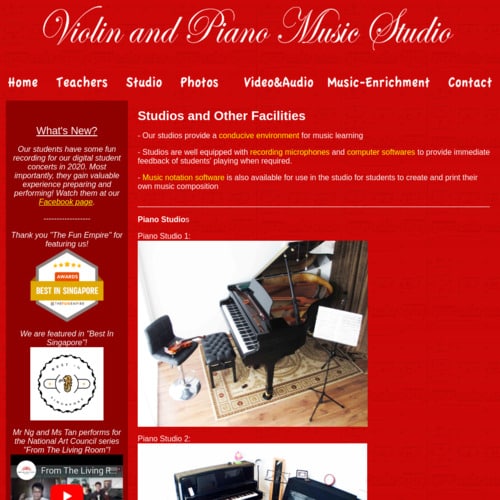 Violin and Piano Music Studio provide a comfortable environment for music learning, it is well-equipped to provide immediate feedback on students' playing when required, and music notation software is available for use in the studios for students to create and produce their compositions.
The music teacher, Ms. Tan, and the violin teacher Mr. Ng are two qualified and passionate music teachers who offer quality piano lessons, violin lessons, and theory lessons to children, teenagers, and adults living in Singapore. Their students are taught to enjoy playing music, develop good techniques, and practice habits. Apart from sending students to ABRSM examinations, our piano and violin classes also provide opportunities for our students to perform annually in our student concert, Music for the Young.
Address: Blk 723 Bedok Reservoir Road
Contact: +65 9139 3220
Website:  http://www.violinpianomusicstudio.com/site/Studio.html
Baby Angel Music Studio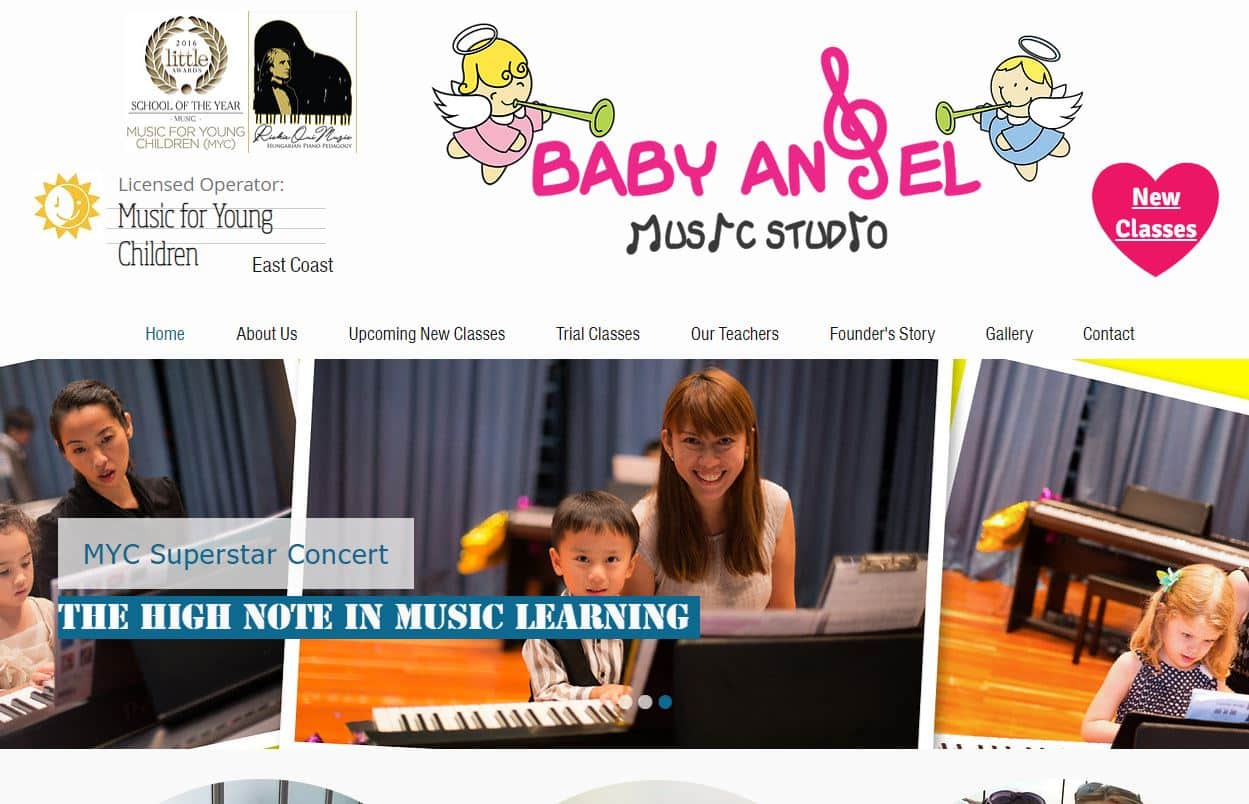 In March of 1980, Frances Balodis sat at her kitchen table in Dartmouth, Nova Scotia, with a clear goal: To create a program that would fulfill the need for quality music education for young children. Thus began the Baby Angel Music Studio, whose mission is to provide the best quality music lessons to young children by combining the pleasure and joy of playing an instrument with sound instruction. They are located at Baby Angel Music Studio (MYC East Coast), 1 Brooke Rd, #02-34 Katong Plaza Singapore 429979. Although you can call or text them in for a PREVIEW at 9846-2420
Address: 1 Brooke Rd, #02-34 Katong Plaza Singapore 429979
Contact: +65 9846 2420
Website:  https://www.babyangelmusicstudio.com/
Zendyll Collective Pte Ltd.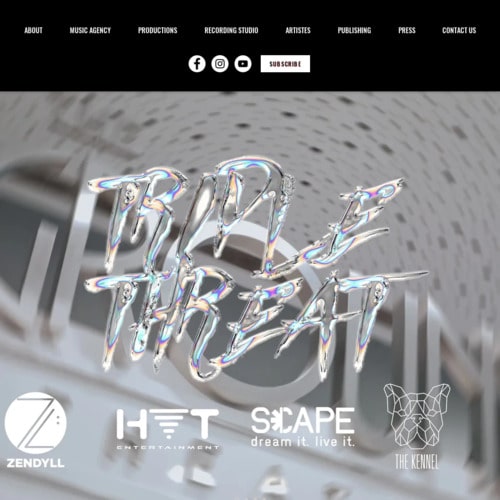 Zendyll Collective mission is to champion the local and regional music community by providing a space for effective collaboration, to build a new culture of songwriters, producers, and artists who can compete in the global music landscape, and strive for continuous improvement and innovation by marrying music with technology to push new boundaries.
They aim to be the leading force behind new ideas and artistic expression, and we strive to make our community an international hub of creativity.
Address: 1 Pegu Road #01-02 Singapore 328358
Website:  https://www.zendyll.com/
Home Studio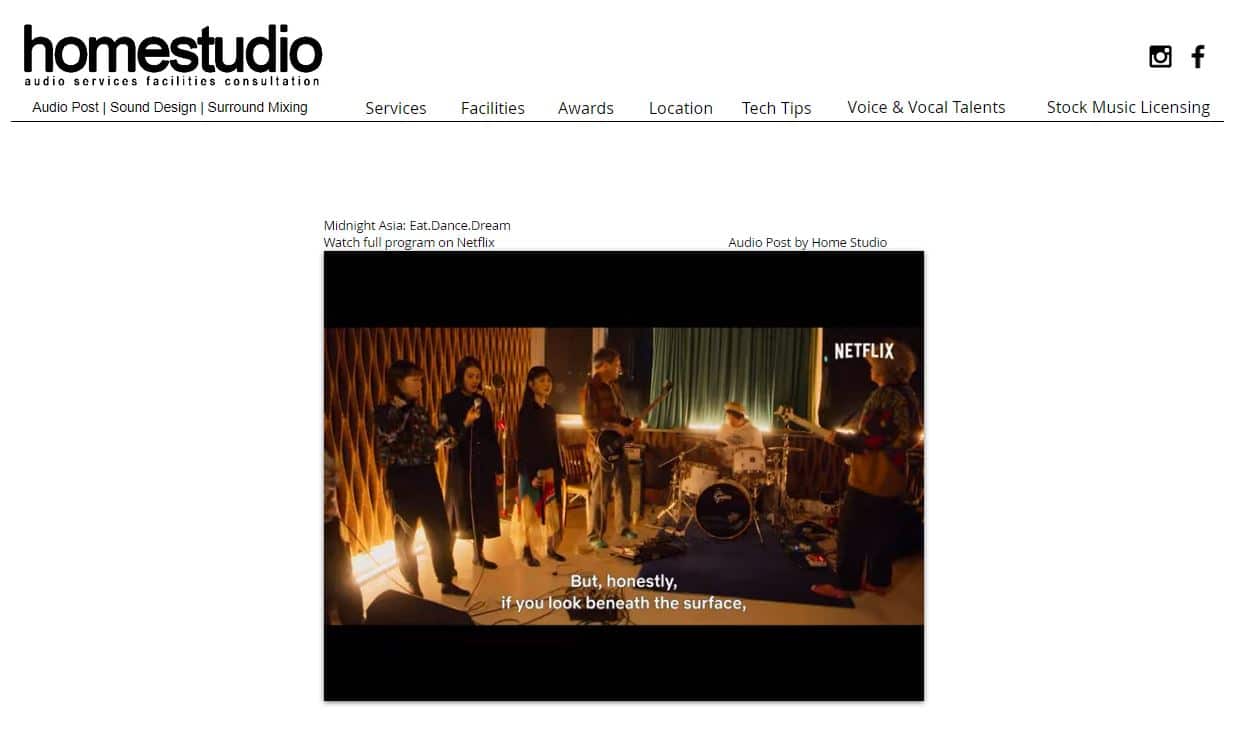 Since the establishment of Home Studio in 2002, they have provided extensive Creative Audio Post & Music Solutions for TV, Online, 360°, VR, Films, Documentaries, Dramas, Ads, Animations, Games, and Corporates. 
Equipped with cutting-edge technology, their dedicated artisans are committed to crafting high-quality aural experiences for your projects. 
 Their services include sound design, editing, spatial audio, 5.1 surround mixing, voice recording, ADR, Dubbing, Foley & Music Scoring. Home Studio's main choices of operating systems include Avid Pro Tools Ultimate (with Native 360° Spatial Audio Support), Dolby Digital, and Dolbey Sound Meters (International Broadcast Compliant Meters).
Address: 81 AMOY STREET #03-01/02 SINGAPORE 069900
Contact: +65 6423 9581
Website:  https://www.homestudio.com.sg/
Conclusion
Take your music to the next level with one of these amazing studios. If you're looking for help with recording vocals or instrumentals, plenty of options here can provide precisely what you need.